ENGINEERING ALUMNUS, SPOUSE PROVIDE GIFT FOR ECOHAWKS RESEARCH CENTER
| 2013 Summer | story by JOE MONACO | UNIVERSITY OF KANSAS |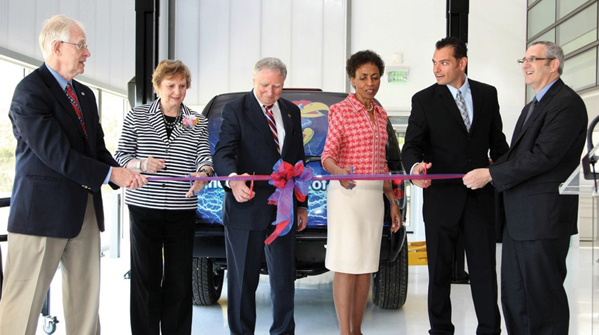 As a University of Kansas freshman in mechanical engineering, Ronald Hill built a self-contained underwater breathing apparatus and demonstrated it (under water) at a KU engineering exhibition. Today, 60 years later, that project represents the type of innovative mindset that he and his wife want to advance at KU.
Ronald and Sue Hill, of Lee's Summit, Mo., made a generous gift to support the construction and equipping of the Hill Engineering Research and Development Center on KU's west campus. The center, which will be completed later this spring, will house KU EcoHawks, a student research program of the School of Engineering that focuses on developing innovative sustainable energy solutions for transportation and other areas of research.
"Sue and I are excited about the new KU Research and Development Center," Ronald Hill said. "We see the research and development center as an opportunity for mechanical engineering students to learn by doing with hands-on experience, turning ideas into sustainable products and services now and in future generations."
Ronald Hill earned a bachelor's degree in mechanical engineering from KU in 1957. He is president of HEMCO, a firm he started with his father in 1958; Sue is the firm's vice president of customer development. Located in Independence, Mo., HEMCO is a leading manufacturer of laboratory equipment and furniture, and serves medical, academic, life science, biotech and pharmaceutical markets around the globe.
The Hill Engineering Research and Development Center is located at 2105 Becker Drive on KU's west campus. The 4,000-square-foot building was designed and built by KU architecture students in Studio 804, which is committed to the research and development of sustainable, affordable and inventive buildings.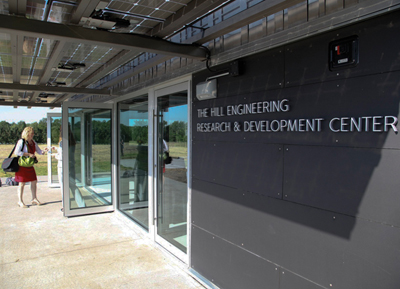 The advanced research facility is the latest constructed by graduate students in Studio 804, a design-build class offered by KU's School of Architecture, Design and Planning. Studio 804 director Dan Rockhill, J.L. Constant Distinguished Professor of Architecture, led the project, whose design and construction began last fall.
The Center will house KU EcoHawks, a KU School of Engineering student research program under the direction of Associate Professor Chris Depcik. His students' work focuses on sustainable energy approaches for automobiles and infrastructure, including alternative fuels and the interconnection between water and energy production.
"This gift provides a needed boost to the mechanical engineering department for the recruitment and retention of exemplary undergraduate and graduate students interested in the areas of sustainable energy and transportation," Depcik said. "The novel integration of electrified vehicles and a building that has a possibility of attaining a LEED platinum rating will excite students through research projects, and they will leave KU better prepared to make a real difference in the world."
In keeping with the KU EcoHawk's mission, Studio 804's architecture students packed the building with resource and energy conservation features.
Most readily apparent is the gleaming aluminum and glass facades. The metal was recycled from a Wichita airplane manufacturer, and the glass panels came from a Kansas City, Mo., building project that was never completed.
Also in use are motorized sunshades made of Aerogel insulating panels. The custom-designed installation is the first use of the high-tech translucent material in the area. Electric vehicle charging stations have been provided, along with showers for those who bicycle to the building.
The use of low-VOC paints and sealants has lower air-borne toxins that often give new buildings an unpleasant odor. Photovoltaic panels can be seen weatherproofing the building's entry canopy. These and a possible future wind turbine will generate electricity. If a surplus is created, it will be fed into power lines and credited to the university through net metering.
Ronald and Sue Hill are longtime and generous supporters of KU and the School of Engineering. This gift counts toward Far Above: The Campaign for Kansas, the university's $1.2 billion comprehensive fundraising campaign. Far Above seeks support to educate future leaders, advance medicine, accelerate discovery and drive economic growth to seize the opportunities of the future.
The campaign is managed by KU Endowment, the independent, nonprofit organization serving as the official fundraising and fund-management organization for KU. Founded in 1891, KU Endowment was the first foundation of its kind at a U.S. public university.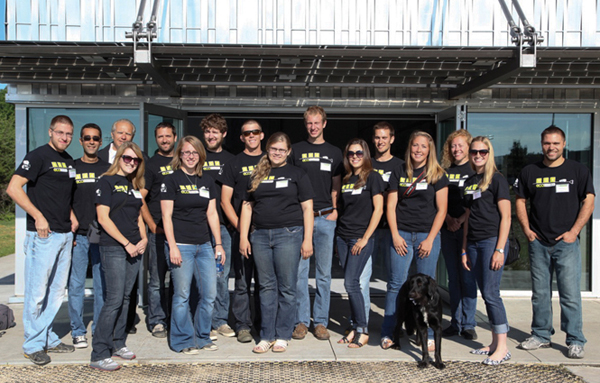 GOVERNOR JOINS KU, COMMUNITY LEADERS FOR BTBC EXPANSION GROUNDBREAKING EVENT
LAWRENCE — Less than three years after opening its doors, the Bioscience & Technology Business Center (BTBC) at the University of Kansas has taken the next step in its ongoing economic development success story with the June 14th groundbreaking ceremony for an expansion of the BTBC main facility.
Kansas Gov. Sam Brownback spoke at the ceremony, along with KU Chancellor Bernadette Gray-Little, Lawrence Mayor Mike Dever and Doug Cleverly, CEO of Argenta, a global animal health leader that operates a laboratory in the BTBC.
"The BTBC is already more successful than we dreamed it would be," said BTBC Executive Chairman LaVerne Epp. "We always planned to add more space, but we didn't think we'd need to until 2015. The market demand is there now, so we're moving forward ahead of schedule."
The main facility reached full capacity a year ago, with nine tenant companies totaling more than 60 employees. Once completed in fall 2014, the new $10 million expansion will add 30,000 square feet of space to the existing 20,000-square-foot facility. The expanded facility will accommodate 18-24 companies at various levels of development, including startups based on KU research, other early-stage companies and private industry companies wishing to collaborate with KU researchers.
"The mission of the BTBC remains 'Transforming Ideas into Commerce,'" said Epp. "We are raising the profile of Lawrence and KU nationwide and creating high-quality jobs in Kansas. The BTBC is fulfilling its mission and exceeding all expectations."
The expansion provides new wet-lab and dry-lab space, as well as conference rooms and offices for the KU Center for Technology Commercialization (KUCTC), the university's principal resource for industry partnerships, intellectual property protection and management, and community economic development. The main facility is located across the street from the highest concentration of life science and technology labs in the state, as well as KU's nationally prominent School of Pharmacy. Relocating the KUCTC to the BTBC brings it closer to many of KU's most innovative bioscience researchers.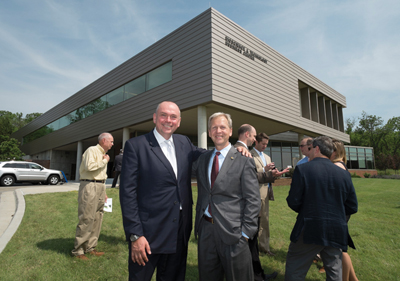 "KU's mission is to lift students and society by educating leaders, building healthy communities and making discoveries that change the world," said Gray-Little. "That includes growing the economy and creating a more prosperous Kansas, and the BTBC is a crucial part of that mission. Now more than ever, KU is creating new companies, jobs, products and cures, and making Lawrence an attractive location for companies to locate."
Funding for the expansion is provided by KU Endowment, the KU Center for Research, Inc., the city of Lawrence, Douglas County and the Lawrence business community. The $7.25 million first phase of the main facility was funded by these organizations and the Kansas Bioscience Authority.