Marking Progress, Maintaining FocusL
| 2013 Summer | by by GREG WILLIAMS |PRESIDENT/CEO |LAWRENCE CHAMBER OF COMMERCE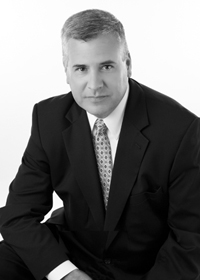 A gentleman who's greatly admired in the Chamber business recently proclaimed that deliberation about what a Chamber will be in three years is more important than lucky guesses about what the Chamber will do. He asked: Can we, as Chamber leaders, answer the question "What is our Chamber?" without itemizing the many things we do?
At the Lawrence Chamber of Commerce, we do a lot. We're proud that, for 2013, we have developed – and begun implementing – a well-articulated business plan that is full of value-added programs, opportunities and strategic issue priorities that are realistic and marketable.
We're laser-focused on Member Connectivity and Relationships, Advocacy through collaborations and partnerships and Regional Economic Sustainability. We work every day to ensure that our nearly 900 members receive value from business exposure, various networking events, referrals and marketing options. We're executing events like the Annual Meeting, Taste of Lawrence, Business Expo and Coffee and Conversation with more focus and stronger planning and outreach.
We are becoming a stronger voice in Topeka and Washington D.C., identifying and advocating for solutions to matters affecting our members and the potential for economic growth. Through Leadership Lawrence, we're educating future leaders, encouraging informed, civil engagement.
We are altering the conversation in the community. The Chamber has formed a "Voice of Business" Committee that communicates a pro-business message that encourages local officials to take a balanced, common-sense approach to policies and decisions related to economic development.
The Lawrence Chamber played a key role in the formation of the Joint Economic Development Council, a new and important public-private collaborative that reviews economic development programs and strategies, and provides "big picture" guidance and counsel.
The Chamber has made strides to get the Lawrence-Douglas County region back on the radar screen of site location advisors, real estate brokers and business decision-makers, emphasizing our location advantages on a national scale. We're going to the private sector for financial support of our economic development program — through a three-year capital campaign chaired by Bernadette Gray-Little and Gene Meyer – which will provide us with the resources to do even more.
We have established stronger relationships with allied partner organizations like The Economic Development Corporation of Lawrence and Douglas County and the Bioscience and Technology Business Center at Kansas University.
We're leading the conversation about the critical need for adult technical education in the community and there's now tremendous traction as USD497 and several community colleges and technical schools are coming together to form a training consortium. The Chamber has formed a "Development Issues Input Group" allowing for regular and consistent discussion regarding improvement to the local development process. We've initiated an "Existing Business Support" Committee that is working to identify existing business needs and what role the Chamber can play in fulfilling them, all the while seeking new economic opportunities among the region's existing employers.
As I said, we are doing a lot at the Lawrence Chamber this year. And through what we do, we are becoming an organization that plays a key role in the prosperity of this community and region and plays an equally key role, large or small, in the success of our members.