Downtown In Focus
| 2013 Summer | story by DEREK HELMS | photos by STEVEN HERTZOG |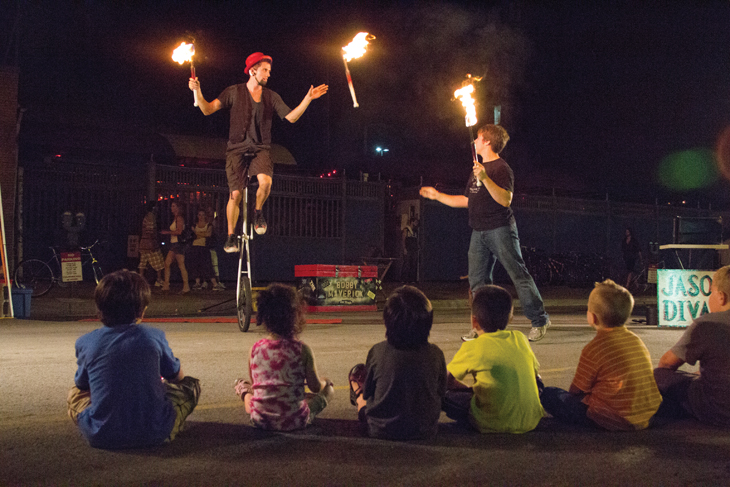 Richard Renner like to clown around, but we're not talking about whoopee cushion and seltzer bottles.
"There are really two types of clowns," Renner explains. "There's the American version, that is goofy and funny. And then there is the European clown. They are more entertainers and less of a joke. They're buskers."
This August 23-25 Renner brings his unique group of "clowns" back to downtown Lawrence for the 6th Annual Lawrence Buskerfest. The festival of nationally known street artists spans three days and fills the sidewalks of 7th, 8th and 9th streets between Massachusetts and New Hampshire streets.
Renner had the idea of a weekend filled with street performers a little more than 6 years ago while standing on the corner of 8th and Mass.
"I was watching a guy juggle or something, and he really wasn't very good," Renner explains with the enthusiasm of a performer. "I had the idea right then to bring to Lawrence the talented people I worked with and admired. I walked from that corner to the Downtown Lawrence Inc. office and pitched my idea. They signed on right away and I was off and running."
Renner has been a working performer since the early 1980's. In the past 30 years he's traveled the globe and met some of the best performers in the world. He came to Lawrence to study engineering, but quickly changed studies to Movement Theater. At a summer workshop he used the bathroom next to one of the instructors – an internationally known performer.
"It sounds so funny to say, but it was at that point I realized I could make a living performing," Renner says with a big laugh. "I thought, 'well he using the bathroom just like me. Why can't I do what he does?' That's when I made the decision to make this my career."
"I'm totally comfortable saying the Buskerfest is one of our favorite events," Downtown Lawrence Inc. Director Cathy Hamilton says without hesitation. "Our members appreciate that the Buskerfest doesn't close any main streets, doesn't block off parking and, of course, it gets a bunch of people walking around downtown carrying cash."
Renner says local merchants have credited the festival with upwards to a 30% increase in business from on Busker weekends. That is like dollars in the hat for Renner and DLI.
"The entire event isn't intrusive at all on Downtown retailers," Hamilton says. "Richard does such a great job with the organization of the event. He communicates well with us and is always available to answer a question or concern."
Downtown Lawrence Inc is major sponsor of the event, which also receives funds from the Kansas Art Commission and multiple Lawrence businesses. The money goes to help pay the fees and expenses of traveling performers. For his effort, production and hours, Renner hopes to break even each year. If any business wants to be a contributing sponsor, Renner has put together an aggressive marketing plan he thinks will benefit sponsors.
A small amount of profit is generated from ticket sales to the Busker Ball, a pre-festival party held Thursday evening. While sponsors receive tickets, Renner says ticket sales are really the only way he makes money on the entire Buskerfest. The event also puts on children's workshops at the Lawrence Arts Center on Saturday morning.
"We spend what we receive in sponsorships on getting the best performers and promoting the event," Renner says. "I'd rather know that we are presenting the best event we can, than make a bucket of money. Of course, doing a nice job and making a bucket of money wouldn't be too bad."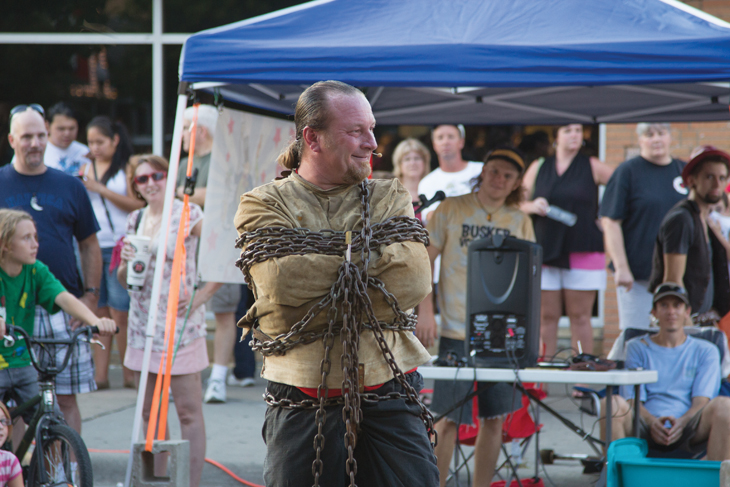 "I'm totally comfortable saying the Buskerfest is one of our favorite events,"
"Each year we try to bring in more of the top-notch performers," he explains. "We pay for their performing fees, travel and lodging while they're here. Where they make their living is from tips from the crowd."
Renner says the crowds in Lawrence have helped the festival grow. The busker community is small and connected, so if a town is supportive of street performers, others will know.
"The Pogo Dudes were one of our feature performers last year," Renner says. "They told me that on one night, after one performance, they made nearly $1,000 from the crowd. Believe me, they put the Lawrence Buskerfest on their calendar for this year."
The best performers make the most tips, but there's more to making a good tip than just performing.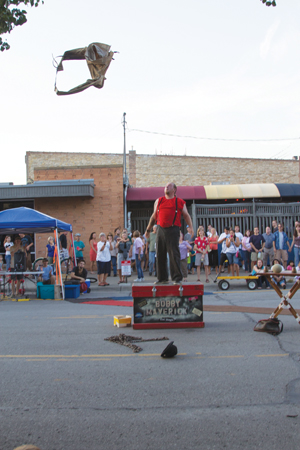 "A great Busker has a few characteristics," Renner explains. "First they have to be good at what they do, of course. They have to know how to work the crowd and keep their attention. We had a guy last year that would, periodically during his performance, just stand on a table and yell 'Look at me! I'm doing really unusual things here!' But Buskers also have to be willing to work with the unexpected. I mean, what happens with a trick doesn't work right? What if a dog runs up to you and starts licking you? They have to roll with it." Renner is hoping the reputation of the festival will appeal to potential sponsors. He spends upwards of $12,000 to $15,000 to put on the event. Though he isn't loosing money anymore, financial support would help to make the event even better.
"I'm not a non-profit," Renner says with an emphatic laugh. "Really though, I'm so proud of Lawrence for supporting this event. The reputation of our crowds is well-known in the busker community."
The success of the Lawrence Buskerfest has spread south. This year Renner is working with the City of Austin, Texas to create a festival.
"Some city officials heard of our success and they are really excited to bring the idea," Renner said. "It's exciting to see this grow. I'm really happy with how Lawrence has embraced us buskers!" ■