Non-Profit: Lawrence Humane Society
| 2013 Summer | story by DAISY WAKEFIELD | photos by STEVEN HERTZOG |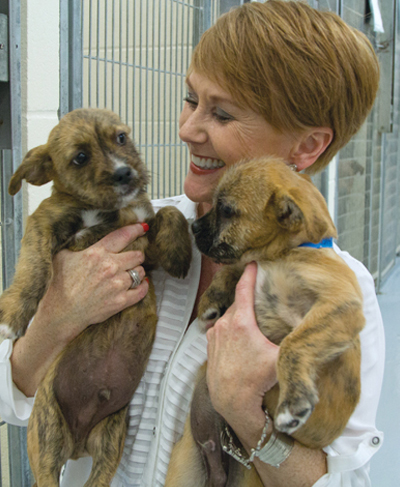 Some might think a successful humane society would strive to receive as many animals as can possibly fit into the facility for as long of a time as possible, so that the shelter is bursting through the seams with saved animal lives.

Dori Villalon contends that this is a fallacy and has spent the last two years as Executive Director of the Lawrence Humane Society (LHS) working toward a more efficient and effective shelter that counteracts an overfull population.
"It seems counter intuitive," Villalon says. "But space and time are not our friends. The more time an animal has in our shelter, the more likely they are to get sick, suffer from depression, or even get to the point where they have to be euthanized. We have a philosophy of adoption driven capacity, which is still a novel idea for a lot of shelters. We want to practice responsible sheltering, rather than having a lot of animals warehoused in the shelter."
This responsible sheltering means that animals are received, go through behavioral and medical assessments, receive necessary veterinarian or rehabilitation care, and are then placed into the adoption center, go into foster care, or are reunited with their families. Moving animals through the shelter, rather than keeping them indefinitely, is how the organization has gone from a 49% live release rate in 2010 to 85% in 2012.
As an open admissions animal shelter, the organization receives animals no matter the reason, health, behavior or prognosis. They receive strays, lost animals, animals being relinquished by their owners and animals removed from homes because of cruelty. They also receive animals as capacity allows from other nearby shelters that are overpopulated.
LHS is funded in part by a contract with the city and county to house stray or dangerous animals, which amounts to $300k. The rest of the slightly over $1 million a year budget is filled in with adoption fees, reclaim fees, donations and fundraising events. There are a few retail items for purchase at the shelter, but Villalon envisions being able to create other income in the future through services such as dog training classes. She has also changed the structure for adoption fees, which used to be more of a flat rate. Now, adoption fees are tiered by the demand and "cuteness factor," which means that some adoption fees may escalate to $500 and may even ignite a bidding war between potential adopters.
"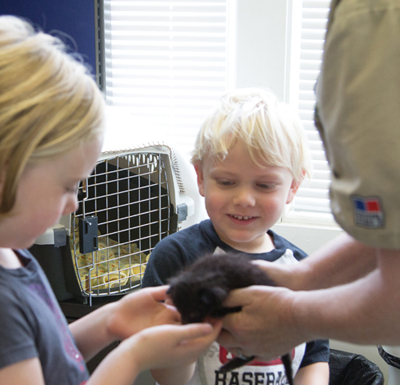 A lot of money was slipping through at the table," Villalon says. "If there is the willingness to pay a higher adoption rate for the cutest little fluff ball of a dog you've ever seen, then why wouldn't we charge it?"
A full-time veterinarian was hired in July of 2012 to help increase the efficiency of operations. Before Dr. Jennifer Stone's arrival, animals were being transported to varying vets around town for care, or waiting for the twice-a-week visit that a vet was making to the shelter. Now spaying and neutering, as well as other veterinary care, are done daily on-site. Villalon hopes to raise funds to get a second anesthesia machine to expedite the operations even more.
A software tracking system for each animal has replaced the old paper system. Each animal's intake, vaccinations, spaying or neutering and fostering history are tracked through the software. This has allowed a means of measuring trends and average lengths of stay, which is 20 days.
The Humane Society relies heavily on community engagement such as volunteers, supply donations and corporate sponsorships. Both Hy-Vee stores in Lawrence hosted events for the shelter, raising cash and supplies donations and ending with bringing adoptable animals to the stores. Hills Pet Nutrition donates all the food needed for the shelter and sponsored a 2007 remodel and expansion. The Oread hosts the annual fundraising auction, A Pawsible Dream, which brought in $80K last year and is hoped to bring in $100K this year. And an average of 100 monthly volunteers help to play with kittens, walk dogs and foster animals to health.
"Lawrence is a very animal-centric town," Villalon says with a smile. "I've never been at a shelter where more kids dedicate their birthday parties to raising supplies or money for us. When people have an awareness of animals, it's a good thing, the luxury to have compassion for other living beings."
The Humane Society's improvements have not gone unnoticed. Villalon and her staff of 40 are among 50 shelters invited to participate in the 2013 ASPCA Rachel Ray $100K Challenge. The Challenge will reward the shelter with the highest percentage increase of animals re-homed during the months of June, July, and August over last year. LHS has set a goal of re-homing 1500 animals during the summer months, an increase of 120% over last year. A key mechanism that LHS plans to employ to reach this goal is using volunteers to transport animals to three shelters in Colorado that have the community capacity to re-home animals.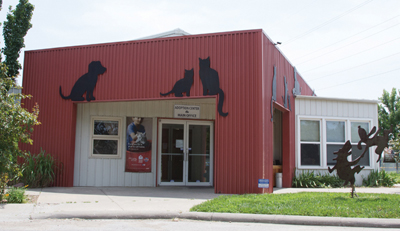 Villalon is not content to just improve the local humane society. She has helped establish Pet Animal Coalition of Kansas with other shelter directors. The group plans to become a legislative voice for animal advocates, to educate other shelters and elevate the level care that animals receive.
"We are committed to not euthanizing friendly, healthy and treatable animals," Villalon says. "There is never a limit on how long an animal can stay here, but the longer they stay, the more likely they are to get depressed or sick. So we want to get them into a home as soon as we can." ■