LOCAL BUILDERS vs OUT OF TOWN CONTRACTORS
| 2013 Summer | story by ANNE BROCKHOFF | photos by STEVEN HERTZOG |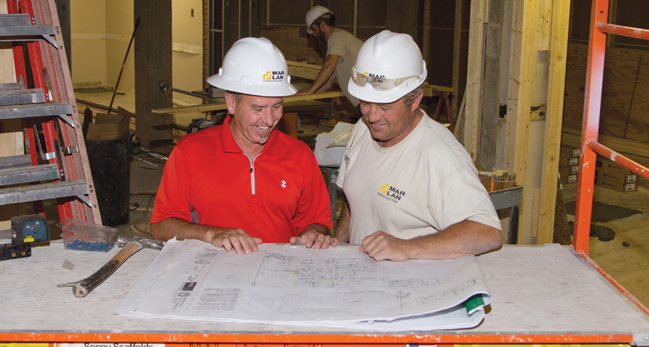 Builders find strength in Lawrence's foundation: people, partners and projects
Construction in Lawrence isn't simply a matter of putting up high-quality buildings or designing energy-efficient homes or renovating century-old residences when it comes to generating success in a competitive industry.

It's all of them and more.
Lawrence — with its educated population, diverse neighborhoods and longtime businesses and developers — continues to build upon its solid foundation through a combination of strong relationships, opportunistic risk-takers and long-term thinkers.
Those who endure do so with firm commitments and flexible approaches to the Lawrence market, its community and its future.
"Quite frankly, we bet our bankroll on it," said Kevin Markley, who co-owns Mar Lan Construction LLC with Gale and Brian Lantis. "It's where we wanted to be."
Markley, whose company celebrated its 17th Founders Day on June 17, is among builders whose projects help shape the community, and so it makes sense to ask them and others in the industry about what makes Lawrence different.
Among characteristics making the list: committed players.
"Lawrence has a desirable number and its share of developers who are willing to invest in the community," Markley says.
He remembers one such project early on: Downtown 2000, a partnership that combined private development with public participation to bring a parking garage and a four-story, mixed-use building to the 900 block of New Hampshire Street, where the Lawrence Arts Center would make its new home.
"The university is obviously the biggest dollar in town," Markley says, of the University of Kansas. "But private developers are willing — and willing to stay hard-pressed — to be successful in Lawrence, and to do what's right here, to see their investments embellish the area."
Brandon Dahl, president of Dahl Construction Inc., loves that KU helps foster the diverse atmosphere that makes Lawrence such a fine place to live. Shopping, entertainment, activities and everything else supporting an excellent existence — early on and well into retirement — can be found in town, he says, where builders like himself work to meet market needs.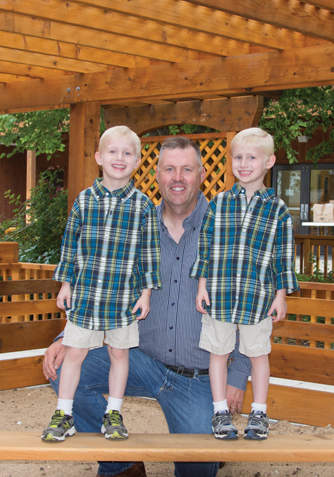 Dahl proudly calls his company "boutiquey," handling jobs ranging from schools to grain elevators, screen doors and custom homes. Dahl added a library, offices, toddler rooms and two outdoor exploration areas — featuring custom-built play shelters, swingsets, walking bridges and tunnels — at Raintree Montessori School.
For residences he likes to incorporate zero-entry showers, electrical outlets on stairs and other aspects of "universal construction" that work well for young families as well as aging-in-place retirees.
And always with some welcome-to-Lawrence flair.
"We've built homes for people from 10 different countries," he says, noting jobs for KU professors from South Korea, an IT professional from Russia working in Kansas City and a corporate executive from South Africa working in Topeka. "It's always interesting to see what they bring to the table. The people we work with are a lot of fun. They're a hoot. We enjoy it just as much as they do."
Neal Ezell, president of Ezell-Morgan Construction, says that his company continues to build its success around loyal partners, satisfied customers and a strong community. The company traces its roots back to 1964, when his father started building homes and went on to partner with Bob Stephens in developing homes and businesses in western Lawrence.
Always high on the Ezell-Morgan list: quality, worthwhile upgrades and constant attention to detail.
"We've always had a niche in Lawrence," Ezell says. "It's a fortunate place to be."
Today Ezell-Morgan's focus includes producing energy-efficient homes, with upgrades designed to pay off through lower utility bills and improved comfort. Using raised-heel trusses, for example, allows for additional insulation, improved efficiency and fewer problems with ice during the winter.
All homes in Lawrence also benefit by being built in accordance with the latest in building codes, says Ezell, a member of the city's Building Code Board of Appeals. The next version goes into effect July 1, ensuring Appeals additional attention to energy efficiency.
Lawrence residents long have been accustomed to benefitting from solid construction materials, designs and techniques, Ezell says. The community is both knowledgeable and demanding, especially with KU drawing and maintaining plenty of educated employees — a steady stream of buyers and sellers, many of whom come with particular interests in mind.
"That keeps Lawrence on the leading edge," he says.
Mar Lan likewise appreciates the presence of KU. While the company started out with a lineup of private construction projects, such as the Wakarusa Crossroads shopping center at the southeast corner of Sixth Street and Wakarusa Drive, much of the company's work in recent years has involved KU. Projects have included work for the Lied Center, KU Libraries, KU Student Housing and the university's transit service.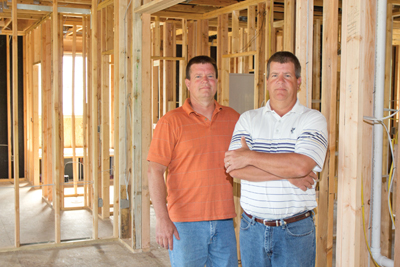 The firm works with local architects and local subs to turn clients' visions — often started with scribbles on a napkin — into reality, whether it's for the state's flagship university or a lineup of local developers ready to build once again.
"As long as they continue to move forward and slowly trudge out of their tortoise shells, we're here for them," Markley says. "It's people with local ties working together toward a common goal. I like to say many of our clients are repeat offenders: They come back for more."
Dahl's entire business, now 20 years old, is built entirely on referrals, ones sprouted from projects at KU and its surroundings. His early work renovating, updating and expanding fraternity and sorority houses near campus, including the Chi Omega house alongside the iconic Chi O Fountain, led to alumni associated with those houses contracting for more jobs at other schools and elsewhere: commercial, residential, remodeling, you name it.
People talk. Good word travels.
Connections endure.
"We work for people now more than the project," Dahl says. "Blueprints are the project, but people are the fun. They're what make the project."
Ezell, 53, is familiar with the strength of personal connections. At age 13 he started framing homes for his dad in Prairie Meadows, just one of the many areas where residences built under the Ezell family name are now home to people Ezell grew up with, went to school with and continue to share a community with.
The work of Ezell's dad, Johnny B. Ezell, even left such an impression that a street in western Lawrence — Easy Street — promises to carry on his nickname for generations.
"People called him 'Easy Money,' because everything he got into he had the Midas touch," Ezell says of his dad, who died in 1991.
But the planned road signs also managed to touch a Lawrence nerve.
"There were some people who complained," Ezell says. "They didn't like the name of the street."
A disgruntled few even made their way to City Hall to vent, but Stevens was there to explain his plans for the road serving a new stretch of homes north of Harvard Road, west of Monterey Way: Easy Street would be a fitting tribute for a fine man.
Concerns evaporated. Signs went up. And the rest is history — instructive even, in the Lawrence sense.
"Complaints? That's good," Ezell says now. "That's what keeps us on our toes."■