Downtown In Focus
| 2013 Fall | story by DEREK HELMS | photos by STEVEN HERTZOG |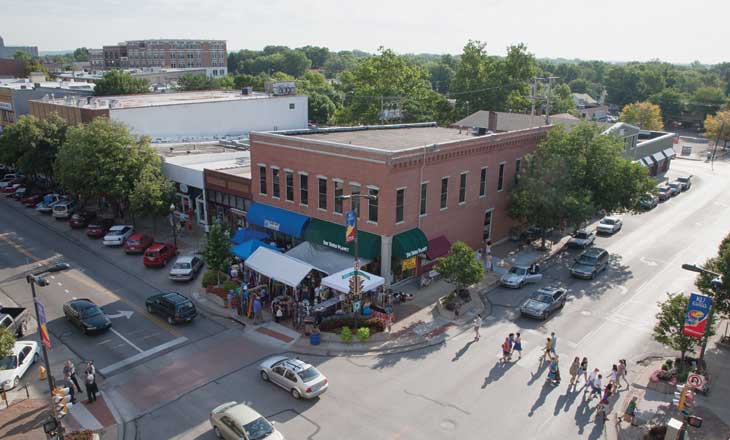 Sally Zogry has a lot of energy. With her arms full of marketing materials, a lunch and a bag, she bounds up the steps leading from Massachusetts Street into the small office of Downtown Lawrence Incorporated. She talks while unlocking the door, turning on the lights and adjusting the thermostat. Spend a few minutes with the new Director of DLI, and you'll find yourself caught up in her whirlwind of activity and ideas.
"Well, she's certainly an energetic person," explains Jim Bateman, owner of YarnBarn and President of the DLI board. "That was apparent very quickly. I know the other members of the board were very impressed with her positive energy. We know she's going to do very well for DLI."
Zogry began work for DLI on July 1, 2013 after former director Cathy Hamilton's retirement. Hamilton worked with Zogry through the first few weeks of July to help ease the transition. Zogry was selected from a pool of more than 30 applicants.
"We received applications from, literally, across the country," Bateman says. "That shows the reach of Downtown Lawrence and the respect for our community. I know of applicants from Florida, Ohio and across the country."
With Health Care Access, Zogry used her seemingly boundless energy to help implement the organization's annual half marathon. Zogry worked for the organization for almost 5 years as the director of development. When she started the job, the half marathon was her first task.
"I think I started working on the race the day after I took the job," Zogry says with her custom smile and laugh. "And I kept working on the race until my last day there. That event is just so big, with so many people and organizations involved. Everything from the logistics of the course to sponsors and organizing volunteers was handled through our office. Of course we got invaluable help, but everyone at Health Care Access really worked their tails off to make the race a great experience."
It was the experience producing such an encompassing community event that qualified Zogry for the Downtown Lawrence directorship.
"It's clear she is capable and comfortable working with vastly different groups of people," Bateman says with emphasis. "Anyone familiar with the DLI members knows that being able to wade through many very different ideas and types of people is very, very important."
After leaving Health Care Access, Zogry worked in development with the Kansas Historical Society, based in Topeka. The experience offered her the chance to travel the state of Kansas and immerse herself in the history of the state. Though the job was both challenging and rewarding, Zogry wanted to stay in Lawrence. When the DLI position became available, she jumped at the opportunity.
"A couple of different people contacted me about the position," she says. "The more I considered it and thought about how much my family really likes downtown Lawrence, I knew I wanted to apply. When I got the job offer, I was so excited. I'm really thrilled to have this position."
Zogry knows getting all 160 DLI members moving in the same direction will be a challenge, but she believes the future of downtown Lawrence is very, very bright.
"This street is absolute Americana," she says as she motions out her office window. "So many of these shops and restaurants are unique to Lawrence. Downtown is the cultural and social center of our town and we have to work to keep it that way. We need to continue to find innovative events to bring new people to downtown, and keep our regulars interested and happy."
Cathy Hamilton, who served as the DLI Director for almost 3 years, thinks Sally is a great fit to help lead DLI into the future.
"I wasn't in on the interviews but, in general, it was a very particular set of experiences and skills (for which the DLI Board was looking), lots of contacts and established relationships in town, and an outgoing personality," Hamilton says.
Hamilton says the challenges Zogry faces trying to increase attention and traffic on Mass St are well known, but she believes downtown will continue to be a draw.
"With the new garage, library and hotel coming online, Downtown is going to be a stronger attraction than ever," she says. "I think Rock Chalk Park poses a potential challenge if the retail and restaurant scene blows up out there, but people will always be drawn to the unique experience of Downtown Lawrence. There's nothing like it."
Her advice to Zogry was simple. "You've got a great board of directors," she says. "Trust them and have fun."
The large chalkboard in the DLI office is full of dates and titles of upcoming promotional events. Zogry is excited about the future possibilities of DLI, and is bursting with ideas.
"One of the really great things about this group of business owners is their willingness to give new ideas a chance," Zogry says with excitement. "Where else does a downtown support zombie walks, parades and rescuing Santa? We have so many great things happening here, and so many great ideas. I'm working to increase the membership base and help more of the downtown merchants benefit from our great ideas." ■