LAWRENCE TURNING DEEPER SHADES OF GREEN
| 2013 Summer | story by DAISY WAKEFIELD | photos by STEVEN HERTZOG |
By many counts, Lawrence is a progressive and eco-friendly city whose residents go out of their way to be kind to Mother Earth. Without a city curbside recycling service, many have taken the extra steps to sort cereal boxes and wine bottles and office paper and drop it at one of the cities recycling drop locations. Some have chosen to pay up to $18 a month to have one of the several independent recycling haulers come and take the recyclables away.
Lawrence has a 38% recycling rate, which indicates the volume of municipal solid waste that is diverted from a landfill. The national recycling rate is 34.7%, as reported by the EPA for 2011.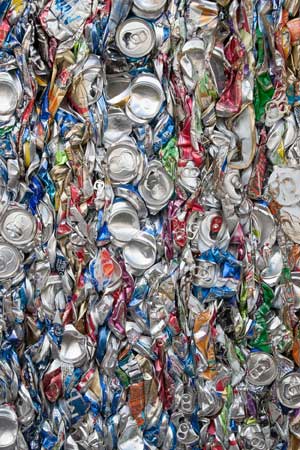 The city provides other recycling opportunities in a variety of ways. Yard waste is collected once a week and made into compost for a twice-yearly sale. The Household Hazardous Waste Facility receives toxic household waste by appointment. Varying sites around town take items like prescription drugs, batteries, light bulbs and automotive chemicals. And two times a year, the city runs an Electronic Recycling and Document Shred Event at Free State High School.
Since 2005, Cans for the Community has encouraged residents to drop off aluminum cans at their 12 locations. The volunteer-based nonprofit take the cans to 12th and Haskell, and when they reach $1000 in proceeds, they donate it to a local nonprofit.
Glass recycling has increased in Lawrence since the city formed a partnership last year with Ripple Glass. Four bins are owned and maintained by the city. City crews take the full bins to fill up a truck for Ripple Glass to take to their operation in Kansas City, where the recycled glass is made into Boulevard Beer bottles.
"It's been great for the community," says Michelle Goth, Program Manager at Ripple Glass. "There's a 28% glass recycling rate in Lawrence, which is higher than the 20% we have in Kansas City, and Ripple Glass has been in Kansas City a lot longer than Lawrence."
But big changes are coming to the world of recycling in Lawrence. The Solid Waste Task Force, created by the City Commission in February 2011, decided after a year of research and meetings that a single stream residential curb side recycling system would encourage even more residents to jump on the green bandwagon.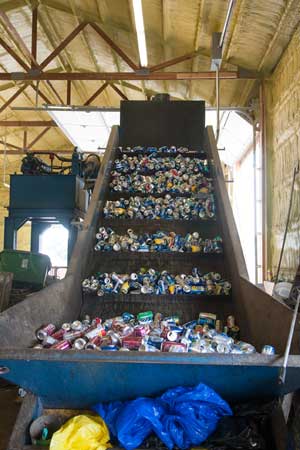 "This conversation about curbside recycling has been a very public conversation, and it's been going on for many years, with neighborhood association groups, with the city sustainability advisory board," says Kathy Richardson, Waste Reduction and Recycling Operations Supervisor for the City of Lawrence. "Lawrence residents do a great job recycling already even without curb side service, but over the years, the discussion was focused on if there is a program where we could offer it and encourage it to all residents to recycle at an affordable and convenient way."
The task force recommended the goal of a 50% recycling rate by volume by 2020 and issued a RFP for either turnkey operations (from pickup to materials recovery) or for just the materials recovery. Hamm Companies, based in Perry, was awarded the materials recovery contract, with the city crews doing the pickup. Hamm will build a materials recovery facility outside of North Lawrence, using an existing structure to house recovery and processing equipment. Charlie Sedlock, Sales Executive with Hamm, says that they expect fifteen new jobs to be created for running the facilities.
Because of recently passed state legislation, the city must wait 18 months to implement the new system, putting the curb side service at an October, 2014 start date. Residents will be issued a 95 gallon recycling cart and charged an additional $2.81 on their trash bill for the recycling services, whether they choose to use it or not.
Though Richardson says that the city tried to build some flexibility to mitigate the economic effects on small business haulers, many of the haulers will inevitably be put out of work.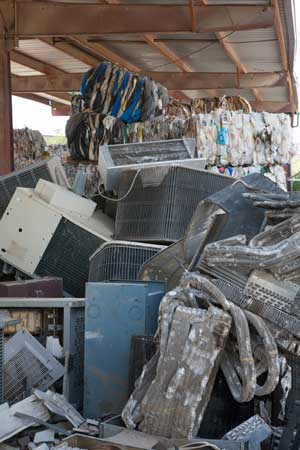 Community Living Organization has six clients that work at the Wal-Mart Recycling Center, and 14 clients in their own curb side service. Michael Hoffman, Day Services Director at CLO, has met with Wal-Mart executives to discuss what future plans they have for the recycling center and whether CLO's clients will continue to be employed. No decisions have been made.
"My understanding is that I cannot take on any new residential customers, and there will also be restrictions on my loads," Jeff Joseph, owner of Jeff's Curb side Recycling, explains. "If I'm trying to run a business, and I can't add new customers, that's going to put me out of business."
Chris Scafe, owner of Sunflower Curb side Recycling, which services 289 Lawrence households and businesses, echoes Joseph's thoughts.
"I'm done," he says. "I'm still working, but I'm looking at other options, and it won't be in recycling. But for me, it was all about the recycling. I did what I set out to do, and now I'm going to move on."
The new curb side recycling service is not mandatory for Lawrence residents to use, but Richardson says that there are some built in incentives to using it – such as being able to downgrade a 95 gallon trash cart to a 65 gallon one. The convenience and glass inclusive factors are also hoped to raise Lawrence's recycling rates. The city recycling drop off locations and Ripple Glass locations will remain, for business and large drop off use. ■