FOR OUR FUTURE
| 2013 Summer | story by EMILY MULLIGAN | photos by STEVEN HERTZOG |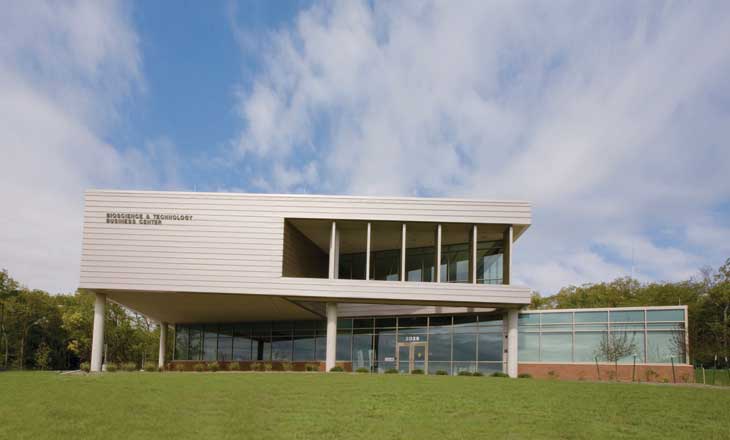 Archer Daniels Midland Co. (ADM) is among the world's largest agricultural companies. Among the most advanced tech companies. Heck, it's among the most ardent advocates for new processes, products and markets in the world.
And it's developing some of its most promising efforts in sustainability right here, in a small-but-growing lab in Lawrence.
"They're testing the waters to see where their research will take them," says Mike Smithyman, director of operations for the Bioscience and Technology Business Center, a complex that includes the ADM lab in Lawrence. "They've had success that's warranted them investing more resources."
Turns out that the ADM lab — part of a research-seeking-commercialization project that already has attracted $2.4 million from ADM, to go along with $6.8 million in state and federal grants — is among several mounting investments from the private sector in so-called "green" technology, sustainability-related products and associated services. Together, such initiatives represent what local officials hope will be foundational investments in Lawrence itself.
"This helps us build momentum," Smithyman says. "Then there's a snowball effect, to attract more and more companies and collaborations to the area."
With customers, businesses and industries increasingly seeking ways to reduce the world's reliance on fossil fuels, a rising number of entrepreneurs and industrial giants alike are settling — and growing — in Lawrence, a university community where risk-taking is welcome, expertise is readily available and private and public support is both available and essential.
The University of Kansas provides a plentiful source of scientists, researchers and students looking to change the world — one molecule, fuel source or other advancement at a time. KU also works with the city of Lawrence and Douglas County to finance and operate the Bioscience and Business Technology Center, a complex of incubator spaces that come with business services that allow proven ideas to grow into actual products and services, ones with potential commercial futures.
The combination is convincing businesses — some spawned by KU research, others licensing such science or simply feeding off the momentum it builds — to set up shop in town, as officials look forward to a future of robust hiring, scientific investment and overall success for all involved.
"The BTBC at KU has been a powerful recruitment tool for the region, as evidenced by the numerous companies that have chosen to locate in our BTBC facilities," says Joe Monaco, a KU spokesman who assists center clients. "The BTBC is an especially good option for companies involved in green technology and sustainability, as KU has incredible expertise in these areas.
"When a company chooses the BTBC, they get access to KU experts in climate change, environmental impact assessment research, energy production, and related areas. That's why the BTBC at KU is such a great draw for a company involved in green tech."
So far three so-called "green" operations have set up shop within the BTBC:
ADM, whose biorefining efforts could lead to stronger, more flexible and more sustainable plastics.
Midwest Energy Solutions, an alternative energy company that designs and installs renewable energy solutions for homes, vehicles and businesses.
360 Energy Engineers, which works to help clients improve energy efficiency of their buildings.
All three are doing more than simply existing. They're growing. They're hiring. They're leading.
"They are good to have here, because it's a reflection of where the economy is going and it just shows that 'green' companies — companies in that space — continue to grow and prosper," Smithyman says. "It's really good for us because they're doing well and actually creating jobs."
Biorefining
ADM moved into its lab space last year at the BTBC Expansion Facility, at 4950 Research Parkway in western Lawrence. Two post-doctoral scientists from ADM have been in the lab since last summer, and within the past couple months the company has hired a full-time manager — another post-doc from KU's Center for Environmentally Beneficial Catalysis —to help advance ADM's efforts in Lawrence.
The materials being developed in the 1,200-square-foot lab area aren't quite ready to be used for PVC pipes at construction sites, or in drink bottles sold in sporting goods stores, or in any other applications envisioned through biorefining efforts.
But the work is promising, says Bala Subramaniam, director of KU's Center for Environmentally Beneficial Catalysis, which has been working with ADM for more than nine years. And such an ongoing partnership is good for everyone, including folks looking to generate a critical mass of technology companies — "green" or otherwise.
"That's the goal — to attract companies here to work with each other and with KU," Subramaniam said last year, when ADM set up the lab.
Efficient fuels, energy
Midwest Energy Solutions is among companies capitalizing on the KU connection, working out of a BTBC building at the KU Medical Center in Kansas City, Kan.
Michael Batten, the firm's founder and president, describes the BTBC's business development services and opportunities for research collaboration as "ideal" for an energy and technology-based company like his.
"We have everything we need to expand here," he says.
Midwest Energy Solutions aims to convert vehicles to using an alternative form of gas: compressed natural gas instead of gasoline or diesel fuel. The goal is to enable consumers and businesses to be able to use such plentiful and efficient fuel conveniently, even by refueling in their own garages or driveways.
"We're addressing this country's addiction to foreign oil, protecting the environment and creating new jobs," Batten says. "I'm proud of that."
BTBC's main building in Lawrence, at 2029 Becker Drive on KU's West Campus, is home to another firm working in the "green" space: 360 Energy Engineers. The firm opened its Lawrence office in 2010 with four employees; today it has 10, with plans for more.
The BTBC provides work space, and helps with basic businesses services. KU supplies plenty of qualified and motivated candidates for jobs and internships. The Lawrence community offers a future.
"The BTBC is the ideal location for us," says Joe Hurla, a partner in the firm and director of business development. "This is a community that is open to greener technologies and those types of businesses. We see us having some further expansion here."
Promising future?
All three "green" firms are working through their own forms of success now: landing clients, testing technologies, investigating opportunities.
City and county officials, of course, continue investing in the BTBC concept — and construction and acquisition of buildings and equipment — with eyes toward the future: Firms hiring more engineers, entrepreneurs capitalizing on new ideas, even multinational companies refining new market opportunities.
Nobody can say whether biorefining products born here in town — if proven viable in the lab — could be developed and also manufactured and distributed in Lawrence. It's much too early for that kind of talk.
But the simple fact that Lawrence even is in the conversation is saying something.
"We seek to create an infrastructure in Lawrence that can help those companies land, or exit — as we say, 'graduate' — from our system, and then thrive in the local community," Smithyman says. "That's our over arching goal." ■