ART RETAIL
| 2013 Winter | story by ANN BROCKHOFF | photos by STEVEN HERTZOG |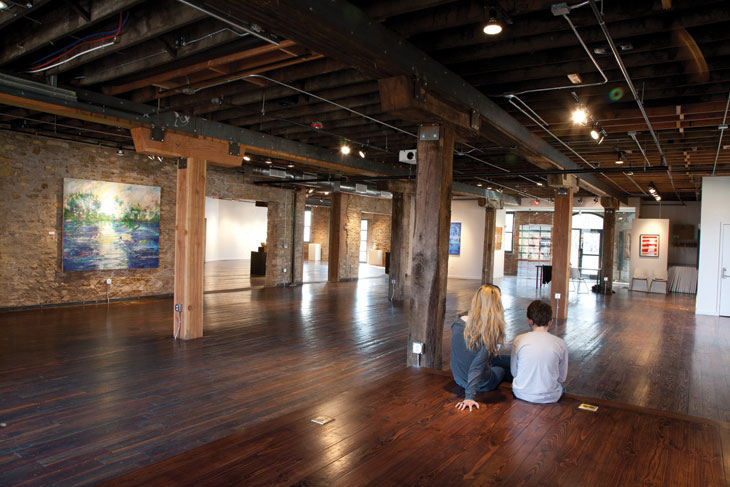 Art has a reputation for being exclusive, however, in Lawrence, it's anything but. The city's creative community embraces fine arts and functionality, established and experimental genres and spaces and public events of all types.
But even with all that, it can be tough making a living by making art. There simply aren't enough exhibition spaces or patrons, artists and gallery owners say, although that may be changing. New venues, Final Fridays and the creation of a Cultural District indicate renewed vigor.
"I'm heartened, and I think there's a good future for local art commerce in town," says Meredith Moore, co-owner of Wonder Fair: Art Gallery, Shoppe & Studio. "I don't think it will follow the traditional form, and I don't think we'll have those high-roller collectors. We'll have a tightly knit, supportive community of art collectors and art makers, which is more rewarding."
Wonder Fair draws much of its support from Lawrence, although Moore also has clients from nearby Kansas City and Wichita and as faraway as New York and Los Angeles. Some come for gallery exhibitions, which feature emerging artists and often printmakers; others are drawn to the shoppe's selection of useful, handcrafted pieces.
But Wonder Fair does more than sell art. Moore's mission also includes building excitement for new talent while helping those artists shape their careers. That might mean advising on pricing or framing, discussing Internet marketing or developing complimentary projects that improve salability without compromising integrity—whatever an artist might need. "We're a resource where artists can learn to be more financially adept in the marketplace," Moore says. "We show them they don't have to be starving."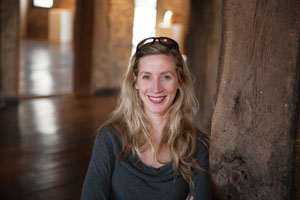 Making art accessible to a wider audience is also important, and it's a principle Wonder Fair shares with another downtown destination – the Phoenix Gallery. Gallery manager Sue Shea works with about 360 artists, filling the space with everything from pottery, textiles, wall hangings and sculptures to necklaces made from vintage rosaries, hand-blown glass vases and copper reliquary boxes.
"Everything is handcrafted, unique, functional and affordable, Shea says, with prices ranging from $8 to $1,200. Sometimes when people see a gallery, they think they can't afford anything," Shea says. "That's not how we want to run this. We want to run this so there's something for everyone."
Most artists work on consignment, and each object is photographed upon receipt so the gallery can provide artists with an exact inventory of sales. Shea and her staff also regularly coordinate commissions and special orders. Many buyers are local, but not all.
"We have customers on the East and West coasts and everywhere in between," says Shea, who also promotes artists via Facebook, Twitter and email. "There's a lot of back-and-forth, and we do all that."
The gallery added a more traditional exhibition space earlier this year when it opened the Phoenix Underground in its basement to showcase both two-dimensional works and larger sculptures. The gallery also shares downstairs space with Essential Goods, a retail shop selling handcrafted works by independent craftspeople.
It's not unusual to encounter an artist in any of these spaces, either by happenstance or during regular events such as Final Fridays, which many galleries credit with helping fuel enthusiasm for Lawrence art.
Final Fridays began in 2010 as collaboration between the Lawrence Arts Center, Downtown Lawrence Inc., The Lawrence Arts Commission, artists, galleries and area businesses. More than 40 venues now open their doors the last Friday evening of every month with a now-familiar celebratory air.
"It's had great impact," Shea says. "It's been really good for artists, and it's good for downtown. I can't say enough good about it."
Final Fridays isn't just about downtown, though. It also typically includes galleries and studios in other parts of Lawrence, including the Warehouse Arts District near Eighth and Pennsylvania streets.
Despite the renovation of the Poehler Building, Cider Gallery Fine Art and other buildings, that area still doesn't see a lot of foot traffic—something Clare Doveton anticipates changing as it develops.
"I can't wait until there are other businesses over here," says Doveton, a Lawrence-based painter who manages the Cider Gallery, which is a sister business to Weinberger Fine Art in Kansas City.
Fine art is at the core of the Cider Gallery, which also rents office space and is available for events. The art enhances the appeal of its other functions, while they, in turn, diversify the gallery's revenue base. Such combinations aren't unusual in the art world, where framing and other services often balance unpredictable sales cycles, Doveton says.
There is some income from the secondary market (sales of pieces the gallery itself owns, like the Andy Warhol screen print near the door), but most comes from sales commissions on exhibited artwork. Fees vary among galleries, but 50 percent is typical throughout the business, Doveton says.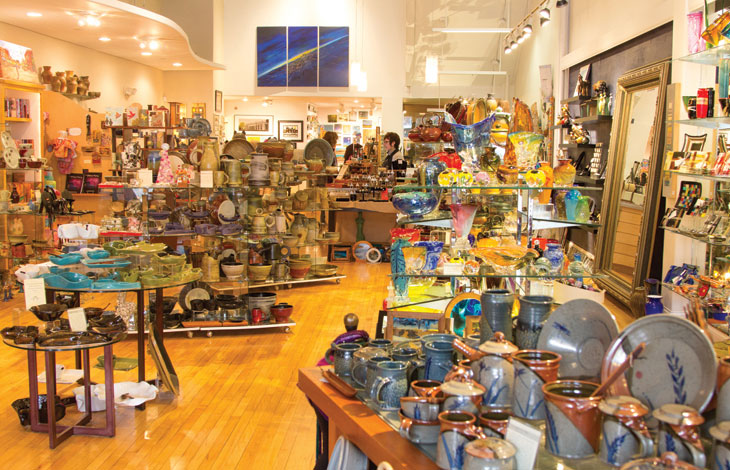 "I always thought 'dang it, they take 50 percent—what do (galleries) do?'" she says. "Being on the other side is an amazing experience. They earn every cent of it."
Galleries incur typical businesses expenses like overhead, labor and the like. But they also devote resources to cultivating relationships with individual patrons as well as museums, corporate collections, restaurants and designers.
They promote shows, both through traditional means and via social media, which interns (usually University of Kansas students) manage, organize studio visits, and host artist talks and other events. It's all designed to bring creator and audience together, although even that doesn't always result in sales.
"Enthusiasts are sometimes stymied by the financial side of things," Doveton says. They don't know that prices are often negotiable (to a small extent), that many galleries offer payment plans or that art makes a sound financial asset. Doveton hopes to soon begin a collectors' series that will clarify such issues and inspire both private and corporate investment.
"It's all about how we can help you own a piece of art," she says. "We want it to work out for the artist, and we want it to work out for the customer. We want everyone to be happy."
Lawrence may be home to internationally known resources like the University of Kansas' Spencer Museum of Art, but it in recent years has lacked sufficient exhibition space, artists say. That's expected to change, thanks to initiatives like the creation of the Cultural District (bounded by 15th Street on the south, Kentucky Street on the west, the Kansas River on the north and Burroughs Creek Trail on the east). A final report on the district will be presented to the City Commission in December.
There's also a growing range of eclectic, independent spaces like Invisible Hand Gallery, which is currently hosted by the Cider Gallery; Seedco Studios, a "creative factory/laboratory" with 17 resident artists in the brick warehouse next door; the Lawrence Percolator, a project space for the Lawrence Corporation for the Advancement of the Visual Arts located in the alley that runs from 9th to 10th streets between Rhode Island and New Hampshire; and The Lawrence Arts Guild, which runs the Lawrence Creates Makerspace Center for Innovation, Holiday Art Fair and Art in the Park.
Pop-up galleries, restaurants, coffeehouses, music venues and other retailers round out the list. As diverse as all these spaces are, they underscore one certainty: exhibiting work is essential to an artist's success.
about getting work seen and generating sales, although both are important. Artists also develop contacts, boost their appeal to other galleries and lay the groundwork for future opportunities by exhibiting.
"It's hugely important because (exhibiting) is your resume, and it's about networking," says Lawrence-based painter Elizabeth Rowley.
Managing those relationships is crucial. Rowley cultivates connections with fellow artists, galleries, interior designers and others working in creative fields. She communicates with patrons by writing thank-you notes to buyers, updating her web site and Facebook page and contacting them about upcoming shows, such as the Daughters of the Prairie invitational show that has toured Kansas and is now at the Southwind Gallery in Topeka.
Rowley is also among the more than 20 area artists who open their studios for the annual Lawrence ArtWalk in October. It's a unique opportunity to bring enthusiasts into an artist's own environment, Rowley says.
"People can see the process," she says. "It's very personal."
Making art personal is also integral to the Lawrence Arts Center's mission. The center hosts more than 30 exhibits a year, offering visitors a selection of solo and group shows and emerging and established artists working in an ever-varying mix of media, styles and price points.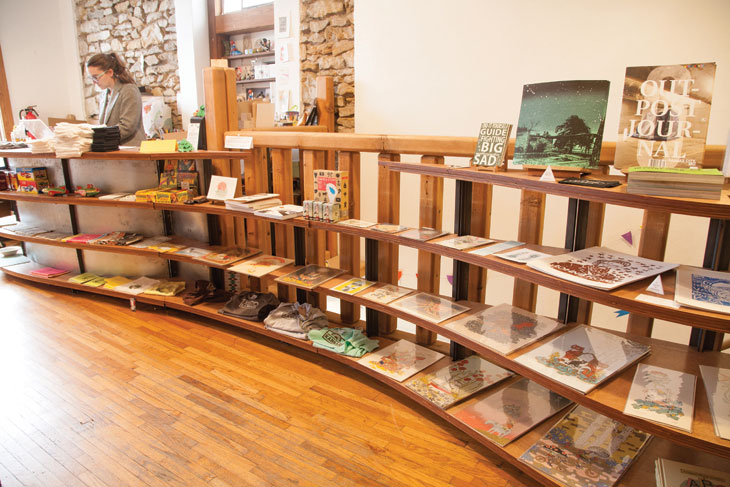 Artists typically present workshops and classes, lead discussions or interactive projects and otherwise enhance the LAC's visual educational framework. A variety of artist residency programs allow artists to involve themselves more fully in the community. And the LAC's first
ArtShares program offers a subscription service
for locally produced works akin to the Community Supported Agriculture model.
The result is a hybridized environment that engages the surrounding community, builds enthusiasm and guides people their own artistic access point.
"We're not a commercial gallery, but we're not a museum, either," says exhibition program director and sculptor Ben Ahlvers. "I like that. It's advantageous for us."
The art market in Lawrence is stronger than in years past, thanks to the combination of expanded exhibition space, robust public events and civic support.
"I think it's about to boom," says the Cider Gallery's Doveton. "Lawrence has always been the 'city of arts.' That's been the slogan. Now it seems like it actually is." ■