LAWRENCE RETAIL
| 2013 Winter | story by EMILY MULLIGAN | photos by STEVEN HERTZOG |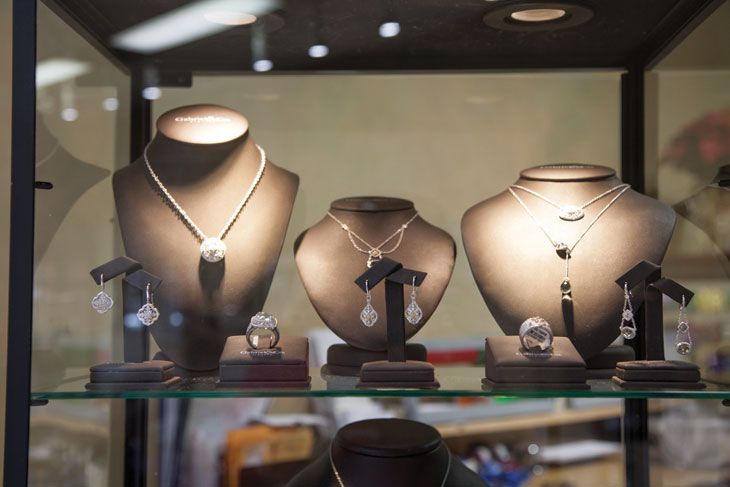 Plenty of big issues and changes face local residents these days. From higher education funding in the state to new developments to the east (VenturePark), west (Rock Chalk Park) and downtown (9th and New Hampshire), why should anyone care about retail in Lawrence?
"Retail is one of the pieces of the puzzle that makes a community," Ernie Cummings, owner of Kizer Cummings Jewelers, said. "People have needs, and retail gives them. The sales tax helps make the government work, and retail adds to the quality of life. If you have retail that is good, with competitively priced merchandise, and people can make the best decisions for their money, then you have a better life in your community."
Allison Moore, Senior Vice President for Collier's International, a commercial real estate firm, says that economic developers in Lawrence in particular have learned from the turbulent economy and are working to improve the community in many ways.
"The city recognized, from the downturn we recently had, that revenue comes in all shapes, sizes and forms," Moore said. "They had been focusing on primary jobs, and now the city is realizing that income tax drivers that provide a sales tax base are just as important to economic development."
Retail challenges in Lawrence
Now that the economy possibly has turned for the better, local retail experts agree that there are two challenges facing Lawrence retailers. One challenge is universal: the internet; and the other is unique to Lawrence: keeping shoppers in town instead of Kansas City or Topeka.
It has been more than a decade since it became evident that the internet would forever change shopping and retail. Internet behemoth general merchandiser Amazon.com is but one website that competes with all of the local brick-and mortar options. Local retailers and experts are continually developing strategies to keep purchases local – after all, online purchases do not generate sales tax revenue.
"Many local retailers have found a way to make the Internet work for them, such as Jim Bateman at Yarn Barn, who does a large mail-order business in the back half of his store," Sally Zogry, director of Downtown Lawrence, Inc., said.
Francis Sporting Goods has just begun to develop its online business in the past 2 years, said owner John Francis, and "people all across the U.S. are ordering from us."
Although online shopping has its advantages, local retailers say that time already has shown us that it will not supplant brick-and-mortar stores altogether.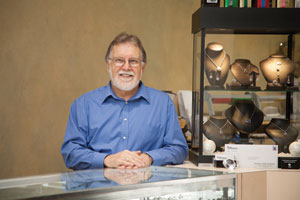 "If you can't pick it up, touch it, see it and see what size it is, it's just not the same. People will go online and look, then go to the store to compare," said Doug Brown, commercial realtor with McGrew Real Estate.
Cummings said that his customers often rely on the Kizer Cummings staff to help them sift through all of their options.
"The internet drives an amazing amount of information, and customers are so informed anymore. We have to distill it and work through it and personalize it for them," Cummings said.
Many local retailers have chosen to fight fire with fire – or technology with technology.
"We use Twitter, Facebook and e-mail, and it's big for us; we get results," said Sue Shea of the Phoenix Gallery.
Downtown clothing store Fortuity recently revamped its website and offered online-only promotions to its Facebook friends, Twitter followers and even in-store shoppers, with the goal of directing more traffic to both Fortuity's expanded web presence and its brick-and-mortar store.
Leaving Lawrence to Shop
While the online shoppers continue to pose a threat to local stores, there is one other technology that Lawrence retailers must compete with: the car.
With the continued development of newer retail locations such as the Legends in Kansas City, Ks, more and more residents are hopping on the turnpike and heading to Kansas City and Topeka to do their shopping. And since many residents work out of town to begin with, it is difficult to keep people shopping where they live.
"I think we've lost so much to the Legends over the last six to eight years. You don't have to go to Overland Park anymore – they can drive 15 minutes and have all this retail at their feet. If we can grab some of that back, it would be tremendous," Brown said.
Many residents have raised an outcry about the "big box" development on South Iowa Street in the past decade hurting local retail, but, on the contrary, those stores are as vital – if not more so – to keeping shopping dollars local. If Lawrence didn't have big box stores like Best Buy, Home Depot and Kohl's, local residents would drive elsewhere to find them.
"We need to have those opportunities here so our residents are spending their money in our marketplace instead of somewhere else," Moore said. "I maintain that keeping every dollar spent here that we can is a good thing."
The Chamber of Commerce and the city have been tracking Lawrence's retail "leakage" for decades, and local experts say it comes back to giving residents the options they want – from the big box to the specialty retailer.
"The reason people are going other places to shop: first, it's natural to think other places are better, and second, they think they'll have more selection," Cummings said. "To compete, you just have to do the best job you can and be really aware of what your customers want."
Brown closed the deal that brought Target to Lawrence in 1994. At the time, he said, many in town were asking why Lawrence needed the store. It was a "category killer," meaning that it had merchandise that competed with many categories of stores Lawrence already had, such as clothing and hardware.
"It happened, Target came here, and the sky didn't fall. We survived," Brown said. "From that, now you have a whole area south of 31st Street that has become attractive to retailers."
Downtown
Although the shopping on South Iowa Street appeals to residents and retailers alike, all the local retail experts agree that downtown is what makes Lawrence, well, Lawrence.
"I don't believe downtown draws only from Lawrence, but it draws people from everywhere," Shea said. "Wherever they go in Lawrence, they end up downtown. There are vibrant downtowns in other places, but you won't find a better mix than here."
Zogry said that downtown business owners are plugged in to events happening in town year-round, noting that even if people aren't shopping that day, the event brings valuable feet and eyes to their stores.

"Downtown is a constant evolution," Cummings said. "It creates businesses that you can't really duplicate anywhere else. We need to also find retail that is interesting enough that we can draw people here to shop."
Downtown will be changing even more in the next couple of years, with the new hotel development being built at 9th and New Hampshire, in addition to the new housing and retail space that opened at the same intersection in 2011. Other potential plans call for redevelopment at 11th and Mass.
"The city is walking the walk of maintaining downtown, making large commitments to downtown's success, with the library upgrade, and new hotel and multiuse space," Moore said. "It has increased to a 24/7 place down there. Let's don't be afraid that we're going to become a bar district – that always balances itself out. If you make it a good place to do business, that will lead to diversity."
However, the appeal of downtown can be a double-edged sword to regional and national retailers looking to locate in Lawrence.
"I recently made a deal on space in downtown Lawrence. The tenant was surprised to find this nice of space available in downtown, so they felt lucky," Brown said. "On the flip side, if there hadn't been space, that tenant may have gotten frustrated and given up on Lawrence."
Retail Development From Here on Out
Brown said that there wasn't a way to create the Mass. Street. corridor in any other place in town. So that is why retailers have looked to South Iowa Street – and to other locations that planners had not previously considered for retail.
"It has been a perception that if we say 'no' to one retailer in one area, they will naturally want to be somewhere else in town. You don't tell retailers where they want to go: retailers tell you," Brown said.
Moore agrees that retail development from now on may not be able to be as closely controlled by city planners as the Horizon 2020 has dictated up to now. She says that Lawrence needs more highly visible retail sites in a prime retail corridor. There are no spaces available on South Iowa Street – the only spaces are the buildings in front of Best Buy and Home Depot that lack visibility and, hence, traffic.
"Retailers only want to be in a proven viable location," Moore said. "That could mean an infill project, looking at sites that could be developed, or zoned industrial that's vacant. We need to listen to the possibilities. We're the experts of Lawrence, but the retailers are the experts of how developments become successful."
Moore and Brown both point to the recent Menards controversy as an illustration of a retailer wanting to be in a certain location where the city had not planned to develop retail. The Menards will be built on 31st Street, near Home Depot, on a site that was previously a mobile home park.
"We need to have community leaders be more open-minded on the front end of the conversation [with developers] to see if those things are a good fit for us," Moore said. "We have to be nimble enough to change based on demand and the culture, and keep the big picture of what's good for the community."
Brown said that just because the city is developing places like Rock Chalk Park and VenturePark, which have main uses other than retail, doesn't mean that retailers will be lining up at the opportunity to be near those locations.
"National retailers don't like to be pioneers," Moore said. "If it's their first time in Lawrence, they like to know several people coming with them, other retailers. That's why South Iowa is so popular: You don't want to go to a party and nobody's there; you want to have a good time with people like you."
Coming Soon?
Why does Lawrence need even more retail space? The city does not yet have every category of retail that it could, Brown said. Beginning with Dick's Sporting Goods, which will be the first big box in its category when it comes next year, Brown sees the potential for some new types of retailers on the horizon.
"Lawrence will probably see a club membership store, like Sam's or Costco, in the future. We have been a target for that for a while, but it hasn't been the right time," he said.
Lawrence also will see the continued expansion of discount stores of certain categories – such as Ross Dress for Less for clothing, which opened last year near another discount store, Famous Footwear.
"Because of the economic downturn, those discount players thrived with their reputation for providing value. We now are going to see more of those players here, possibly coming together all at once," he said.
Brown thinks there will be more national retailers of all kinds, including expanding some of the categories Lawrence does have. The Merc and Natural Grocers are both considered health food stores, but Brown says they might not be enough to keep others from entering the market.
"That health-food store trend is going to continue – I don't see that going away anytime soon," he said.
If all retailers – local, national and regional – in Lawrence can begin find answers to the challenges of the internet and the out-of-town shoppers, which many feel like they have begun to do, then the future of retail of Lawrence has no limits. ■