MOM & POP RETAIL
| 2013 Winter | story by DAISY WAKEFIELD | photos by STEVEN HERTZOG |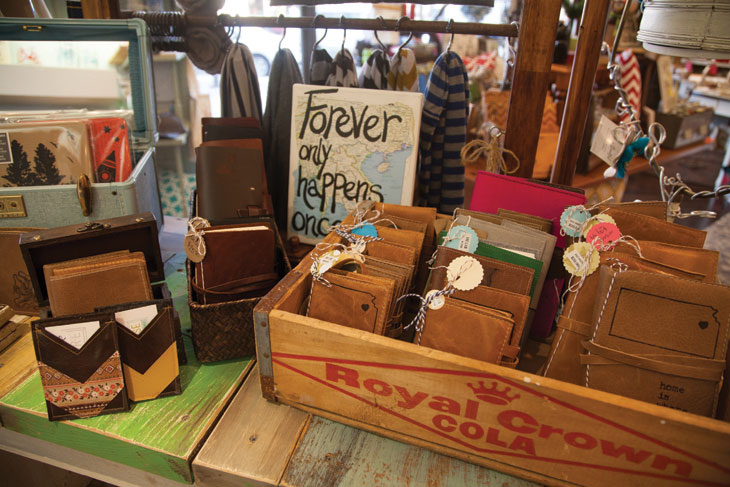 A colloquialism for independently owned stores, Mom and Pop shops are becoming a rare breed in the American marketplace. Even rarer are such stores actually owned by a "Mom" and a "Pop" — couples who have banded together for in sickness and an health, for better or for worse, at home and in business.
In Lawrence, husband and wife owned stores are still thriving thanks to community-driven customers
Made on Mass, Matt and Jennifer Richards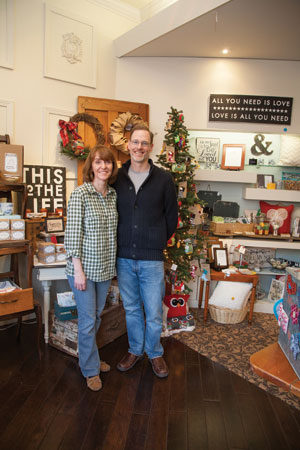 It's a different scene from their former lives as a business lawyer and an accountant, but Matt and Jennifer Richards seem to love it. Their Made on Mass shop features handmade products sourced from artists and craftsmen in the US, with about 40% from close regional sources. From soy candles to baby clothes to home decor, the items in Made on Mass form a shrine that has become "Etsy in a store."
Jennifer was already a handmade goods purveyor when she had the idea to put an entire store together of unique handmade goods. Matt jumped in, and they sourced their first batches of inventory from Etsy vendors that Jennifer had previously purchased from, as well as local artisans and craft store artists. With little retail experience, the Richards just learned as they went. Now that it's been on the block for two and a half years, the shop is doing well.
"I don't know what it's due to — being here for that amount of time, or people knowing about us more, or a combination of those factors, but we're going strong. And, we're just better at it then when we first started," Matt said.
Matt runs the daily operations, while Jennifer acts as the creative director and buyer. The community has responded to the feel of the shop, with word-of-mouth and repeat customers fueling the business.
"We cater to the ideal that what you buy here is not what you can buy anywhere else," Jennifer said. "When you get something here, it's not stuff you can get from big box. Our items are a little more unique."
Pearson's Collision Repair, Mike and Debbie Pearson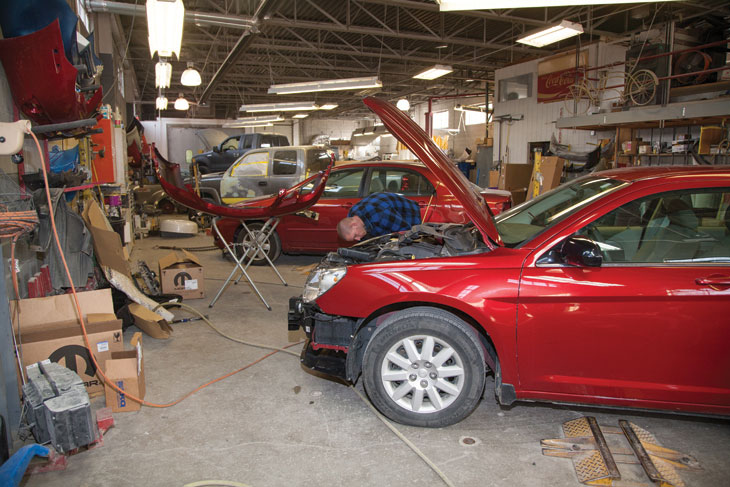 Mike Pearson bought his first fixer upper sports car when he was seventeen. As he set out to learn how to fix it and embark on a lifelong career there were no trade manuals or even technical schools for auto body repair. Learning was done the old school way — by watching other people do it. Mike absorbed what he could about auto body repair, and even lived in an auto body shop for a brief period, pulling his van in at night and eating lonely ham sandwiches.
Presumably, Mike's shelter and diet improved after he met and married wife Debbie, a Lawrence native. Shortly after marriage, Mike and Debbie opened their first collision repair shop in 1981 in North Lawrence, and ten years later, moved to their current location at 7th and Connecticut.
"I married him for a reason," Debbie says. "I want to be with him. What better way to do that than spending our days together. Of course, like any other co-workers, we have our conflicts. But we have our coping mechanisms — humor is always a good thing."
Cindy's Simple Life, Tom and Cindy Luxem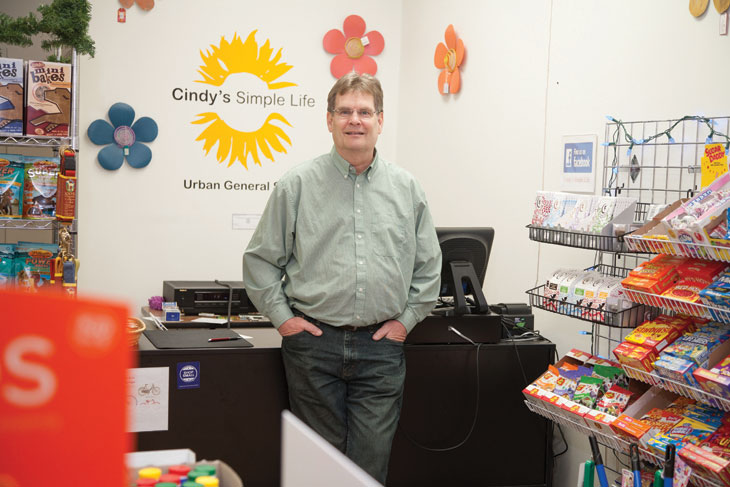 Tom and Cindy Luxem's life has been a bit like the shop they
now own — a mix of fun and functional, quirky and amusing things that are interesting and just a bit off center. Tom has done retail, book selling and music. Cindy has started retail Juice Stops, led nonprofit organizations, and done her own bit of music too. This mishmash of experience led them to opening Cindy's Simple Life in May of this year. The shop is like a modern five-and-dime, with a lot of things you didn't know you needed.
Their label for it – an urban general store — was inspired from a New York based store with the same character. Ninja-shaped cookie cutters, wacky cards and stationery, denture-shaped ice cube trays, cat butt flavored gum — it's the store for the sassy and funky consumer.
"We've been lucky in our life — our lifestyle has been such that we've spent a lot of time together from the first day that we were married — we didn't go off on two different career tracks and come together only at night," Cindy said.
Apple Tree Homes, Greg and Carol Rau
The original founding Mom and Pop of Apple Tree Homes had a good system. He was the licensed homebuilder that priced projects, oversaw field operations, and knew the inside and outside of home building and renovation. She was the office manager that kept the books, made the clients feel at ease, and ensured a smooth running operation. When Greg and Carol Rau purchased the business more than six years ago, they stepped seamlessly into the already formed roles and responsibilities.
"That's an advantage for us in operating a business together — how we've set it up and that we have separate responsibilities," Carol said. "I respect the fact that he has the experience in building, and he respects the way I manage the office."
Apple Tree Homes does custom homebuilding and renovations, projects that are deeply personal and can stretch out to be almost a yearlong. When Greg and Carol meet with clients, many of them are families or a married couple.
"It's a personal thing," Greg said. "We develop a relationship with the clients in the course of building a home, and it helps when we relate to couples that we are a couple ourselves."
Cottin's Hardware, Tom and Linda Cottin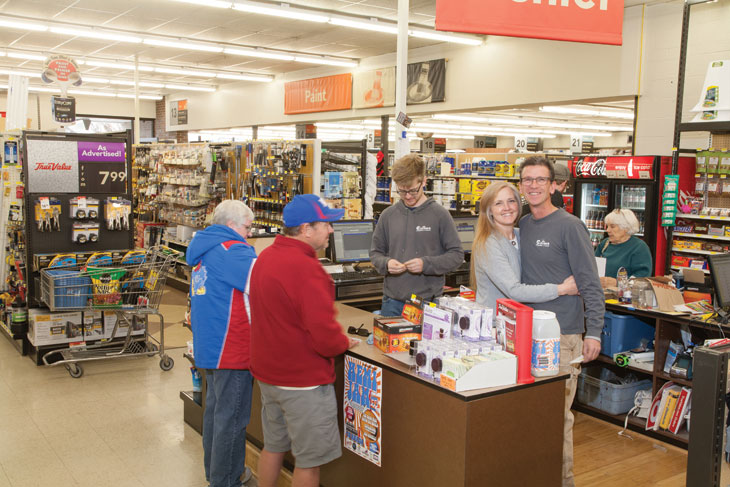 Tom and Linda Cottin come from hardware store stock. Both sides of families bought hardware stores in a small town in Michigan, and Tom's family's store is still in business. When Tom and Linda were looking to begin their own hardware legacy, they came to Lawrence to consider Zimmerman's Coast-to-Coast Hardware Store. In March, 1992 they bought it and moved their family of six to Lawrence.
Over twenty years, as local hardware stores have felt the impact of
big-box stores and online retailing, Cottin's has survived by strengthening its place as an icon in the community. But Linda says that the key to the survival of a family-owned business is the ability to adapt and make changes to satisfy the needs of the community and customers.
Thus, the store was recently renovated to give it a more-up to-date appearance, and inventory was increased by 50%, which has brought positive responses from customers.
"The way that we're able to stay here is because of the community of Lawrence and their support and understanding of the value of having small family-owned businesses," Linda said. "It's not about money – it's about commitment to community." ■