PET RETAIL
| 2013 Winter | story by DAISY WAKEFIELD | photos by STEVEN HERTZOG |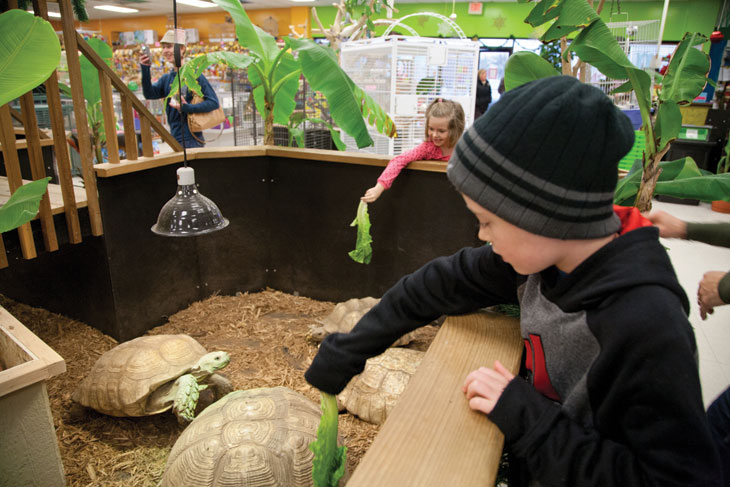 According to a 2012 American Pet Products Association Survey, 68 percent of all U.S. households now include pets. The national affinity for pet ownership has translated into a massive industry, with an estimated $55 billion spent in 2013 on pet related expenses. Seemingly immune to fluctuations in the economy, numbers in the pet industry have been steadily climbing, averaging an 11% yearly growth rate over the past 20 years.
The trends of the pet industry have shifted both in terminology and in attitude, from pet ownership to pet parenting. The industry still revolves around the hubs of pet expenditures such as food, supplies, veterinary visits and grooming. But other branches of the industry have developed and are growing by leaps — pet insurance, pet sitting and walking services, pet supplements, pet boutiques and pet burial and cremation.
"A lot of people have chosen to wait to have kids or to have a career instead of children, and they have a dog," Liz Devin, owner of Christal K9 explains. "Or a lot of nontraditional couples are choosing to have a dog. People are taking care of their pets in a very different way from 20 years ago — it used to be that dogs were chained up outside and seen as a possession. Now, they are more like members of the family."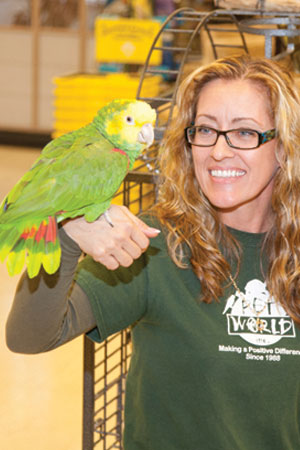 And as members of the family, pets are commanding everything from a place on the family bed to day care options. Christal K9 is a grooming, boarding and training business that caters to working pet parents who want a day care for Fido during the day, rather than a lonely shut-in house. Devin refers to this part of the business as "play care" – a stimulating, socially interactive environment for pets while their people are unavailable. Sending animals to day care may seem a bit on the outlandish end, but Devin says that many dogs are high energy and being locked up in a room or house during the day is just asking for chewed up couches and other trouble. The cost of day care can off the cost of a wrecked house and frustrated pet parents.
The pet food market has exploded within pet retail, overtaking veterinary costs as the top pet related expenditure, with recent trends toward natural, organic and holistic pet foods. A far cry in nutrition and price point from the dry kibble of yesterday, these foods are marketed as specifically formulated for pet needs. As with human food, they range in how they appeal to consumers, from including extra vitamins and minerals such as omega-3's and antioxidants, to eschewing chemical processing and fillers, to being free of pesticides, growth hormones and genetic modification, to being eco-friendly and focusing on a pet's mind and body balance.
Commercially processed raw pet foods have also been recently introduced to the pet food retail scene. These foods emphasize raw meat, bones, fruits and vegetables, and have been frozen or freeze-dried for consumer distribution. Proponents of raw pet foods say that their pets exhibit shinier coats, healthier skin, cleaner teeth, and higher energy levels. Critics say that the raw foods present possible risk of salmonella to humans and pets and can tilt toward an unbalanced pet diet.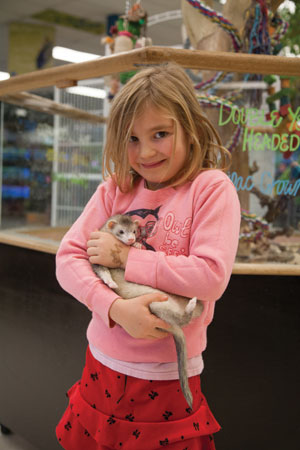 "Pets that have better quality food are healthier, have better and shinier coats, and don't have to go to the vet as much," explains Amber Nickel, owner of Pawsh Wash. "The origin of dog food is that it was made with waste and byproducts of human food, with some fat thrown on it. But dogs, like any living thing, needvariety and freshness. That's where the trend is now – not just scraps off of the floor of Nabisco. We're making foods with their health in mind."
Opened in 2005, Pawsh Wash offers supplies,
full -service grooming and self-service wash. Nickel says that the recession years were tough, but even so, the store has seen a 30-40% growth rate every year and currently employs 20 people. The business has also expanded to a second location, Pawsh Pet Health Market, retailing natural pet foods and supplies.
"I think what turned the pet industry was when we let animals inside our homes," Nickel says. "They are no longer backyard ornaments. Once you bring them in the home, you see the benefits of that relationship, and now we're willing to invest more and take care of them."
Veterinary care is the second highest expenditure in pet retail. There are at least a dozen veterinary clinics in Lawrence, which works out to one clinic every 2.5 square miles. With costs of a vet visit anywhere from $50 on up, this is the one expenditure that varies wildly depending on a pet owner's financial situation. But pet owners who have the means tend to spend what they need to in order to give their animal a better or longer life, even if that means thousands of dollars on chemo treatments or ACL replacements. ■