LEARNING ON THE HILL TO ENGINEERING TODAY
| 2014 Spring | story by EMILY MULLIGAN | photos by STEVEN HERTZOG |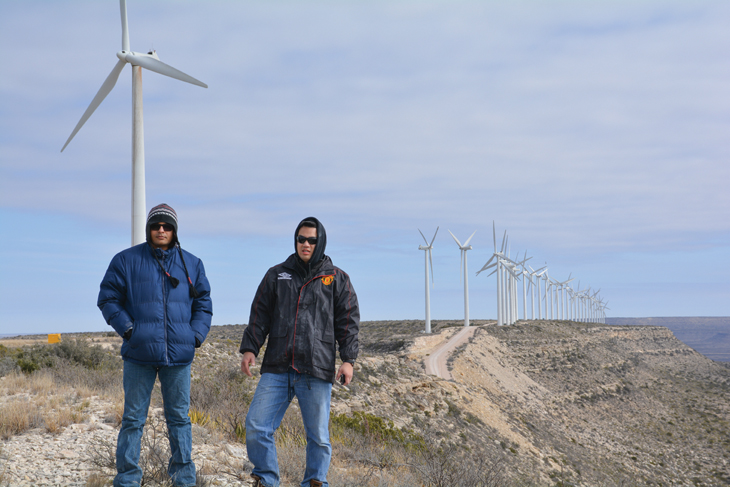 Engineers thrive on finding solutions to problems – even if that problem was a slumping U.S. economy that was affecting their business. Three longtime Lawrence engineering firms found ways to continue their success during the past few turbulent years, with one of them even doing more projects than ever, and they have emerged with business models designed to sustain them for the long term.
All three firms are headed up by University of Kansas, School of Engineering graduates, and they have chosen to stay close to the University, in Lawrence, for reasons both similar and different.
Wetzel Engineering
The collapse of energy giant Enron led Kyle Wetzel back to Kansas after years in California working on the company's wind energy projects. Armed with knowledge and experience in the field, Wetzel, who is originally from Topeka and has his bachelor's degree and Ph.D. in aerospace engineering from KU, came back to assist one of his former professors with a contract from the Navy.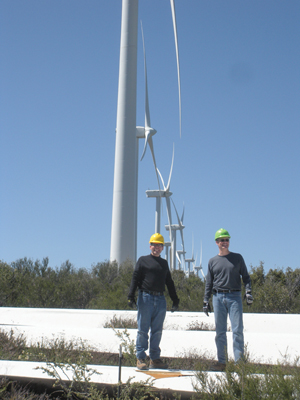 Right away, he established his engineering consulting business and specialized in research and development related to wind turbines. He had no idea that in just a few years, his business would grow exponentially and become one-of-a-kind in the country.
"We are one of a half a dozen companies in the world that designs wind turbine blades – we are the only company in the United States that does," Wetzel said.
Now, the firm has 14 engineers and does 80 percent of its work overseas in places like China and Germany.
"Our largest project right now is in Korea, where we are designing a blade for a three-megawatt turbine for a power generation company. That is very large," he said.
Interestingly Wetzel Engineering's business boom came at a time when most of the U.S. was struggling with a recession. Wetzel said that success was a result of two things converging at once: a client who needed a large scope of services for a project and, most significantly, winning two contracts in China. He knew he couldn't go it alone, so he turned to KU's School of Engineering, and all of his first hires were KU graduates. The company's productivity shows no signs of slowing down.
"In the first eight or nine years I was in business, I did about 30 projects. In the past four years, we have done about 70 projects," Wetzel said.
He said that in the past year or so, the firm has picked up several projects in the United States. Farmers and schools are becoming interested in developing medium-sized wind turbines for power generation.
"We are trying to pursue a lot of work with the owners of wind farms, also, solving engineering problems of maintaining older turbines – that's called engineering forensics," he said.
Even with all his work and travel, Wetzel stays directly connected to the KU School of Engineering. He is an adjunct professor in aerospace engineering, and he collaborates with the faculty regularly – on their research and his own.
"We have a good barter with KU: I teach up there, and they provide engineering consulting," he said.
Landplan Engineering
As its name implies, Phil Struble's firm, Landplan Engineering, stays a little closer to the ground than wind turbines. In fact, much of the company's work is actually in the ground – designing commercial and residential developments and their water lines, sewer systems and stormwater systems.
Landplan Engineering was started in Lawrence in 1978. Struble worked at the firm part-time as a drafter while he pursued his engineering degree at KU. He had moved to Denver after graduation, where he worked for several years designing wastewater treatment plants and specialized in land use. Struble and his wife came back to Lawrence when Brian Kubota, Landplan Engineering's founder, called Struble and asked if he would like to be a partner in the firm.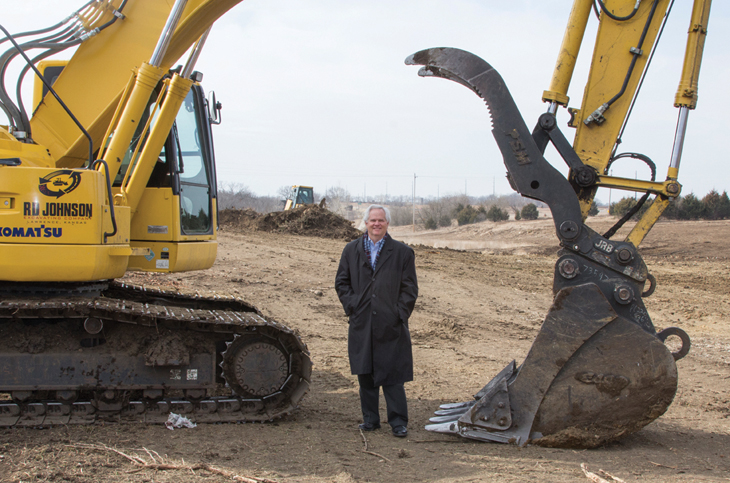 "I've been sitting in the same office for 20 years. But I have four junior partners coming up behind me – I didn't want to be the last one turning out the lights," Struble said. Struble built and grew the company doing residential and commercial developments, among a few other specialties, beginning with the real estate boom in the 1980s. Business was steady and growing – until 2008, when the U.S. economy began to falter.
"We figured out that the housing industry isn't going to come back as the same level it was," Struble said. "We went from developments being 70 to 80 percent of our business to 20 to 30 percent of our business. We had to come up with a new something to do."
One of the new things that Landplan began to do was to design senior retirement communities – which they are working on in Des Moines, St. Louis and Kansas City. Struble said they looked at their combination of engineers and landscape architects that had planned developments for years and realized it was the ideal set-up
to create new and different facilities.
"It is tremendously rewarding work – you can really impact people's lives," Struble said.
The new retirement communities are designed to better reflect modern seniors' lifestyle choices. For example, many are located in neighborhoods where residents can go for walks and see families out and about, maybe even visit a playground. Many have small health clubs with amenities similar to today's private health clubs. And, a lot of them have their own bars, so friends and family members can come and relax with a favorite beverage during their visit.
"You can't just build it like an apartment complex, because they are there all day long," Struble said.
In addition to expanding its project repertoire, Landplan has expanded its reach. The firm opened an office in Houston with six people. Struble says that large developments are still happening in Texas, even after the recession, so the firm is still doing planning, including a huge 1,100-lot subdivision, which Struble says is being developed without anyone in Texas "even batting an eye."
About half the work done in Texas is done out of the Lawrence office. Thanks to the wonders of technology, engineers can meet with their clients over Skype and walk them through schematics and plans in real time, so it doesn't make a difference where they are.
Struble says he is pleased that the firm has found its niche after the rough patch in the economy. The main thing that has changed for him is that he used to do about 80 percent of his business in Douglas County – now that figure is about 25 percent.
He had previously been involved with volunteer projects in the community and at KU School of Engineering, but now he must travel and network with the local municipalities where his projects are underway.
"From a business perspective, I can't do what I used to do. It's one of the unfortunate casualties," he said.
Grob Engineering Services
Dean Grob spent more than 15 years working as an engineer for other companies before he decided it was time to work for himself.
He started Grob Engineering Services in 2005, after working for R.D. Johnson Excavating for eight years and Kansas City engineering firm Black & Veatch prior to that.
A Lawrence native who has both his bachelor's and master's degrees from KU in civil engineering, Grob knew that setting up shop in his hometown would have its advantages.
"Forty percent of the work I've gotten has been referrals from people I've known. I never have really marketed or looked for work outside the county," he said.
Grob Engineering is Grob and one other engineer. They specialize in site plans for commercial sites, working with the city and regulations, and also do land development and public improvement plans such as streets, water lines and utility lines.
"One of the reasons I started the company was that other firms had gotten quite large and had larger fees. A lot of people I worked with had projects that didn't need a larger staff," he said.
Even with that cost and resource advantage, the economy affected Grob pretty strongly. He managed to piece together enough projects to survive.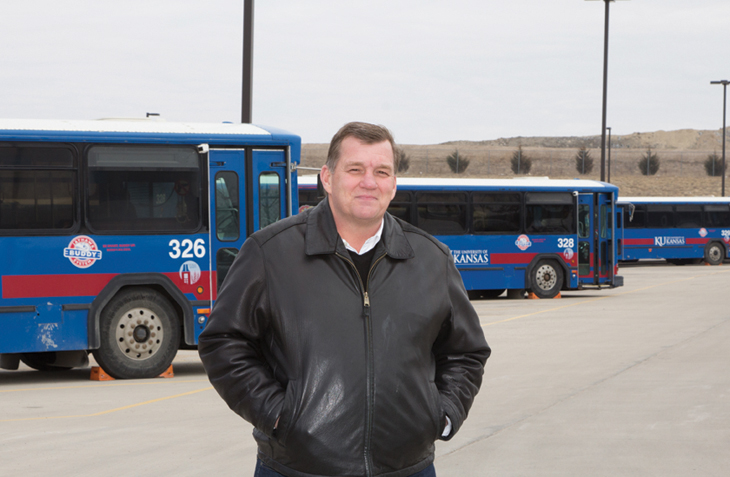 "2009 was bad – there just wasn't any work, and it wasn't that other firms were getting it," he said. Grob said that he can tell the economy is on the upswing, and he thinks it is improving at a slow enough pace to sustain the improvement.
"The engineering side is pretty strong. Cities have done street projects and infrastructure things when the cost is lower to them," he said.
Technology has improved efficiencies for engineering, but Grob says that nothing compares to field experience and general knowledge for making engineers successful.
"In civil engineering, dirt is dirt, and it won't change," he said.
To that end, Grob stays connected with KU's School of Engineering when he can. He uses some of his former professors for specialized consulting work.
"It is still a strong program. Anytime a school is growing, you know they're doing something right," he said.