WHAT DOES KU ENDOWMENT DO?
| 2014 Spring | story by ELIZALDE-MCCOY and LISA SCHELLER|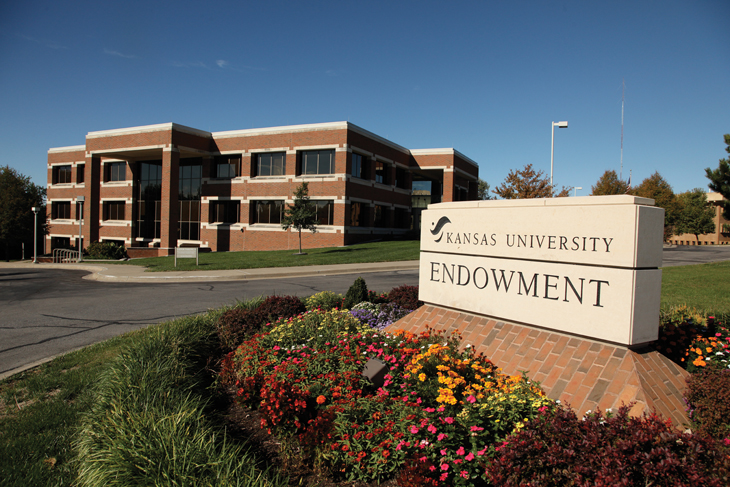 Since its founding in 1891 as the nation's first foundation for a public university, KU Endowment has provided more than $2 billion in philanthropic support to the University of Kansas. It operates as an independent nonprofit whose whole job is to raise and manage funds on behalf of KU, with the mission of building a greater university.
For the sixth year in a row, contributions to KU Endowment broke records in the fiscal year that ended on June 30, 2013, amounting to $174.2 million. At a time when state financing covers less than 20 percent of KU's total operating expenses, private gifts are increasingly vital to virtually all the university's endeavors.
"We're moving with unprecedented momentum," said Dale Seuferling, president of KU Endowment. "Our donors have shown an unwavering belief in the power of philanthropy to transform lives."
The remarkable achievement in philanthropy fuels the local economy in direct and indirect ways. Of the total amount donated last year, about 42 percent came from donors outside the state. This translates into jobs, cultural offerings, visitors and economic growth.
World-class facilities
Throughout its history, KU Endowment has funded, in whole or in part, construction of more than two-thirds of KU's buildings and has provided more than 85 percent of KU's land holdings.
Many buildings funded through private philanthropy enrich the quality of life for the Lawrence community. Examples include the Lied Center of Kansas, the Hall Center for the Humanities, the Dole Institute of Politics, the Spencer Museum of Art and the Booth Family Hall of Athletics, to name a few.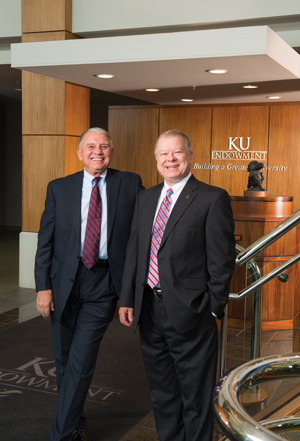 Over the past 10 years, KU Endowment has funded $240 million for campus construction projects. And fundraising is under way for several new facilities, including a new $65.7 million School of Business building, and the De Bruce Center—an $18 million addition to Allen Fieldhouse that will house James Naismith's "Rules of Basket Ball" and serve as a student center.
Currently, KU Endowment is partnering with the city of Lawrence and KU Athletics to build a major recreation and athletics complex called Rock Chalk Park. Construction is under way for the 89-acre complex, located near the northeast corner of 6th Street and K-10.
The city's recreation center will house volleyball courts, an indoor turf field, an indoor track, a weight room, a gymnastics area, and outdoor tennis courts. The KU Athletics portion will include a track and field stadium, soccer field and softball stadium. The track will replace the one inside KU's Memorial Stadium as the site for the Kansas Relays. KU Endowment acquired the land for the KU Athletics portion and is overseeing its construction. The city of Lawrence is building the recreation center. Rock Chalk Park is expected to be completed by fall 2014.
Transforming lives
But KU Endowment is about more than land, bricks and mortar. It's about the magic that takes place inside classrooms — the education of students who will be the leaders of tomorrow. Each year, KU Endowment issues about 10,000 scholarships, awards, fellowships and loans to deserving students, and 83 percent of them are Kansas natives. Virtually all KU scholarships originate through KU Endowment.
"It's so fulfilling for us to help young people reach their aspirations," said Seuferling. "They fan out throughout Kansas and beyond, marshalling their KU education to create a better life for themselves and their communities."
KU Endowment also works with donors to reward and recruit outstanding faculty. Donor-created funds support named, endowed professorships, as well as awards for outstanding teaching and research and lectureships.
Moreover, private philanthropy provides critical support for KU's academic programs and promising research. An outpouring of donor generosity resulted in more than $107 million raised in support of the effort for The University of Kansas Cancer Center to attain designation as a cancer center by the National Cancer Institute, which was achieved in July 2012.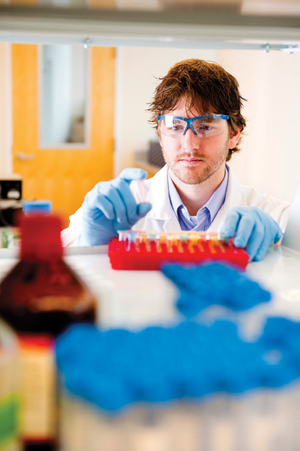 National recognition
KU Endowment's trend of success has received national accolades. In 2013 — for the second consecutive year — KU received a prestigious national award for overall performance in fundraising from the Council for Advancement and Support of Education. KU was one of only four universities in the nation honored in the category of public research/doctoral institutions with endowments over $250 million; others receiving this award were the University of California, Berkeley; the University of Virginia; and the University of Wisconsin-Madison.
"The support of private donors is vital to our efforts to achieve the university's bold aspirations," said Chancellor Bernadette Gray-Little. "The staff at KU Endowment helps match our donors' passions with KU's goals, and their success in that effort is reflected by the national accolades they've received."
Seuferling added that the staff is driven by the core values of passion for KU, partnership with donors, perpetual support and a people-centered approach.
Far Above: The Campaign for Kansas
The university is in the midst of its fourth comprehensive campaign. In 2012, KU publicly launched Far Above: The Campaign for Kansas, a $1.2 billion fundraising initiative for KU and The University of Kansas Hospital. Far Above seeks support to educate future leaders, advance medicine, accelerate discovery and drive economic growth to seize the opportunities of the future. The campaign has surpassed the $1 billion mark and is scheduled to conclude in July 2016.
To date, gifts to Far Above have created, among other initiatives:
More than 477 new scholarships and fellowships; Twenty-nine new professorships and directorships in a wide range of disciplines;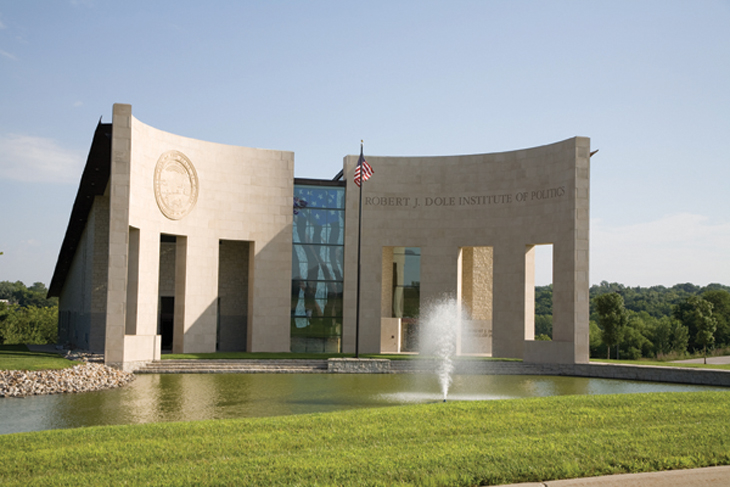 A Lied Center expansion
Plans for the DeBruce Student Center, an Engineering Research and Development Center and a new School of Business building; Enhancements to patient care at The University of Kansas Hospital;
Funding to strengthen research and academic programs;
Expansion of the School of Medicine-Wichita to a four-year program, and creation of a new four-year School of Medicine site in Salina.
A century-plus strong, KU Endowment represents a legacy of generosity. Were it not for private funds, the main campus in Lawrence, as well as the campuses in Kansas City, KS, Overland Park, Wichita and Salina, would be vastly different.
"As long as there is a University of Kansas, KU Endowment will be here. Our goal is to support KU in perpetuity, to help it achieve its aspirations and reach greater heights," said Seuferling