PROFESSIONAL SPOTLIGHT:
CINDY MAUDE, CEO OF CALLAHAN CREEK
| 2014 Spring | photo by STEVEN HERTZOG |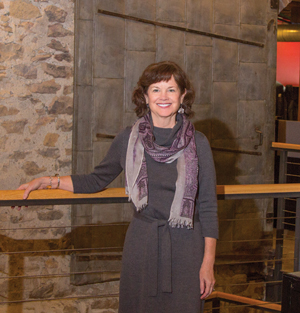 What is your company's most important commodity or service?
Callahan Creek is a marketing agency focused on specialty brands. We create success for our clients by developing effective and strategic marketing ideas and communications that engage customers and then turn them into brand advocates.
Other than monetary, what is your company's most important priority?
The success of our clients and our employees is our top priority. We strive to make our clients the envy of their categories, and we try to provide an environment where people want to work, where creative thinking can truly happen and where each employee feels valued and rewarded.
What has been some of the most important aspects of your success?
Creating a culture where our core values drive everything we do: the decisions we make, the way we treat one another and the way we interact with our clients. Doing this has enabled us to attract the top talent, truly smart people, and best of all, people who genuinely respect and like each other. The people who work at Callahan Creek are the most important aspect of our success.
How many people does your business employ?
Around 60. Twelve are in Torrance, CA.
How many of those live in Lawrence?
20 live in Lawrence. Others live in Kansas City, Topeka or the surrounding areas. 12 live in California and, 1 lives in Salt Lake City.
Does your company encourage people to live in Lawrence?
Those of us who live in Lawrence love it and regularly talk about how great it is to live here. So, yes we do encourage people to live in Lawrence. However, the world is changing, so we are also looking at telecommuting and other ways of working. No longer do we need to lose a valuable employee if they decide to move to another market, which is truly a new way of managing how we work.
How do you and your business make a positive impact on the Lawrence community?
We hope that we have made a positive impact on the Lawrence community since moving our business here in 1999. One of our values is 'generosity', and we share a percentage of our profits, our talent and our time with the community and KU. We have provided numerous scholarships to KU's School of Journalism and to its Design Program for aspiring students in our profession. We also support many other organizations throughout Lawrence, both financially and by sharing the great talents of our staff to provide branding, marketing, research and creative services. Several of our staff members serve on the Boards of local organizations. We employ passionate people who care deeply about the organizations they support, and we encourage them to share that passion with the community.
What do you see as your personal responsibility and your company's responsibility to the community?
We feel a great responsibility to the community and supporting the many needs of our city. We moved our business to Lawrence in 1999 for many reasons, one being the creative vibrancy of the downtown area. So we have a special interest in helping to maintain it as a hub for creative businesses, arts and culture. The economic growth of Lawrence is dependent on its quality of life and
What would you change about doing business in Lawrence?
It seems that business recruitment and retention is improving with the current City Council, but there is often too much red tape for a potential business looking to locate in Lawrence. We need to all work together to create and promote opportunities for companies to thrive in Lawrence.
Working in the rapidly changing and growing field of marketing, how have you managed to remain relevant and profitable? Or, how has your business changed over the years to remain relevant?
Our business has probably changed more in the past two years than in the entire time I've been in business, and that's a long time! While our agency still handles all forms of traditional marketing and advertising (TV, radio, print, direct mail, billboards, etc.), the proliferation of media has made the ability to connect with our clients' customers much more complicated than it used to be. The customers are totally in charge of what they want to tune into, whom they want to talk to and listen to and how they're going to receive messages. And the speed in which those decisions change requires many different skills than in the past. In order to keep up, we invest a lot of time in learning, research, trying new approaches and bringing in partners and employees with new skills. It's an exciting time in our business – there is never a boring day!
How do you manage your day-to-day stress of business?
It helps to have great people to work with, good friends and family to share with, exercise when I can fit it in, good books to inspire me and a nice glass of wine at the end of the day. How do you reward excellent work performance?
How do you manage poor performance?
We celebrate people who go above and beyond in living our values every day through our "C-note" program and each month at our staff meetings. We reward innovative ideas at our "CALLY" awards program. We have a discretionary bonus program that recognizes excellent work. And we have many impromptu celebrations that usually include good food.
Performance is managed through daily coaching, if needed, and through quarterly touch-base reviews to assess progress toward reaching goals. We strive to utilize people's strengths to their fullest and do our best to make sure that they are in the position to succeed.
What is the biggest challenge you feel your company faces?
Keeping up with the daily changes in the way people communicate throughout the world, and making sure we stay ahead of the trends to ensure that we are providing the best thinking and advice to our clients. Over the course of your career, what has been the single largest change in the Lawrence business environment?
There was a time that our company was in Topeka when Lawrence was growing, and most new businesses desired to locate in Lawrence. Everyone looked to Lawrence as the example of positive economic development in the state of Kansas. It seems that something happened that broke down the collaboration between city, chamber, planning commission and Lawrence leadership and the vibrancy seemed to stall. I am beginning to see that collaboration begin again, which I think is critical for the future of our community.■