SMOKE STACKS IN NORTH LAWRENCE TO FOOD ON SHELVES
| 2014 Spring | story by ANNE BROCKHOFF | photos by STEVEN HERTZOG |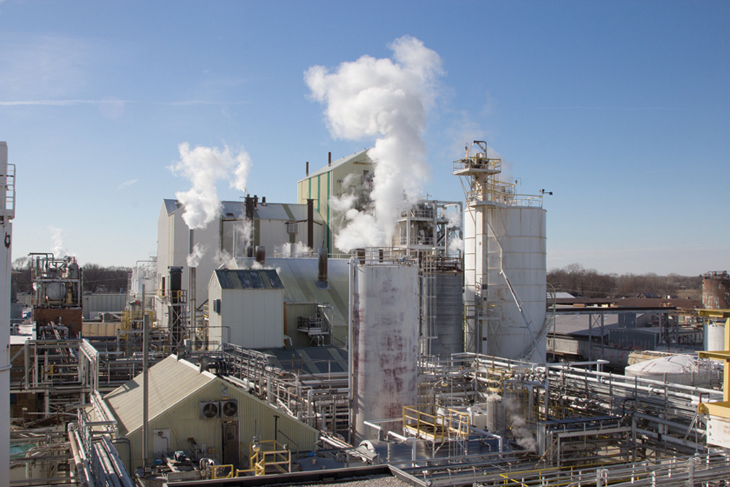 What do soft drinks, cake mix, toothpaste, cat food, detergent and microchips have in common? They all contain phosphate-based ingredients manufactureD in north Lawrence by ICL Performance Products.
"Not a day goes by that you don't use something with one of our products," says Kevin Loos, the acid business manager for ICL's Lawrence plant, which produces phosphoric acid and sodium phosphate products for the food, cleaning, dental, pharmaceutical, cosmetic, asphalt, semiconductor and other industries.
The plant, which is located at North Ninth Street and East 1650 Road, looks much as you would expect it to. A low, tan brick office building sits by the gate.
Steam and carbon dioxide puff from several tall chimneys. There are multi-story metal buildings and storage tanks, the Union Pacific railroad runs nearby and I-70 is only a couple miles away.
It's a compact site, but it has a surprisingly global reach as part of Israel Chemicals Ltd. (ICL), which is based in Tel Aviv and in 2013 generated $6.27 billion in sales. The publicly traded company's three divisions include a fertilizer business that is one of the world's largest potash producers. Its industrial products segment generates about one-third the global supply of elemental bromine, which is used in flame retardants and other products.
ICL's performance products subsidiary is a leading supplier of phosphoric acid and a global one for phosphates, among other products. It has production facilities around the world, but there are only two in the U.S.—the Lawrence plant and one in St. Louis, where ICL Performance Products is also headquartered.
Both are survivors in an industry that's consolidated mightily over the past three or so decades. In the 1970s and 1980s, there were 11 such plants in the U.S., says Terry Zerr, vice president of global operations for ICL Performance Products. ICL's are two of the remaining three.
"The Lawrence plant is a good example of when you have a plant with a good workforce, that supports and is supported by its community, that fills essential needs, you really do have a good combination and a combination that is sustainable," says Zerr.
Not that the Lawrence plant hasn't seen its share of changes. It was built in 1951 and purchased in 1958 by FMC (known at the time as Food Machinery and Chemical Corporation). In 2000, FMC combined its phosphorus holdings— including those in Lawrence—with Solutia's to form a joint venture named Astaris.
ICL purchased Astaris in November 2005 for $266 million, according to the company. Since then, ICL has spent about $50 million improving plant efficiency and adding and expanding product lines. The investment wasn't just about the bottom line, though, Loos says.
"It was also having the wherewithal and strength to invest in a variety of projects concerning the environment, health, safety—things that help you maintain the
right to operate in the community," he says. "We know that if we don't take care of those things, we're not in business."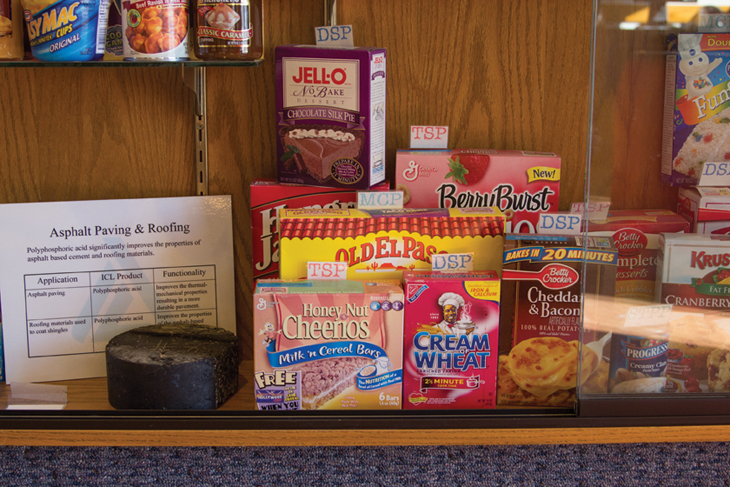 In addition to meeting government, customer and internal production, quality, health, safety and other standards, ICL strives to strengthen ties with local residents, the city of Lawrence and Douglas County. The company interacts regularly with its own community advisory panel; collaborates with the fire department on emergency response training; partners with Woodlawn Elementary School through the Lawrence Education Achievement Partners program; and supports Junior Achievement of Lawrence and United Way of Douglas County.
ICL also has a long-standing relationship with Leadership Lawrence, says Loos, who was in the class of 2006 and later served on the group's board of trustees. Other plant executives have also gone through the program, and Leadership Lawrence classes regularly tour the plant, which is just outside the city limits.
"We want them to understand how ICL fits into economic development as a primary employer, and to take some of the mystery away," says Loos, who is currently chairman of the city's Parks & Recreation Department advisory board and in 2012 received the Lawrence Chamber of Commerce's Wally Galluzzi Volunteer of the Year Award.
ICL's Lawrence plant has 145 employees, most of which live in Douglas County. Of those, 89 are hourly workers involved with operations, maintenance and other aspects of the business with an average tenure of 15 years. The remaining 56 are salaried. While there are plenty of engineers, many have backgrounds in chemistry, biology, analytics, environmental safety, quality control, information technology and human resources.
"The people working here have a lot of responsibility," Loos says. "They take a lot of ownership and accountability for themselves and their community."
Loos himself is originally from Lincoln, NE, and he received a B.S in chemical engineering from the University of Nebraska-Lincoln. After a stint with the Department of Energy, he joined what was then FMC in Lawrence in 1996 and remains on the plant's management team. Loos received an MBA from the University of Kansas in 2003, an experience he says was well worth it.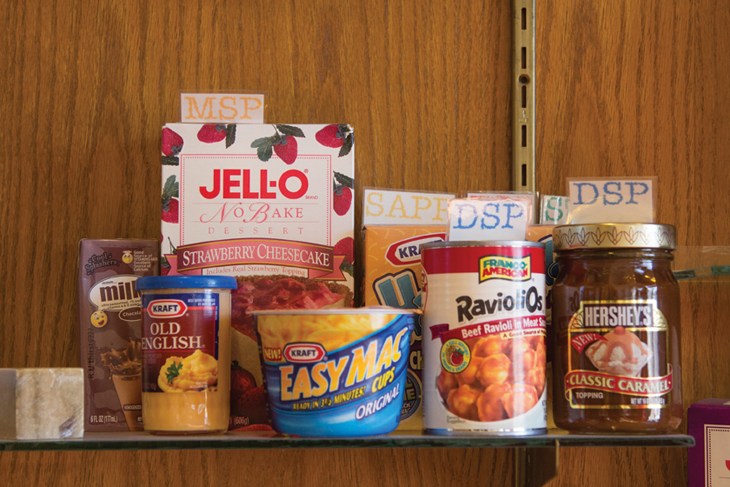 "A lot of its value is in the intangibles," Loos says. "It's having the background to talk to the finance department, H.R. or I.T. Engineers don't get a lot of training in that."
Zerr also has Jayhawk ties. He grew up in Park, in northwest Kansas, and earned a B.S. in chemical engineering from KU in 1986. He started his career with FMC, and then left Lawrence for other opportunities, both with FMC and other companies. Zerr joined Astaris in 2002 and is now based in ICL's St. Louis headquarters.
Neither executive would speak to the possibility of future investment in the Lawrence plant, although both indicated an increased emphasis on food products such as those manufactured there.
Phosphate-based food ingredients that do everything from improving leavening, texture and flavor to extending shelf life account for about half the plant's output, Loos and Zerr say. ICL as a whole is seeking to expand its leadership in such products, known as functional foods, according to its 2013 financial
report, and it makes sense that the Lawrence plant would play a role in that, Zerr says.
"We are interested in growing our food business, and Lawrence is obviously a place we're looking to continue investing in to support our food strategy," Zerr says.