GARDEN DESIGN
GROWN IN BALDWIN
| 2014 Q2 | story by SCOTT D. SCHULTZ    | photos by STEVEN HERTZOG |
Rising to the rank of Group Account Manager serving the agriculture divisions of prominent clients such as the National Pork Producers, Eli Lilly and Case IH, Limberg was formerly a Vice-President at Bozell Inc., an international advertising firm based in New York. His job for the first half of his career was to produce green money by marketing agricultural products to both members of the ag community and consumers.
A long way from the halls of his beloved Michigan State and its proud green and white Spartans, Limberg had carved out a position that would make his classmates green with envy.
But in his early 40s, he set aside glamour and fortune to pursue a different kind of green, his own agricultural venture as owner of a retail nursery that prominently features both his green thumb and his savvy salesmanship.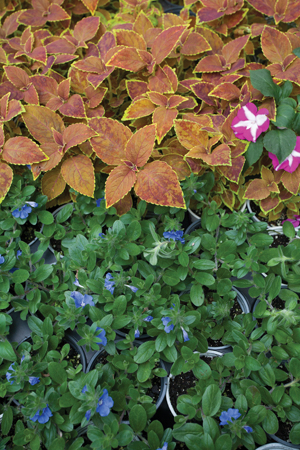 Clearfield Farms is Born
With a love for agriculture and horticulture, it was a natural for Limberg to move from a career in agricultural marketing to forming Clearfield Farms.
Following three years of independent consulting for companies including Ortho, Larry, his wife Barbara and friend Natalia Howard had Clearfield's retail nursery center open for business September 1, 1995. The nursery is nestled in the Vinland Valley of eastern Douglas County next to the Clearfield School, which for 70 years hosted meetings of The Grange, a fraternal organization that encouraged families to band together to promote the economic and political well being of the community and agriculture.
They enjoy growing flowering plants, and had put in the requisite work on their in-depth retail business plan, drawing on Limberg's graduate degree in economics and Howard's horticultural experience. However, providence would intervene to take the business in an unexpected direction.
Garden Design
Almost from the outset, retail customers purchasing plants from Limberg requested assistance in placing and planting their finds. "It started as a complimentary service in 1996, but by the end of that season we began charging $50 to travel to the customers' homes and consult with them," Limberg recalls.
By 1997, the garden design business had become a line of business for Clearfield. "After only 30 to 40 requests in the first eight weeks by customers to come to their homes, it finally dawned on me this might be a business opportunity," he laughs.
So, Limberg has spent the past two decades cultivating the garden design business, primarily in residential backyards in Johnson and Douglas Counties, but also working in both the greater Kansas City area and as far away as Lake of the Ozarks. "We like to control all aspects of the project, including irrigation, lighting, containers, soil conditioning and the construction of structures including fences, patios, walkways and decks," he adds. A finished garden is so much more than the plant material, it's the total environment."
Limberg said he most enjoys it when a customer has a theme in mind. "I love it when we are assigned a theme for the garden, such as Italian, contemporary, Zen, English traditional, or French traditional, for example. One of my favorite projects was a whimsical garden in Lawrence that incorporated figurines, old mannequins, colored bottles and several other off-beat objects."
A moon garden was another favorite, designed for a professional couple to unwind in after long days. This garden features plants that bloom after dark, using a white color scheme visible in the evening moonlight.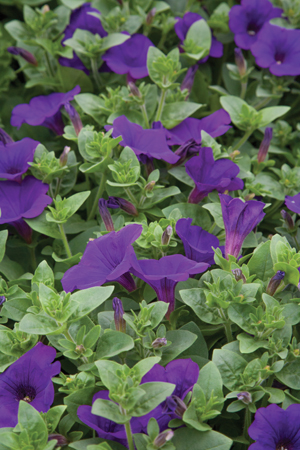 Sales and Marketing Design
There is not only an art to designing gardens, but Limberg sees the need to design a program for sales and marketing as well. "You need to contemplate how you sell," Limberg explains. "It is critical to consciously identify and attempt to perfect your own style. Good salesmanship is a combination of techniques; it may be in being outgoing, or presenting data, or demonstrating enthusiasm. You need to demonstrate all of these qualities but the trick is to mix them to match your personality. The businessperson must understand and address the prospect's needs, and become proficient and effective in communicating that information, but it must be genuine.
"To understand how you sell is very important to understanding how you can improve how you sell. It comes from who you are, not from what you have learned. Your sales approach must come from who you are as a person, or it will be perceived as phony," Limberg says.
While Limberg typically incorporates tremendous humor in his conversational style, he turns very serious for a moment as he contemplates the lessons of 40 years in sales and marketing.
"Conversational humor is usually present in an honest sales story," says Limberg. "Honesty comes from casual conversation, humor and communication, while dishonesty tends to be presented in a more rehearsed and serious presentation."
"When you are genuine, the good, the bad, and the mistakes typically surface during a true give and take conversation with the prospective customer. Canned presentations can be full of twisted half-truths," Limberg says.
Being Flexible in Your Business Design
Limberg says the best advice he's been given over his career is to be flexible. "I set out to be in retail, but when people offered me the opportunity to design their gardens with the plants we grew, garden design became our core line of business. And we don't have to work as many weekends."
Asked if he has a succession plan, Limberg said he is not the type to wake up in the morning with nothing to do, so Clearfield Farms will be beautifying gardens for some time to come. For those who enjoy his gardens, his sense of humor and his trusted advice, that is very good news.