LMH DINING SERVICES COMMITTED TO HEALTH,
WELLNESS, TASTE & COMMUNITY
| 2014 Q2 | story by MARGO BOGOSSIAN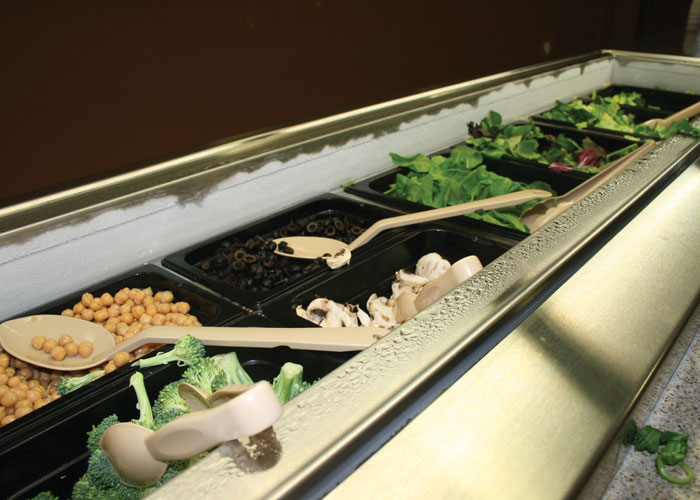 Unidine (a Boston-based company that provides food in hospitals and senior living facilities with a commitment to health and wellness, taste and community) took over as the food provider at Lawrence Memorial Hospital last October and has transformed how patients, visitors and staff eat.
Unidine's dieticians and culinary experts collaborate to create food that is not only healthy but tastes good.
"We make everything from scratch, so that's inherently a lot healthier," says Jerrod Soza, director of dining services at LMH.
And when Soza says they make everything from scratch, he means everything. Unidine chefs even make dressings, gravies and stock in the kitchen at LMH.
Cooking from scratch gives Unidine chefs control over what goes into the food. With the help of dieticians at LMH, Unidine chefs emphasize good fats and whole grains, so the food has a higher nutrient density.
"In other words, more bang for your buck," says Carla Wiederholt, a registered dietician who is the patient experience manager for Unidine at LMH.
As a natural result of cooking from scratch, Unidine uses fresh ingredients, and tries to purchase these ingredients as locally as possible. For example, the bread at LMH comes from M&M Bakery in Lawrence, and much of the produce is grown in Kansas.
As if buying produce within the state wasn't close enough, Unidine plans to start a small garden of six planters to grow some herbs and vegetables at the hospital.
This commitment to local, fresh products is one way Unidine keeps their food healthy, but according the Wiederholt, the key thing is portion control. Unidine addresses both portion
control and nutrient density in its "OHSOGOOD" program, designated by a green "OHSOGOOD" sticker.
This sticker guarantees that the food meets certain nutritional criteria. The criteria ensure that the food contains one serving of fruits or vegetables, has a moderate amount of sodium, and is low in calories. The "OHSOGOOD" entrees are 600 calories or less, while the snacks contain 200 calories or less.
"It's realistic," says Widerholt, "No matter where you are in your goal for wellness, it fits. No matter what."
Now that Unidine has addressed health, wellness and taste at LMH, the company is turning its focus to the community.
One way they accomplished this was by providing dinner at the 2014 Hearts of Gold Ball, a Lawrence Memorial Hospital Endowment Association fundraising gala. Unidine flew six of its executive chefs to Lawrence to make dinner for the black-tie event on May 10.
Another way Unidine is showing its commitment to the Lawrence community is by teaming up with LMH to host a new Senior Supper Series. The dinner series kicked off in May. Each month, on the third Tuesday at 5 p.m., seniors are invited to come and dine at LMH for $5.50 and enjoy a healthy three- course meal prepared by the Unidine chefs, plus conversation with other seniors. At 6 p.m. there is a short educational program on a health topic of interest to seniors, presented by local physicians. The educational program is free. Advance reservations are required for the dinner and must be made at least 24 hours in advance by calling LMH Connect Care at (785) 749-5800.
Margo Bogossian, a University of Kansas senior, is an intern for the LMH Endowment Association.