COMMUNITY IMPACT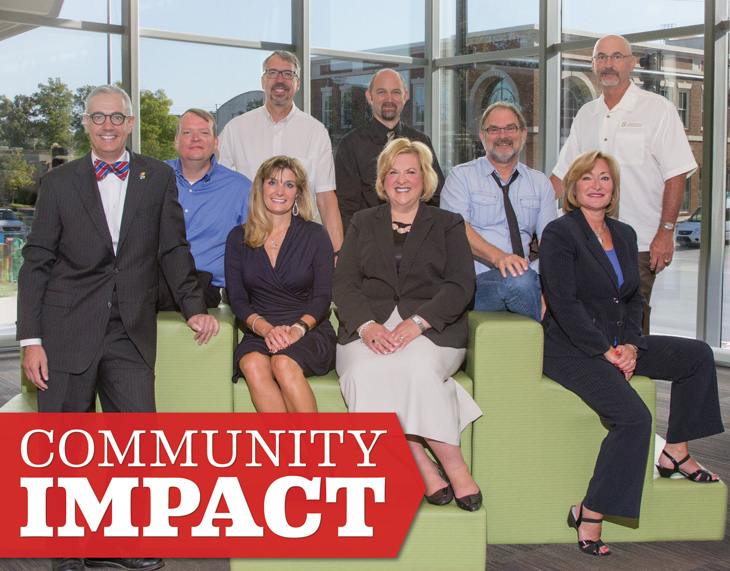 | 2014 Q3 | story by ANN FRAME HERTZOG    | photos by STEVEN HERTZOG |
Many things impact a community, from individuals to government entities. In our third impact issue, we decided to focus on the wide range of people and businesses that make our community special. We couldn't list everyone, but here are a few of the areas and people, and why we chose them to be a part of our Community Impact issue.
As a university town, it is hard to separate the city from the university with regard to the impact it has on our community. Lawrence would not be Lawrence without the stalwart institution. As the Vice Chancellor for Public affairs, Tim Caboni is many times the face for the University of Kansas and we wanted to find out more.
Massachusetts Street is the heart of the community, and at the north-end FreeState Brewing Company has made an impact in helping to keep the downtown relevant and regionally with its brews. Alex Hamilton and Steve Bradt have been with FreeState from the beginning.
As the city grows, First Management Inc. has played a part in several construction projects including the new Marriott which will soon be impacting the Lawrence skyline in downtown Lawrence at 9th and New Hampshire. As Chief Financial Officer at First Management, Shannon Abrahamson has helped that company along with several local non-profits stay healthy.
Lawrence voters value education and want to make an impact on the choices the community makes for education. With the Dwayne Peaslee Technical Training Center slated to open in 2015, Patrick Kelly, Director of Career and Technical Education for USD 497 has been working to make the center a reality.
The City of Lawrence impacts the lives of every Lawrencian on a daily basis. Diane Stoddard, Assistant City Manager for the City of Lawrence, is responsible for making sure that daily needs, as well as long term goals, are met.
Lawrence is also an arts community. Ric Averill, Director of Performing Arts at the Lawrence Arts Center, works to make sure children, as well as adults, are able to develop their talents and provide one of the many creative outlets in the Lawrence community.
A top ranked hospital makes an impact on the community and Lawrence is home to Lawrence Memorial Hospital (LMH), one of the top 100 hospitals in the U.S., according to an independent study done by Truven Health. One of the reasons is Kathy Clausing-Willis, Vice President and Chief Development Officer for the Lawrence Memorial Hospital Endowment Association (LMHEA). LMH receives no tax revenue from the City of Lawrence or Douglas County, so the LMHEA raises funds to supplement the needs of the hospital from equipment to a full renovation of the fourth floor.
For more than 3,000 kids, Lawrence Parks and Recreation makes a big impact on their lives. Giving kids the chance to participate in sports and learning about sportsmanship is what Lee Ice, Youth Sports Supervisor, is all about. That, and having fun. ■