IDENTIGEN: IDENTIFYING WHERE FOOD COMES FROM
| 2014 Q4 | story by ANNE BROCKHOFF    | 
Today's supermarket meat case is filled with promises. From organic, hormone-free and Kosher to branded and breed-specific, there's a product for every market niche. While consumers appear willing to pay extra for these, they also want something in return—a guarantee that they're getting what's touted on the label.
Stores often emphasize selection criteria and relationships with farmers in attempt to provide that. However, proving the meat in the package came from animals produced on a specific farm or in a particular way can be challenging.
That's where IdentiGEN comes in. The Dublin-based company, which houses its North American headquarters in Lawrence, uses DNA technology to trace meat through the supply chain. That enables its customers, mostly food retailers and processors, to ensure authenticity.
"We provide a way of assuring the product you purchase is the product you intended to purchase," said Greg Peters, IdentiGEN's North American Director of Technical Accounts. "DNA is the barcode that never goes away."
University researchers have long studied how DNA technology can benefit the food industry. IdentiGEN itself was founded in 1996 by scientists at Dublin's Trinity College, who were exploring ways to use genetic technology to improve meat safety. While IdentiGEN's main product, called DNA TraceBack®, undoubtedly plays a food safety role, it does much more than that, Peters said.
The system can be used with beef, pork, poultry, lamb, goat, fish and other protein-based foods. It allows IdentiGEN's clients to trace individuals throughout the entire processing, packaging and sales process. Clients can then compile information on any trait they care to track, from breed and production method to commercial traits, such as tenderness and flavor.
That's because DNA TraceBack® uses an animal's own DNA, or deoxyribonucleic acid, to create what IdentiGEN calls an accurate, permanent and tamper-proof identification tool. Animals are raised just as they otherwise would have been, and then trained workers collect samples from each at the point of harvest, a point at which all identity is typically lost when ear tags and other markers are separated from the carcass.
Samples are sent to IdentiGEN's Lawrence laboratory, where DNA profiles are created. The company also has labs in Dublin, Calgary and the U.K.
Peters declined to provide details about IdentiGEN's proprietary process, but the company's website describes it as assessing a panel of genetic markers, technically known as single nucleotide polymorphisms, or SNPs, using what's called high-throughput DNA analysis.
Genetic profiles of each animal are then created and linked to its production and processing history. Samples are stored for comparison in future testing, which can take place at any point in the supply chain. This means whole cuts of meat, as well as ground meat and even cooked steaks, can be tested and compared to the original sample to verify the meat's origin.
Should the samples reveal a problem in the system, IdentiGEN's clients then have specific information to use in correcting it. More typically, Peters said, clients use the data to improve product quality while reassuring consumers the products they're buying are what they expect.
"Consumers want to know their suppliers," Peters said. "We're one of the few companies out there that can complete the chain."
Growth has been steady for IdentiGEN, which is funded by a combination of retained earnings and venture capital. U.S. clients include FPL Food, the Southeast's biggest privately held vertically integrated beef processor, Illinois-based Aurora Angus Beef; and Braveheart Black Angus Beef, a division of Performance Food Group Company.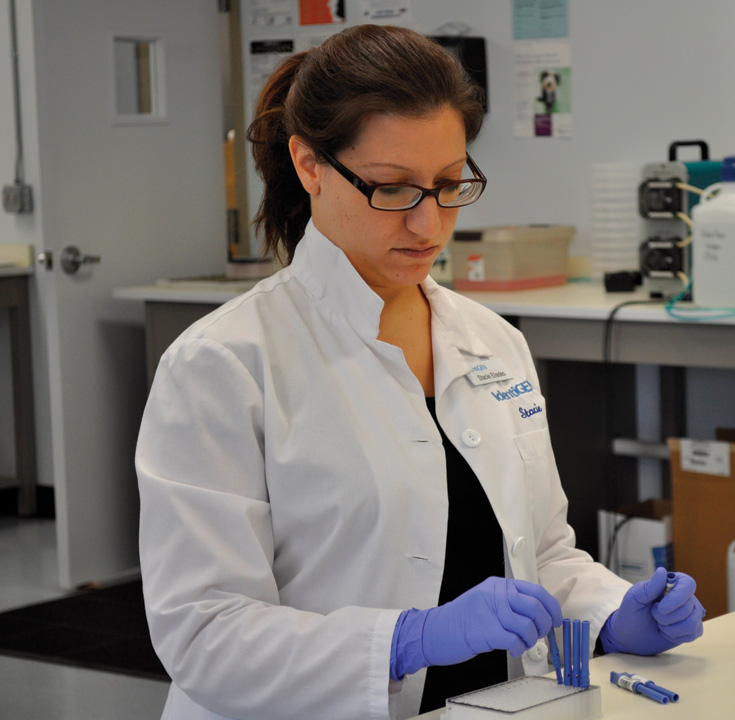 IdentiGEN has just under 100 employees worldwide, Peters said, including 15 to 20 in Lawrence. The total count varies seasonally, depending on clients' production schedules. Local lab employees typically hold four-year degrees in biology, biochemistry or related sciences.
Many of those are recruited from the University of Kansas, although Lawrence has proven to be a good fit in other ways too, Peters said. When IdentiGEN decided to open a North American office, it had several criteria: the location needed to be in the agricultural heartland, close to a major airport and near a large university.
"We looked in Lincoln, Manhattan, Dallas and all around the area. Lawrence was the best fit," said Peters, who grew up on a Nebraska cattle ranch and worked for a biotech start-up, as well as for National Beef Packing Company before joining IdentiGEN earlier this year. He holds a Bachelor of Science degree in animal science with a minor in genetics from the University of Nebraska-Lincoln, and a master's degree in animal genetics, as well as an M.B.A. in finance from Texas A&M University.
The region also has a robust technology climate, thanks to the presence of entities like KU and the Olathe-based Kansas Bioscience Authority, a venture capital organization dedicated to accelerating growth in the state's bioscience sector.
"The people here are obviously tech savvy and are very comfortable with advancing technology," Peters said.
IdentiGEN's Lawrence operation is housed in a low, red brick building on Quail Crest Drive and includes 6,000 square-feet of office and lab space. The company also has off-site storage for both frozen and dry samples. The lab received the U.S. Department of Agriculture's Process Verified Program (PVP) approval in 2007 in recognition of its lab practices. In 2012, it achieved ISO/IEC 17025:2005 accreditations.
"We are a high-throughput genotyping lab primarily involved in testing for DNA TraceBack®, breed and parentage," said Stacie Eliades-Becker, Manager of Genotyping Operations for IdentiGEN's Lawrence facility. "This involves the use of a variety of molecular biology-based techniques and instrumentation."
The lab operates a single shift, which so far meets the needs of its current client base, Peters said. Should IdentiGEN need to expand in the future, it would do so by adding additional shifts, he said.
IdentiGEN also continues to develop new technologies, including IdentiSNP (patent pending). The product uses the same SNP technology as DNA TraceBack®, but requires significantly less labor. It's resulted in what IdentiGEN calls transformational improvements in its process, and reduced the cost of data interpretation by more than 60 percent, according to a company press release.
While that's clearly a boon for IdentiGEN's own operations, it's also yielded a DNA tracking product other labs can now purchase and apply to its own platforms. That's especially appealing to those in the biotechnology and life sciences industries, IdentiGEN founder and managing director Ciaran Meghen said in a press release.
"While this technology has transformed our internal cost base and will support our continued growth and development in the area of animal and meat product identification in particular, the opportunity to promote our new formulation to a wider user base is an exciting development for our business," Meghen said.
And that's good news for Lawrence.
"We're not just a lab in Lawrence," Peters said. "We're a growing lab in Lawrence."