SUNLITE: BRIGHTER LIGHTS, BETTER EFFICIENCY
| 2014 Q4 | story by ANNE BROCKHOFF    | photos by STEVEN HERTZOG |
High efficiency, bright light and energy savings, what more could you want from an LED (light-emitting diode) light? If you're Jeff Chen, Founder and Chief Technical Officer of Sunlite Science & Technology, the answer is even greater efficiency, better quality light and more savings.
Chen's spent almost two decades in the industry, and his company is now marketing an ever-growing range of proprietary LED lighting fixtures for residential, commercial and institutional applications.
"Our biggest challenge is letting people know that our product has better performance than other LED lights," Chen said, who launched Sunlite in San Jose, Calif. in 1996 and moved to Lawrence a year later. "It should not cost extra money."
Certainly Chen's timing is good. The first visible spectrum LEDs were developed in the early 1960s, and scientists worked their way through red, yellow and green light-emitting diodes before eventually developing blue, which was needed to create white light. It led to the commercialization of white LEDs in the 1990s and earned three scientists, Isamu Akasaki and Hiroshi Amano of Japan and Shuji Nakamura of the University of California-Santa Barbara, the 2014 Nobel Prize in physics.
LED lights are now six to seven times more efficient than incandescent bulbs and can cut energy use by more than 80 percent, according to the U.S. Department of Energy.
Although LED lights still cost more than their conventional counterparts, prices have fallen more than 85 percent since 2008, the DOE stated At the same time, demand's up, thanks in part to government programs to spur research, minimum energy standards that curtailed U.S. production and importation of incandescent bulbs and consumer hunger for greener products.
Sunlite is well-positioned to capture a slice of the LED lighting market, which the DOE projects will account for three-quarters of the total lighting market by 2030. The company's sales are already growing 10 percent annually, Chen said, and total revenue hit $1.77 million in 2013.
That's a far cry from Sunlite's early days, when it focused on making LED wafers and chips, the basic LED building blocks responsible for converting electricity into light. Silicon Valley seemed the obvious place to start such a business, but Chen quickly decided Lawrence was a better location.
For one thing, it was closer to the Denver-based semiconductor equipment maker Sunlite worked with. For another, Chen believed that Lawrence's tech-friendly climate, along with experienced friends at KU, could help him more quickly establish his LED wafer manufacturing process.
Sunlite relocated and continued refining its process. By 2002, it was mass-producing LED wafers, each of which was then cut into tens of thousands of LED chips. However, Chen soon saw the industry's complexity—many different companies controlling various stages of production throughout the supply chainmade it inherently inefficient. Those inefficiencies prevented LEDs from reaching their full potential, something Chen decided he could realize by vertically integrating his company.
"We believe we know more about this technology, and have a deeper understanding of its potential than other LED manufacturers," Chen said, whose company was named one of Kansas Small Business Development Center's Existing Businesses of the Year in 2014.
Sunlite already had LED wafer and chip manufacturing expertise, so it began turning it into LED modules. It's a painstaking process in which each miniscule chip is placed on a base and attached to electrical contacts and a fine wire. Manufacturers usually place a protective plastic cover over the LEDs before packaging and shipping, but because Sunlite makes LEDs for its own use, no cover is required.
Neither does it mount its LEDs onto circuit boards, as is typical among other companies. Instead, Sunlite mounts bare LEDs directly onto an all-aluminum housing. Not only does eliminating a step reduce labor, it also allows for better heat dissipation. Less heat means less chance of damage to the LED chip or driver, an electrical device that regulates incoming power.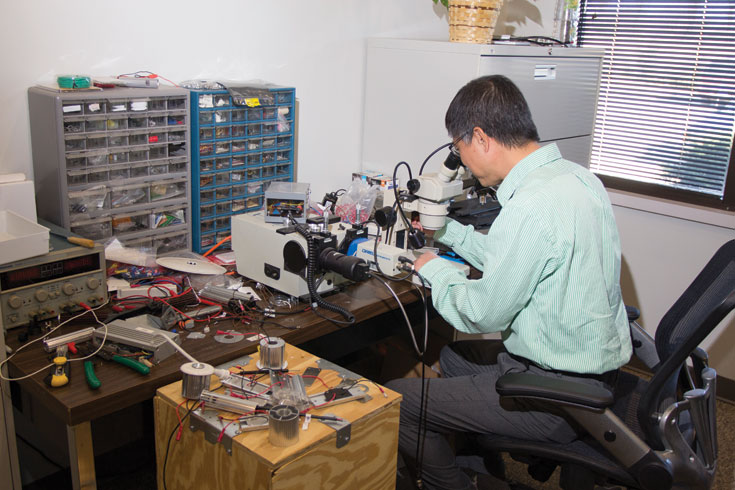 "If you can run the LED chip with a lower temperature, you always get better efficiency and longer lifetime," Chen said.
The LED modules can then easily be combined with various housing fixtures and covered with a glass lens. Using a single lens means light travels through fewer layers of material. The result? Brighter light.
Sunlite's ceiling-mount can-type LED fixtures generate approximately 90 lumens per watt. LPW is a measure of efficiency calculated by dividing total lumens generated by the incoming wattage of electricity. This drops to 80 LPW when taking into account the fixtures run on direct current (DC). On average, other can-type LED lights produce 65 LPW, while incandescent bulbs come at just 10 LPW, Chen said.
The company's modular design means fixtures can be quickly and easily assembled. It's then hardwired into place, improving durability and eliminating the need for an Edison, or screw-in base. A simple transformer in the electrical system is necessary to convert incoming alternating current (AC) power to DC, but it is otherwise simple to install.
Because the LED lights are part of the fixture, there are no additional materials to purchase. When looked at as an entire system, it's more economical than retrofitting conventional fixtures with LED bulbs, Chen said.
"It saves on installation, and it saves on materials," he said. "For the whole cost, it's almost the same as the traditional (lighting system)."
Sunlite's sleek, compact fixtures can be fully integrated into a space, making them what Chen calls an embedded component in a room or building.
Point source lights, including recessed ceiling mount a can-type light, minus the bulky can, pendant, eyeball or other styles that range from one to two inches in diameter and can be evenly spread throughout a ceiling for even lighting or clustered chandelier-style. Linear fixtures range from four inches to six feet and can be adapted for everything from home and office lighting to parking garages and ceiling bay lighting in warehouses.
Customers choose their fixture, and then specify the brightness required and whether the lights need to be dimmable. Color, too, can be tailored, since Sunlite's LED fixtures range from 2,300 Kelvin (K) to 6,000K. Lighting at 2,700K is warmer and well-suited to home interiors, while 3,500K to 4,100K is often found in offices and retail stores and 5,500K is normally used in warehouses.
And if they want something not already in Sunlite's catalog?
"We are good at customizing," Chen said. "We also do our own design here, so for us, it's easy."
Chen began selling high-powered LED flashlights in 2005 and followed with general LED lighting products in 2008. But as confident as he was in his technology, Chen knew he and his staff needed help taking Sunlite to the next level. Sunlite connected with the Lawrence Chamber of Commerce and the Kansas Small Business Development Center (KSBDC) at KU, and it became a Bioscience & Technology Business Center tenant in 2010.
The BTBC fosters the region's bioscience and technology industries through a partnership between KU, the City of Lawrence, Douglas County, the Kansas Department of Commerce and the Lawrence Chamber of Commerce. It offered exactly the business expertise Sunlite needed.
"We're engineers. We're good at technology," Chen said. "We were not good at marketing or running the company, so we thought it best to get some help from the BTBC."
During its tenure at the BTBC, Sunlite updated its business plan, management systems and marketing strategy, while still filling orders from a warehouse on North Iowa Street. By 2013, it was ready to consolidate operations into a single facility.
Sunlite purchased a 21,000 square-foot building on Quail Crest Place with the support of a 50 percent, 10-year tax abatement from the city. Offices account for 5,000 square feet and the remainder is warehouse space.
The company now buys top-quality LED chips and other supplies, which are shipped to its 57,000 square-foot, wholly owned factory outside of Shanghai, China. There, LED chips are packaged into LED modules and most lighting fixture components are manufactured before being returned to Lawrence for assembly.
The system has so far worked well, product engineer Fong Suo said, but rising fuel and transportation costs have prompted Sunlite to begin making some of its biggest lighting fixtures in Lawrence. She expects additional manufacturing to shift here in coming years.
"It's going to be the trend. We will gradually have a lot of production here," Suo said, a KU grad who joined Sunlite as an intern in 2002 and came on full-time one year later. She is now one of the company's five shareholders.
Sunlite currently has seven employees, including Chen and Suo; one student intern from KU and 30 employees in China. The company will likely add another 40 jobs locally over the next decade in engineering, sales and marketing. Sunlite may also begin searching for a chief executive officer, Chen said.
Although Chen doesn't rule out the possibility of seeking venture capital in the future, the company so far has been financed privately and through earnings reinvestment.
"It's safer for us," Chen said. "Every year we can grow and make a profit, but the pace is slower."
The company's client list includes the Stowers Institute, Hallmark, Bishop Seabury Academy, KU's Studio 804, the City of Lawrence, Natural Breeze Remodeling, Superior Electric Co., Rensenhouse Electric Supply, CWC Electric, Electric Del Sol and others. New clients are continually courted at trade shows, such as the American Institute of Architects Kansas Convention and the Greenbuild Expo in New Orleans, La.
Sunlite continues to develop new lighting applications, such as the food-safe lights now being tested in the meat department at Checker's in Lawrence. The company is also working on smart lighting that can be controlled remotely from an iPhone or iPad and integrated into other home systems, like security.
Such imagination and creativity are what make Chen and Sunlite successful, said LaVerne Epp, the BTBC's Executive Chairman.
"[Chen's] always looking at new opportunities, and he sees things that probably others don't," Epp said. "He's very entrepreneurial that way."
Sunlite is increasingly active in the Lawrence community as well. It's supported events such as the Lawrence Memorial Hospital Endowment's 2014 Hearts of Gold Ball, introduced seventh graders at Southwest Middle School to LED technology and spoken to groups, including the Lawrence chapter of 1 Million Cups and the local AIA chapter.
It all feeds into Chen's and Suo's continued fascination with LEDs.
"We're still finding our way, so we're going in all directions and seeing where it will go," Suo said.