YANTRA: ENVIRONMENT FOR CREATIVITY
| 2014 Q4 | story by EMILY MULLIGAN    | photos by STEVEN HERTZOG |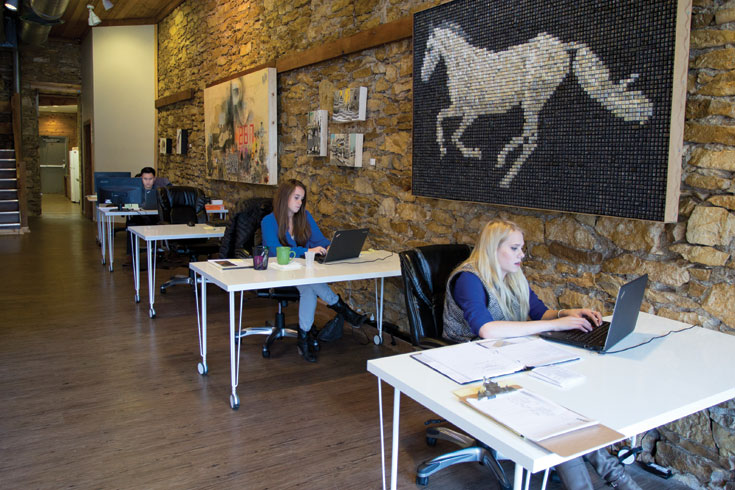 At a time when banks only seem to make the news for credit-card security breaches and bailouts, Yantra Services hopes to make news for something different: speed. However, not just any kind of speed – the safest kind of speed. Yantra and its banking partner, CBW Financial Services, are creating a platform that will allow users to transfer money between any two bank accounts in the world, instantly and securely through the Web.
"If I increase the speed of banking transactions, what's the point if it's not secure? If you build a car that can go really fast, you need to have a brake that can stop it really fast too," said Yantra Services President and CEO Suresh Ramamurthi, who is also the vice chairman of CBW Bank.
Yantra is beta-testing Global Remit, its international money remittance product that allows for transferring money worldwide to any bank account. Think Western Union, but electronically and instantly through banks. Pending regulatory hurdles, and there are many, Ramamurthi hopes to have Global Remit fully operational by the end of 2014.
If things go for Yantra as Ramamurthi envisions, Global Remit will be the beginning of many innovative banking technologies that Yantra Services will create, including virtual currency, card processing and healthcare payments.
The word "yantra" is an ancient Sanskrit word that means "machine" or "device." Ramamurthi said that the idea of there being a word for "machine" thousands of years before the Industrial Revolution is exactly how Yantra's services are, far ahead of the banking industry.
"The bank account as we know it today is a 300-year-old institution," he said. "Our mission is redefining the bank account; we expect banking to be much smarter. Today, can you send money to any bank account instantly on a Sunday? Can you send money instantly to any country? Can you pay your bills with the bank already knowing the amount? It should know the amount."
Yantra Services plans to provide its services both as its own entities and as a backbone for existing banks to offer its customers. With all of the innovation and excitement about the potential features, Ramamurthi emphasizes that he is very serious about security.
He said that Yantra's engineers are developing a real-time risk management system that is unlike what other online banking operations have. For example, Yantra will offer automatic cross-referencing with the Office of Foreign Asset Control's blacklisted individuals and will tag them as high-risk customers so that banks are aware and can screen for identity thieves and financial terrorists.
Yantra will also create its own technologies for fraud management, allowing banks that use Yantra's service to customize authorization rules and use its specialized reporting techniques for when there is an anomaly in an account's use.
As it approaches the Global Remit launch, the company is growing. This fall, it has hired Java engineers and marketing interns. After the first of the year, Yantra will likely create a customer-service staff and hire more employees to assist with both user issues and technology questions for the service.
"They are very much the definition of a primary employer, and those are valuable to have in a community," said Will Katz, Regional Director of University of Kansas' Small Business Development Center. "We should all be excited to have them as part of the community, both as corporate citizens and from an economic development standpoint."
The company began in Topeka, and still has an office there. The Lawrence office opened this summer and is located in a storefront on Mass St. that previously housed a retail antiques business and other retail outlets.
Jason Peters is Yantra Services' operations manager and oversees the employees who choose to work in Lawrence, all employees can work at whichever office they prefer on any given day, as well as the office renovations.
"Most of us prefer our Lawrence office. A 12- to 14-hour day here feels like less than an 8-hour day in our Topeka office," Peters said.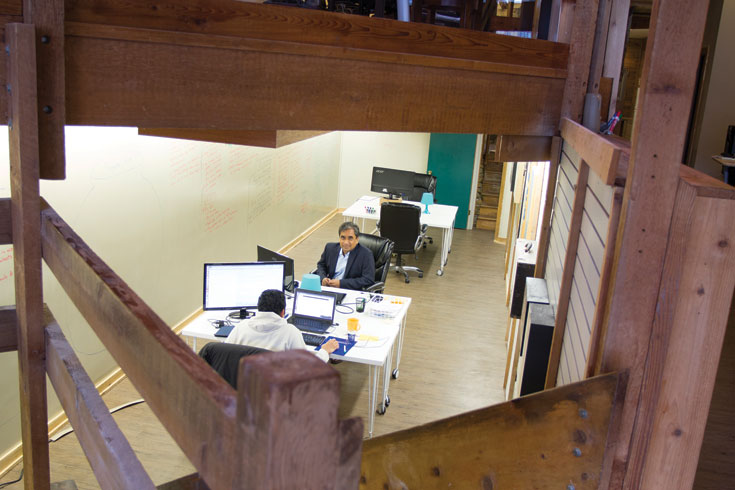 Yantra recently made news in Lawrence for both its choice of office location inside a former retail space, and its request to the Lawrence City Commission for sidewalk space for its employees to work. The city commission voted 3-2 to grant the request. Soon, Yantra employees will be able to take their laptops and electronic devices outside and take in the Mass St. atmosphere while they work.
"When you work all day on a computer, you need to step out once in a while. We appreciate the city letting us do it," Ramamurthi said. "Sitting out there, I'm sure our people will be tempted to buy some ice cream. They'll see people walk by with a drink in their hand, and they will want it. It will be good for retail."
Katz said that he understood why Yantra Services would want to be downtown, like other banks and law firms.
"If you're tethered to a screen, it must be refreshing to be able to open the door and go out to the fresh air and an active environment," Katz said.
Peters and Ramamurthi said that Yantra Services will be part of Lawrence's monthly Final Fridays art walk, featuring works by local artists. Already, the office is decorated with art from SeedCo co-operative, including the storefront window, which Peters said, the company plans to continue to use as an art display.
"We could have easily come in and put blinds up and been offices. But it's all part of the experience of Lawrence. Why not share artists with the community? It helps us blend in," Peters said.
The tri-level interior has required some renovations to make it a functional office space.
Peters said that they installed new flooring throughout, cleaned and sealed the original rock walls, and enclosed the loft area in glass to make it a private conference room. As they add furniture and expand the number of employees, it will be difficult to remember that it once was a store. And, it will set up Yantra Services to accomplish its goals.
"It's always a lot of fun when you've done something innovative and you're actually building something new. It's a good time to be that company," Ramamurthi said.