The Wedding Planner
Planning, Organization Key to Successful Wedding Day
| 2016 Q2 | story by EMILY MULLIGAN | photos courtesy of Carmen Hocking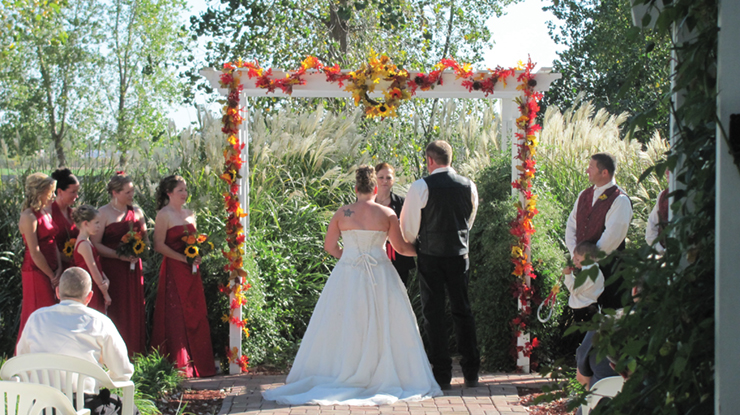 Often unfairly portrayed as caricatures in movies and TV shows, professional wedding planners are in increasing demand among busy, working couples.
Carmen Hocking is a wedding planner and owner of A Beautiful Wedding, and she has been in the business for 27 years. Hocking and her staff handle all aspects of the wedding, from planning vendors and locations beforehand, to coordinating each event the day of, to wrapping up afterwards. Hocking is a wedding officiant, as well, and an invitation dealer, travel agent and even wedding-gown preserver. She founded the Wedding Industry Networking Group (WING) five years ago, which brings together local vendors to share ideas and collaborate.
Hocking wears many hats as a wedding planner, but she says the process and details of planning a wedding are often just a small slice of what is happening in her clients' lives.
"Some people are planning a wedding, graduating from college, moving and buying a house together at the same time. They definitely need a wedding planner," she says. "I have done a huge amount of research. The reason you are hiring me is for my experience and expertise."
Hocking makes an organizational plan for each couple, providing them with checklists and questions for everything from the rehearsal dinner to the honeymoon. Having coordinated about 1,000 weddings, she knows the important details and pitfalls that await at any given stage.
"When they say, 'I never even thought of that,' I remind them that that's why they have a planner. Developing a relationship with the couples to learn about them is really important. They should bring out their personalities in their weddings—not just the ceremony but the reception," Hocking says.
Her first question to any couple is always what the budget is, and the second is often who is paying so she can understand the dynamics of the situation.
"It's my job to stay in the budget or come in under," she explains.
Each couple is different in how they approach the planning, and Hocking allows them to choose how much they want her to be involved in each step. Some couples like to have her with them when they meet with each venue, photographer and florist. Others prefer to meet with vendors on their own and report back to her. Either way, she works with them ahead of time to make sure they know what questions to ask to make sure the vendor fits their needs.

Laura Stillings Pattavina married her husband, Anthony, in July 2015 and had Hocking plan the entire wedding from start to finish, including being the officiant. With 16 wedding attendants and family coming from out of town, plus Pattavina's admitted penchant for perfectionism, they thought a planner could help. The Pattavinas were both working full time for the year preceding their wedding, so Hocking's relationships with reliable vendors were one of the reasons she was so valuable to them.
"She suggested five caterers, five photographers, five florists. She lined up meetings with all the people for us, and we could literally just show up," Pattavina says. "We wouldn't have had a clue where to start with that. That saved us, probably, months."
Pattavina and her mother had scheduled meetings with multiple wedding planners for the Topeka wedding. Hocking was the first one they met with, and because of her approach and her experience, they knew she was the one for the job—so they canceled the meetings with the other planners.
"Some couples don't want to hire a wedding planner because they are afraid the planner will take over the wedding day. That is never the case," Hocking says.
If anything, wedding planners likely know better than average people when to speak up about something and when to hold their tongues. Hocking says wedding days bring out both the best and the worst in people, and she has had to navigate extremes of both happiness and crisis, often off the top of her head.
Good communication skills are the most important attribute for a good wedding planner, she explains. That starts with establishing a rapport with the couple and continues with writing the invitations, making sure the guests know exactly what to expect and writing the questions for each vendor. Wedding planners also have to be prepared for and capable of delivering bad news effectively, whether it be telling a potential vendor that he or she wasn't chosen for the job, or making it clear to Aunt Jane that she is not invited to the bride's dressing room.
Being able to read people's personalities and sense what they want is also a crucial part of the job, Hocking says. Her prior experience in human resources helped prepare her to work with people who are shy or anxious, and unable to express what they want or need. "You have to know how to draw information out of people," she says.
Of course, organizational skills are tantamount to any event planner but especially for something as personal as a wedding. Not only does Hocking have to keep herself organized for each of her couples' special days, but she also creates a system that even the least-organized couples can use to track what needs to be done and where they are in the planning process. No detail goes unnoticed in her system, including specific instructions for the bridesmaids and groomsmen, and their duties in planning, the day of the ceremony and at the reception.
Although she has taken charge for the months and weeks ahead of the wedding, Hocking says the wedding planner must be able to step back and work as an equal team member with the vendors on the wedding day. Each entity is working toward the same goal of a successful event, so the wedding planner has to allow the vendors to do what they do best.
Hocking also has a staff she can provide on the wedding day, including servers, bartenders and even child care. She also has people she can call on at the last minute if a vendor has a no-show. So, cultivating and maintaining those relationships can be critical, as well.
Pattavina says most of her friends and relatives had the stereotype of a wedding planner in their minds before her wedding and reception. But she and her husband knew they made the right choice to hire Hocking.
"Planning a wedding is stressful, no matter how big or how small it is. But it's a life experience you want to enjoy. Having Carmen took the load off our shoulders. Our wedding wouldn't have been as perfect or as beautiful without Carmen," she says.
Wedding Trends
Now, more than ever, with social media sites like Pinterest, weddings are subject to trends. Many long-standing wedding traditions are starting to be bucked as times change. Hocking's practices and ideas roll right along with either keeping tradition or doing what's hot.
Some brides like to use trendy wedding colors, and Pantone issues current colors to help keep them in style. This year's colors are Pantone Rose Quartz, a pale pink, and Pantone Serenity, a light blue. Hocking says other popular colors are teal, mint green, coral, emerald green and navy.
In recent years, some of the trends Hocking has seen include:
 • more outdoor weddings, including park weddings and backyard weddings
 • weekday weddings (Hocking says she has done weddings every single day of the week, and vendors generally charge less for weekdays.)
 • grooms being more involved in the wedding planning than brides, and the groom's family paying for much more than just the rehearsal dinner
• processing RSVPs online on the bride and groom's wedding website (also a trend) instead of having guests mail a response card
 • "first look" pictures (The bride and groom see each other right before the wedding, and the photographer captures the moment.)
 • couples who are a bit older and more established in their lives and careers
 • pies instead of wedding cake at the reception
 • popular wedding themes and styles: shabby chic, antique/Victorian, country/redneck