Business School Art
Art Accentuates Innovative Design
| 2016 Q3 | story by LAUREN CUNNINGHAM, Communications Coordinator, KU School of Business

Business schools typically aren't known for their art collections. That's what makes the new home of the University of Kansas School of Business unique.
Thanks to a gift to support art in the new building, more than 70 works, accentuating the building's innovative and collaborative design, adorn the hallways and public spaces throughout Capitol Federal Hall.
"We feel honored and grateful to be able to feature so many pieces of art in our new home," Interim Dean James Guthrie says. "The artwork contributes to the sense of energy in Capitol Federal Hall, and it provides points of inspiration throughout the building."
The business school formed an art committee in the year leading up to the May 2016 opening of the building to guide the process of selecting art.
Committee members include Emprise Bank chairman, alumnus and dean's advisory board member Mike Michaelis, committee chair; former dean of the School of Architecture, Design and Planning John Gaunt, cochair; Lawrence artist Diane Guthrie, co-chair; Spencer Museum of Art Director Saralyn Reece Hardy; founding member of Extol Capital Strategies LLC, alumnus and dean's advisory board member Jim Majerle; and Guthrie, ex-officio. The business school's former chief of staff Kelly Watson Muther also served as an ex-officio member for the 2015-16 academic year.

The committee's mission has been to showcase works with a Kansas tie. Though the pieces vary by medium and style, an artist from Kansas or who has a connection to the state or KU has created each piece of art. Many works were created by KU alumni, faculty or faculty emeriti.
Provost and Executive Vice Chancellor Neeli Bendapudi, who formerly served as dean of the business school, viewed the inclusion of art in the new building as a reminder to students that there is room for great creativity in business.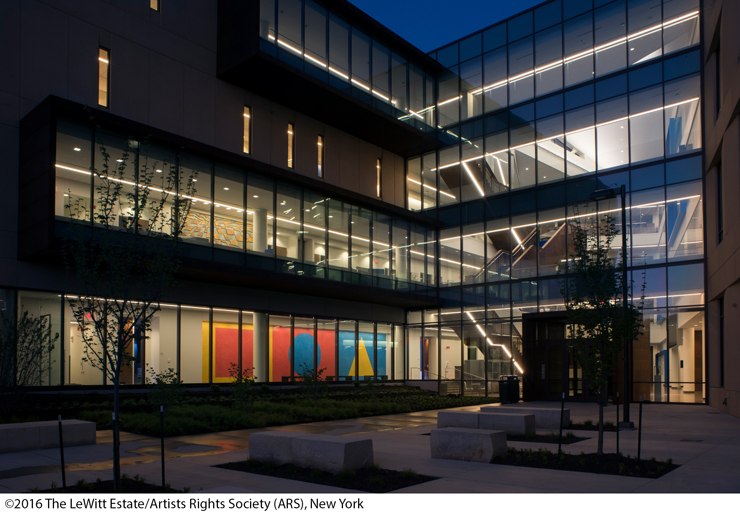 In addition to the building's architectural features, Guthrie says the artwork is another draw for students of all disciplines to visit the building.
Work by LeWitt on View
One of the most prominent pieces in the building is the Spencer Museum of Art's "Wall Drawing 519," by Sol LeWitt, which faces Capitol Federal Hall's central atrium and can be seen from Naismith Drive. The installation previously was on view at the Spencer Museum before the building closed for renovation in spring 2015.
LeWitt, who was a leading figure in minimalist and conceptual art, created a set of instructions or diagrams for his wall drawings that assistants could follow to install directly onto a wall, giving his work an unlimited lifespan.
It took a team led by a representative of the LeWitt Estate more than two weeks to install "Wall Drawing 519."
"The presence of the LeWitt wall drawing at the innovative new School of Business exemplifies our dedication to extending the museum's collections and programs beyond our walls," Hardy says. "The conceptual nature of LeWitt's wall drawing, which shifts and transforms according to its location, makes it an ideal work to share with our KU partners."
Artists' Work in the Building
Some of the many artists whose work is on display in Capitol Federal Hall include:
• Roger Shimomura, KU distinguished professor of art emeritus
• Janet Davidson-Hues, who received a Master of Fine Arts degree from KU
• Terry Evans, a Kansas City native who graduated from KU in 1968 and received an honorary Doctor of Arts from KU in 2016
• John Bukaty, a former KU football player who graduated in 1997
More than 30 artists' works are featured in the building, and the committee will continue to select more pieces.
More about Capitol Federal Hall
The public can view the collection of artwork in Capitol Federal Hall, located at 1654 Naismith Dr., during the building's hours, 7 a.m. to 10 p.m. Monday through Thursday and 7 a.m. to 7 p.m. Friday.
The four-story, 166,500-square-foot building houses 20 classrooms, 205 offices, a 350-seat auditorium and labs and spaces designed for flexible, student-centered learning and collaboration. It is the largest facility at KU to be financed through private support.
More information can be found at capfedhall.ku.edu.