Professional Spotlight: Saralyn Reece Hardy
Saralyn Reece Hardy, Director, Spencer Museum of Art
| 2016 Q3 | photo by Steven Hertzog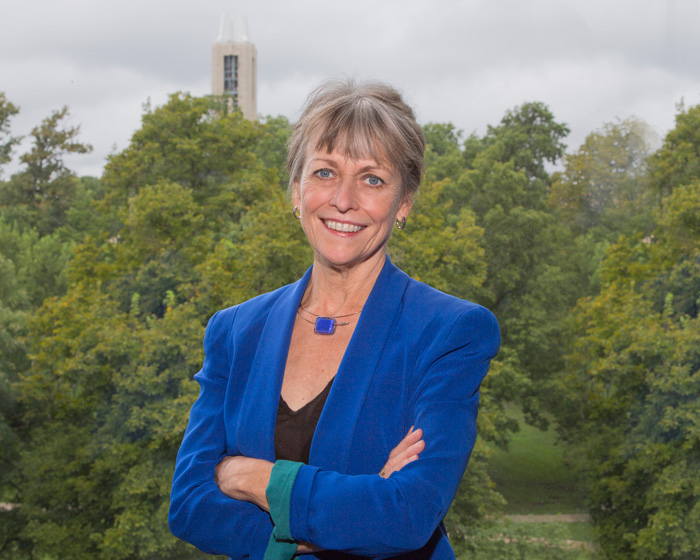 What is your business's most important commodity or service?
Bringing art and people together!
The Spencer Museum is dedicated to serving the Lawrence community and regional communities through educational experiences with works of art and artists. Utilizing our rich and diverse collections, the art museum contributes to the academic mission of the University of Kansas (KU) and serves as an intersection of creativity among scholars, students, artists and the public.

What is your business's most important priority?
Our most important priority is to serve as a catalyst for inquiry and discovery through art. To accomplish this, we must "tune" to our audiences on their own terms while bringing the very best scholarship and most thoughtful questions forward in our exhibitions, programs and projects. The urgency at this moment for art museums, especially those in educational settings, is to create an inspiring and empathetic space for all people. Learning spaces need to be beautiful and also comfortable. We must also be deep portals for thought and broad platforms for participation and discourse. Deep and wide—it can't be either/or. The Spencer Museum must make a difference in people's lives now and in the future, so we are called to invest in future art and future artists. In the most traditional sense, being fully in the now means caring for the art over time so it is there for generations; and in the most experimental sense, it means to encourage playfulness, apply novel approaches and bring new perspectives to our work. If we have never tried something, this might be the time.

What has been some of the most important aspects of your success?
The Spencer is surrounded and supported by people who love art and are willing to work past sundown to be sure others might take pleasure and meaning from the art. That's it: love and work.

How many people does The Spencer employ? Serve, interact with on a daily basis, and are responsible to?
As we begin the new academic year, we have 28 staff, 16 students and 50 volunteers. We are responsible to an entire public—the University of Kansas, Lawrence and the state of Kansas are our first circles of responsibility, but, of course, there is more. We relate to an international scholarly and artistic community. We are responsible to communicate our discoveries and add them to a growing body of intellectual and creative work destined for shaping history.

How do you and the Spencer make a positive impact on the Lawrence community?
The Spencer has always been one of the destinations for people coming to Lawrence, but now we are working toward joining our community partners in developing participants rather than audiences for the arts. A participant takes an active role in creating the quality of life. Our more-than-40- year collaboration with Lawrence Public Schools and our Spencer At Large projects that take place in the community provide many points of access and are all part of an overall question in action: How can the Spencer Museum be one of the places in the community and in the world where people can belong locally and globally, question values and assumptions, and explore their lives through art? Our impact should be judged upon how effectively we pose that question. Do we make lives better, more worthwhile, more satisfying?

What would you change about doing business (or working with businesses) in Lawrence?
I would like to be able to frequent every business in Lawrence and have every businessperson frequent the museum— each on our own terms. I grew up in the culture of a small construction company (Reece Construction Co.), and that company was family, and family was the company. Art and business have a key common factor—the value and reward of good work. So maybe some year, I'll just travel from business to business …

Why did you become involved? What inspires you? Is there a specific thing, person or incident?
My parents took my whole family to Europe when I was 12. That experience changed my life. Seeing the world open through art and then realizing it was not just Europe—art was everywhere. Creativity and expressive work was a path through life. Although I did not know just how, it was then that I knew I wanted to spend my time on a pilgrimage of discovery through art.

What do you see as your personal responsibility and the Spencer's responsibility to the community?
It begins with paying attention to the overall ecology of the community, learning it—from its natural systems to the plethora of cultural opportunities and the business community. I have had the great pleasure of serving on the Chamber of Commerce Board and the Cultural Planning Committee—both seem like a personal responsibility, both were learning experiences. But for me, the joy comes from less formal responsibilities: visits to artists' studios, attending poetry readings, kayaking on the river, buying weekly groceries from the farmers' market, slipping into an art movie downtown. So maybe a personal responsibility is to constantly be in learning mode. At the Spencer, we have been talking about how to be more reflective as we try to learn. I think it is the Spencer's responsibility to bring the best action and reflection to the community table and learn, always learn.

What is the biggest challenge you feel the Spencer faces?
I think all institutions, and especially those with important historical legacies like the Spencer, face the enormous challenge of balancing contemporary relevance with the tried and true. What should change, what should stay the same? I hope that we can build a system that is as resilient as some of those I see in nature. We will need to adapt and go into workaround mode while we continue to persist with the big ideas. Art has power, and the systems need change to support that fact and continue to provide access to art.

What do you foresee as being the biggest challenge for the future for your industry? And how are you addressing or preparing for it?
There is a set of challenges. How can we become more inclusive to all people? How can we protect and nurture personal freedoms of expression? How can we lead learning and inquiry with our colleagues at KU in a climate of budgetary restraint?
I believe in groups, ensembles, rambunctious teams of people that work on puzzles and opportunities together. I am preparing for the Spencer Museum's future by trying to attract people who are quietly bold and experimental, who want to live and work with people who bring different perspectives. I respect people who are willing to go out on a limb but go on that lim b with all they have to give. So preparing for the future to me means trying to surround one's self with creative difference, hard workers and people who think art is one of the ways to a better future. We have to have that hope—a better future.