Craft Cocktails
Pricey But Worth It
| 2016 Q4 | story by Anne Brockhoff | photos by Steven Hertzog
'Tis the season to celebrate, and what better way than over a craft cocktail at one of the many Lawrence bars and restaurants that serve them? They're certainly festive, thanks to the winter flavors, premium spirits and fresh and house-made ingredients. Amid all that good cheer, it's almost Scrooge-ish to bring up the issue of price.
But it's important. Craft cocktail prices have crept steadily higher, rising about 10 % in Lawrence during the past five years. Many bars now charge between $8 and $10 for bespoke drinks, although some hit the $12 or even $14 mark. Is it worth the money? That depends.
"People want affordable cocktails. They don't want to spend $12 on a cocktail unless they're going to be really blown away," says Ryan Pope, owner of The Bourgeois Pig.
Balancing quality and price isn't necessarily easy. The best spirits and liqueurs are sometimes (but not always) the most expensive, and house-made and fresh components are time-consuming to prep. Trends come and go. There's plenty of competition, and overhead is intractable.
On the upside, a well-executed cocktail program generates excitement at both restaurants and stand-alone bars. Cocktails drive sales—patrons who might skip dessert will pay a bit more for an intriguing drink. And consumers expect cocktail selections to equal beer and wine choices. In other words, cocktails are sexy, profitable and essential.
"I can't imagine doing a restaurant without a successful bar," Jeffrey Morgenthaler, author of "The Bar Book: Elements of Cocktail Technique" and the nationally respected bar manager at Portland's Clyde Common, says..
Cocktails help communicate an establishment's personality. Classics and their modern riffs suit The Bourgeois Pig's bohemian espresso bar vibe, while culinary cocktails match Hank Charcuterie's artisan personality. The handmade, local feel of 715's menu also shines in its drinks.

"It was natural to do that with the bar," says Weiss, who helped open the restaurant in 2009, moved to Denver then returned to take over as 715's bar manager. "We started getting lots of repeat customers coming back for specific drinks, ones that had a little flair to them or that were different. So that's where we took it."
715's cocktail menu includes three sections: classics, 715 standards such as the vodka-limoncello-lavender Former Spy that are so popular Weiss says they'll never go away and seasonal drinks.
That last changes about twice a year, most recently to add more autumnal character with options like the Pulling Rank, made with pisco, Punt e Mes (a rich and bitter-edged sweet vermouth) and pickled red grapes. Developing a new menu takes months of preparation and involves weighing everything from flavor and presentation to price.
Because no matter how great a drink tastes, if the ingredients are prohibitively expensive, it won't work financially. Most bars use spreadsheets to track that by determining what's known as the pour cost, or the cost of ingredients divided by the gross sales generated by that drink during a period of time.
Adam Chase, bar manager at Hank Charcuterie, created his own Excel spreadsheet, entering the price of each bottle of spirits and liqueurs the bar uses, as well as as nonalcoholic ingredients like maple syrup and citrus juice.
Then, as he develops a new drink, he enters exactly how much of each is used, even if it's only one-quarter ounce, to arrive at his pour cost. Chase balances drinks with a higher pour cost—such as his Bitter Guiseppe, a barrel-aged mix of blended Scotch, bourbon, Cynar and Benedictine—against those that are less expensive, such as the Miles From Minnesota (applejack, Drambuie, Amaro Sfumato, maple syrup, lemon juice and bitters).
"It evens out, and we do sell a lot of the Miles From Minnesota," Chase says. "We're not compromising on ingredients. They're all good. It's just relatively cheap to pour."
Most bars average an 18 %to 24 % pour cost, Morgenthaler says. That translates to a profit margin of between 76 %and 82 %, right? Wrong.
The pour cost only shows how much a drink's ingredients cost. That can fluctuate, sometimes unexpectedly, and bars can't always pass that increase on to customers. Such was the case in 2014, when lime prices more than doubled after bad weather, and disease cut output in Mexico, one of the world's biggest producers, and drug cartels in the state Michoacán took control of a distribution center there and demanded extortion payments from lime growers.
The lime supply tightened, and what was available was generally lower quality. Switching to bottled juice or premade mixers wasn't an option for establishments like 715 that use only fresh-squeezed juices. So Weiss kept buying limes, and 715 absorbed the added expense.
"That was a rough half-year," Weiss says.
Fresh produce like fruit, vegetables and herbs are challenging in other ways—there are seasonal variations in availability and quality, for one—but are necessary for innovation. And again, it's something customers have simply come to expect.
"If you're not doing that, it's hard to call yourself a cocktail bar," The Bourgeois Pig's Pope says. "Fresh ingredients are pretty key."

House-made ingredients are de rigueur, too. Coffee often figures into The Bourgeois Pig's drinks, in part because Pope and his wife, Amy Pope, also own specialty coffee roaster Repetition Coffee. Currently, he's shaking cold brew coffee with crème de cassis and lemon juice for the Morning Bell, but the bar also infuses spirits to make drinks like the Strawberry Hill (strawberry-infused reposado tequila, lemon juice, thyme and bitters topped with wheat beer).
715 maintains a prep schedule and checklists to ensure it doesn't run out of cucumber and fennel-infused gin, tonic syrup, falernum (a spiced almond syrup used in Tiki-style drinks), pistachio orgeat (a sweet, nutty syrup) or other ingredients.
Hank, which earlier this year remodeled to add a bar and become a full-service restaurant, also makes plenty of syrups, bitters and shrubs in-house. For the apple-cinnamon shrub (which works as a nonalcoholic soda and plays nicely with tequila), that means chopping apples, macerating them with sugar overnight, running them through a blender, adding vinegar, blending again and then straining and storing. As is typical in the industry, those processes are handled entirely by the bar staff. If Chase asked Hank's kitchen team to do it for him?" They'd laugh at me and tell me to work harder," Chase says.
The upshot: House ingredients increase a bar's labor cost. Craft cocktails are also more involved when it comes to assembly thanks to the multiple techniques and steps they usually require. Take the Vieux Carré, one of Pope's favorites. Rye whiskey, Cognac, sweet vermouth, Benedictine and bitters all have to be measured, stirred with ice in a mixing glass and strained over cracked ice in another glass.
On the other hand, the Moscow mule, The Bourgeois Pig's top seller for the past four years, is easy to build: Add ice, pour in vodka and lime juice, top with ginger beer.
"The Vieux Carré takes four times as long to make," says Pope, who, with his partners, bought The Bourgeois Pig a decade ago (it's now been open 22 years).
One way to streamline is to batch cocktails or mix their shelf-stable ingredients in a larger quantity and refrigerate until service. Then, a bartender only has to pour the premixed spirits and liqueurs, add any syrups, juices or other elements, mix and serve. That's a boon on busy nights, Weiss says, when 715's bartenders serve as many as 16 guests at the bar plus the 75-seat restaurant.
"It just gets things out faster, and it helps with consistency," Weiss says.
The Bourgeois Pig's taken to batching classics like the Manhattan or Negroni, and serving them on tap on weekends. It's speedy, but batching's not without its risks, Pope says.

"It can be a little daunting from a bar owner standpoint," he says. "If something doesn't sell, it's just sitting there."
Hank Charcuterie's had one drink "just sitting there" for months, albeit by design—Chase's eggnog. He began the process two months ago, combining eggs, cream and sugar with brandy, rum and bourbon, and stashing it in the restaurant's walk-in cooler. The eggnog's alcohol by volume is at least 35 %, ensuring it will be safe to consume, and the time will yield a richer, more complex flavor, he says.
Chase also offers several barrel-aged cocktails, like the Old Pal. He mixes rye whiskey, Campari and dry vermouth, and transfers it to a charred, new oak minibarrel from Lenexa's Union Horse Distilling Co. He then lets it rest for at least two weeks, allowing the flavors to integrate before serving.
That's a long time to tie up expensive inventory, but the result is worth it, Chase says.
"If we're anything, we're a whiskey bar. Barrel-aging is a natural, I feel," he says.
Craft cocktails hold other hidden costs, including the expense of developing new drinks. Few are exactly right the first time a bartender makes them. Ingredients have to be tasted, proportions tweaked, almost-finished recipes evaluated by other bartenders and samples poured in staff training sessions. Shift drinks provided gratis to staff, tasting portions poured for curious customers, happy hour and other promotions, in accurate measuring and even spillage, all add up, too.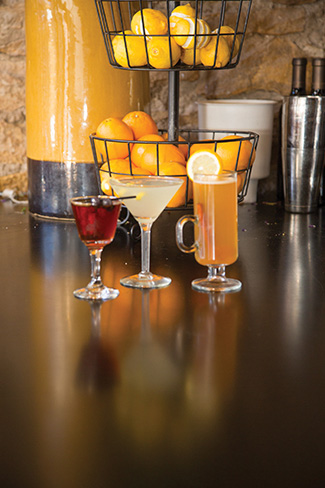 Regularly checking inventory helps keep track of it all, and 715's point-of-sale system generates reports that allow Weiss to evaluate which products and drinks are selling, as well as price points and pour costs.
"We do that weekly, monthly and quarterly to track what's selling and what's just taking up real estate," she says.
Other expenses include garnishes, ingredients such as bitters that are used in such small quantities they don't make it into the spreadsheet, glassware and even ice. Then there's overhead, cleaning and maintenance, printing and promotional expenses, and the costs associated with creating a particular atmosphere (think stylish design, swanky chairs, artwork or a sound system). And, of course, payroll—skilled bartenders and well-trained staff are essential to the success of any craft cocktail program.
"That's the hidden part people don't see in a restaurant," Weiss says. "We still have to pay the bills."
Each cocktail must contribute its share to those total expenses, but not at the expense of the guests' experience. If it is to be successful, a bar must first create delicious drinks that its clientele enjoys drinking and wants to order again. It's about building trust with your guests—trust that what's in the glass will be worth its price tag, Pope says.
"If we're using a $60 mezcal in a cocktail and charging $10 on the board, that's a good deal for the customer, and hopefully a good way to gain their trust," Pope says. "Then, if you see us put a $12 cocktail up, hopefully it will blow your mind."


Holiday Cocktail Recipes
https://www.lawrencebusinessmagazine.com/2016/12/holiday-cocktail-recipes/ ‎