All in the Retail Family
Tough Retail Market Makes Longevity Hard to Achieve.
| 2017 Q1 | story by Julie Dunlap, new photos by Steven Hertzog
Familiar faces have lined the streets of downtown Lawrence for generations, though few—if any—with quite the lineage of longtime downtown flagship Weaver's Department Store.

The story of Weaver's begins in 1857, when founder Lathrop Bullene first opened his dry goods store at 723 Massachusetts St. Bullene kept the store in the family, selling it to his daughter, Gertrude, and her husband, A.D. Weaver, who changed the store's name to reflect the new owner but kept the Bullene family tradition alive, eventually selling the department store to their son, Art Weaver.

Art made a fortuitous hire in 1950 when he brought Larry Flannery on as a general manager.

In 1962, after three generations of Bullene-Weaver family ownership, Larry purchased Weavers, now located at 901 Massachusetts St., setting up his own family for three generations of ownership, as well.

Larry's son, Joe, grew up working in the family business, joining Weaver's full-time fresh out of college in 1972 with the intent to "try it out for a couple of years," he laughs nearly 45 years later.

The last living link to the Bullene-Weaver legacy, Joe shared his first office with the late Art Weaver after Larry bought the department store.

"I learned so much from Art," he says with deeply rooted respect of his predecessor.

Joe and his two brothers all worked at Weaver's throughout high school and college, learning every facet of the business, from the physical upkeep of the store to following fashion and shopping trends to building relationships with customers and employees.

While Joe's brothers ended up taking those life lessons on to different career paths, Joe has passed these same traditions and lessons on to his own children since taking over as president of Weaver's Inc.

Brady Flannery and his sister, Christina, followed in their father, Joe's, footsteps, working at Weaver's through high school and college in every possible position, learning the business inside and out in the same hands-on way their dad did. Christina has taken her training to Macy's in New York as a planner for the retailer, but Brady now works in the same office his dad once shared with Art Weaver.

"I learned from my dad how to make it work," Joe shares of the family's legacy. "It worked well with him, and it works great with Brady."

Brady rejoined the company in 2012 after working in Seattle right out of college. "There was an attraction to move back to Lawrence," he says of seizing the opportunity to work with his father at a thriving business and to be close to family again. "Lawrence is a strong community, and I was excited about the future of Weaver's."

Shifting into the role of mentoring father from apprentice son came relatively easily for Joe.

"I learned early the father-son relationship is different than employer-manager," he says, adding, "it's OK to talk work outside of work, just don't work outside of work."

Brady has appreciated the opportunity to learn the business from a mentor he calls "Dad" and cites strong communication as vital to their successful duo.

"Communication is key, having shared values, knowing where you are and where you're going," he shares of the dynamic. "We can bounce ideas off of each other, which has always been very easy to do and is beneficial to the store, bringing different approaches."

One approach has remained steady in the family, however. "We share a 100% commitment to the customer," Brady beams.

The Flannerys aren't the only set of multiple generations working at Weaver's. Joe and Brady both take pride in staffing many employees over the years from the same family trees, adding to the familial fellowship that makes Weaver's feel like home to many.

And with the newest Flannery, Brady's 18-month-old daughter Margaret Flannery, now in the wait, the Flannery family may have yet another generation to lead the team at Weaver's down the road.
Like Brady, Ken Campbell, owner of Winfield House, down the street at 647 Massachusetts, is the third generation in his downtown retail-owning family, as well. His grandparents, Ralph and Ruth Campbell, and his parents, Win and Linda Campbell, founded Campbell's Clothing Store in 1964. Win and Linda went on to open Winfield House in 1995, closing Campbell's five years later.
Ken grew up in the retail business working for his parents and grandparents at the clothing store, and observing the family patriarch's keen business sense along the way.
"I heard stories about my grandfather in his heyday," Ken recalls. "It was fun to watch him work."
Ken says Ralph had a special knack for keeping the supply rotating, a trade secret he passed on to his grandson. "Even when he only worked at the store a couple of days a week, he knew the inventory well. His goal was to always move the oldest thing first to keep the inventory fresh," Ken explains.
Win instilled the value of being conservative with inventory purchases, advice Ken still draws upon today.
"Going to market is one of the most challenging things to do as a family," Ken says with a grin. "After our first big argument, we learned that when one person says 'no,' move on."
After spending his younger years working in the family business, Ken branched out on his own for a bit before buying Winfield House from his parents in 2008. But his parents aren't too far away.
"They work part-time for me now," he smiles, "and I'm so glad they still want to. They still have a big part in what goes on here."
Linda wouldn't have it any other way. "It is a blessing to have somebody want the business," she says with a smile, "to see your joy become their joy."
The joy continues now through the fourth generation, as Ken's daughter, Samantha Campbell, is well on her way to being able to take over the company. A true family affair, Ken's wife, Robin, was also instrumental in the store, working in home consultation before her death one year ago.
"It's fun," Ken says of his family business. "We're really fortunate to all get along." Echoing his mother, Ken adds, "It's a joy."
After 32 years of retail ownership, Mark Swanson, proprietor of Hobbs (700 Massachusetts) and Spectator's (710 Massachusetts), is happy to say the same thing.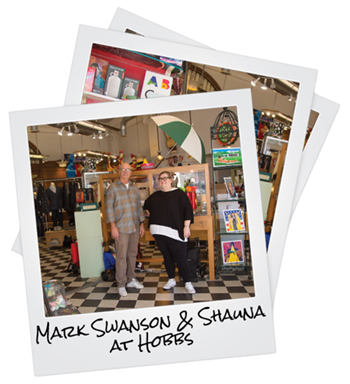 "We're fortunate to get along as well as we do," Mark states. Mark and his wife, Kathleen Swanson, opened Spectator's in 1982 with the hope of capitalizing on the specialty retail boom happening downtown at the time, unaware of the path they had just set for themselves, their young daughter, Shauna, and her sister, Alex, who would arrive nearly a decade later.
"I never thought I'd be doing this for 35 years," Mark laughs, emphasizing their initial goal of simply making a living. "Kathleen and I had the passion for it, and it naturally evolved for the kids to work here, too."
The Swansons' gamble on specialty retail paid off due, in large part, to their attention to an underexposed niche for East Coast labels, particularly Jones New York.
Stocking the racks with the right style wasn't their only key to success, however, as Mark and Kathleen realized early on that connecting with customers on a personal level was vital to longevity in the business.
"We've never been a company that expected a customer to walk in the door," Mark says with both recollection and immediacy. "We realize we owe our customers everything, and I've imposed that upon Shauna since she was in the womb."
While most of their peers were performing household chores at home, Shauna and Alex grew up in the retail industry doing "store chores." From the time they could each walk and talk, the two sisters have learned to talk with customers, display merchandise and keep the stores clean and organized. They have traveled to market with their parents for as long as they could remember, even taking on purchasing responsibilities as teenagers.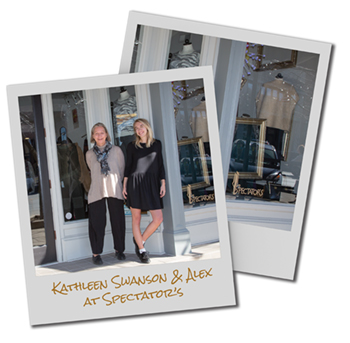 The dynamic wasn't always easy, though, and some lessons were learned the hard way.
"My dad is the only person to fire me!" Shauna exclaims. All of 13 years old, Shauna had to work her way back into paid chores at the store, something she eagerly and successfully managed to do. The memory was never far from either of their minds, though, as Shauna recalls one evening as an adult when her dad, recognizing she was tired from the holiday setup and needed a break, told her to go home and rest. "I didn't want to leave, but my dad told me, 'I fired your (rear end) once, I'll do it again!' " she laughs.
Mark only beams with pride, however, when he reviews her work now, stating, "Shauna is the best I have ever seen, and I am so proud of her."
Shauna spends her days floating between Spectator's and Hobbs, a specialty clothing and novelty store the Swansons opened in 1997, starting and ending her day at Hobbs, where Mark offices. Alex spends most of her time with Kathleen at Spectator's, though the two put in time at both locations, as well. The family of four looks forward to all of their days together, but Christmas Eve has a special place in their hearts.
"Christmas Eve, it's just me and my dad at Hobbs and Alex and my mom at Spectator's," Shauna says with a smile. "It's a moment to be had, for sure."
Kathleen smiles describing the family's Christmas Eve. The Swansons hit their sales floors to help customers with their last-minute shopping, greeting many who have made shopping downtown on Christmas Eve their own family tradition. After closing the stores, the family of four makes its way home for a night of dinner, gift-wrapping and much laughing.
"It is the greatest joy and benefit to have them around me all the time," Kathleen says, emphasizing, "I am honored to work with them."
Down the street, mother-daughter duo Carolyn Richmond and Ellie Ruby run one of Lawrence's relatively newer multigenerational shops, Fortuity (809 Massachusetts).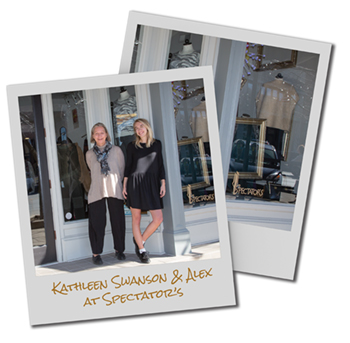 Richmond opened Fortuity with her daughter in 2011 after visiting Lawrence from Kansas City for her daughter's sorority moms' weekend. Richmond, the daughter of a long line of boutique retailers in the Kansas City area, saw room in the downtown Lawrence market for a shop mothers and daughters could both enjoy.
"We have one customer who calls it the 'three generations store' because mom, grandma and daughter can all find something here," Richmond laughs.
To ensure an inventory with that kind of wide appeal, Richmond and Ruby share the buying duties.
"I buy for the older crowd, (Ruby) buys for the younger," Richmond explains.
Ruby, who also maintains a fashion blog at www.EllieRuby.com, has been buying for the store since her sophomore year at the University of Kansas, getting an early lesson on the inner workings of running a retail business while also teaching her mom a few things, including how to incorporate social media into their store.
"I've been counting change back to customers since I was little," Ruby recalls of life in retail family. "I learned early on how to calculate percentages, how to talk to people and how to treat customers."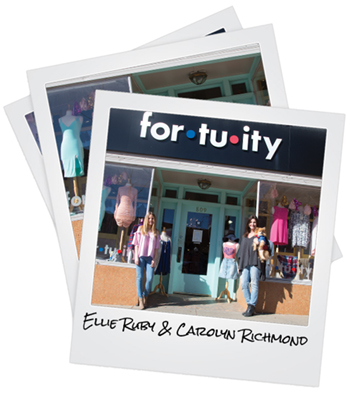 Richmond is happy to both learn from her daughter and pass on the lessons learned from growing up in a retail family. "My dad taught me that everybody will take your money, but nobody wants to help you once they have it," she says. Like her dad, Richmond explains, "We want customers to be happy with their purchases and will help them with an exchange as much as we will their original purchase."
This customer-oriented practice has helped Richmond carry on the family legacy of service through her own business, which now has stores in Lawrence, Kansas City and Manhattan, as well as online.
"I love working with my daughter," Richmond smiles. "It has been fun to grow this business with her."
A testament to the city of Lawrence and to the strength of family ties, the families committed to keeping downtown thriving seem to be on course for generations of shopping to come.