Changing Trends
Keep HVAC, Flooring Companies on Their Toes
| 2017 Q1 | story by Emily Mulligan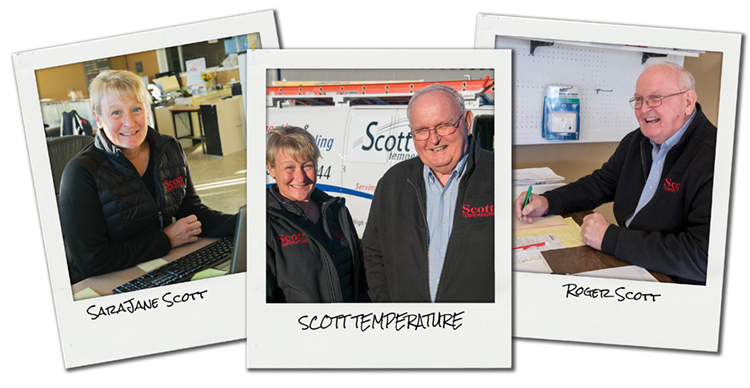 Scott Temperature and Kring's Interiors both bear the family names of their founders. And it is only fitting for these home-service businesses, because nothing goes together quite like families and homes.

Scott Temperature is run by Sarahjane Scott, the company's vice president and third generation. Her grandfather, Emory Scott, founded the company, and her father, Roger, is Scott Temperature's president.

The 82-year-old business sells and services both residential and commercial HVAC systems. Scott is a Carrier Authorized Dealer and service provider for traditional air conditioners and furnaces, and also specializes in selling, installing and servicing geothermal heat pumps and ductless climate-control systems.

Kring's Interiors, now at 634 Massachusetts St., is run by Brit Kring. The store began 55 years ago as a mobile floor installation business operated by Brit's father, Dale Kring, and Lou Parsons. Today, Kring's still sells and installs all types of flooring, including tile, hardwood and carpet, and also provides interior-design services for homes and businesses.

Scott Temperature Early Days
Emory Scott, an electrician by trade, started what would become Scott Temperature in 1945, when he and a friend began a mobile repair service. At first, he rode the city bus with his tools to make repairs. Then, he brought on a partner who had a truck—whom he eventually bought out, along with the truck. In 1946, the business became a Carrier dealer. Emory's brother Vern joined the business, with Emory taking on sales and Vern doing the repairs.

Residential air conditioning was a new technology, so business took off quickly after the war.

"We always had air conditioning in our house in the spring," Roger Scott says. "But my dad took it out and sold it to a customer every year. So by summer, when it was hot, we didn't have air conditioning anymore. We were like the cobbler's kids with no shoes."

By the mid-1960s, the business outgrew its New Hampshire Street locations downtown, so Emory, whose son Roger began working for him in 1963, built the current building at 1815 Bullene Ave. Emory's wife, Dutch, did all of the bookkeeping for the business, as well. Roger began working for Emory after college, became a sheet metal tenor and specialized in troubleshooting and repairs.

"My dad said, 'Whatever you want to do, go do it. But I found I really enjoyed fixing things and working with my hands," Roger says.

He began running the business in the late 1960s, and Emory stayed around and helped out, as needed, regularly driving to Kansas City for parts and equipment.

Roger had three daughters, Sherry, Stacey and Sarahjane. Sherry and Stacey pursued their own schooling and career options. After she graduated from the University of Kansas, Sarahjane approached Roger and offered to come work for him.

"My dad said 'no.' There were never any other options for him, so he wanted to make sure all of us had the option to do something else," Sarajane Scott says.

She went to work for Radio Shack for 10 years—a male-dominated, mechanically oriented company, much like Scott Temperature—and then she asked Roger again if she could work for him.

At that time, Roger was in his 60s and was looking into options for how to keep the business going when he retired.

"I was talking to consolidators about selling the business. I didn't want to close the front doors, and that would be it," he says.

So when he realized Sarahjane was serious, he dropped all the sale negotiations.

"He said, 'I hire kids out of the training program at Johnson County Community College (JCCC), so go there,' " she says.

Sarahjane studied HVAC for the three-semester program at JCCC 12 years ago, while still working at Radio Shack and raising a daughter. When she finished the program, she ran service calls and did sales and bookkeeping.

Roger is still the president of Scott Temperature, and Sarahjane is the vice president, but about five years ago, Roger handed over the day-to-day operations to Sarahjane, the third-generation Scott.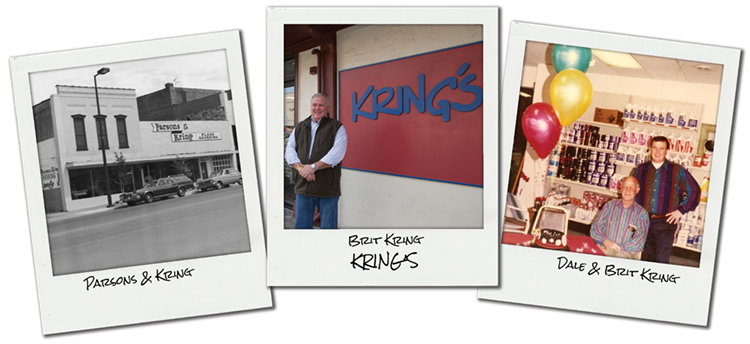 Kring's Interiors Early Days
In 1961, Dale Kring and his Baldwin City high school classmate's husband, Lou Parsons, pooled their money and bought a truck to start a flooring installation business in Lawrence. Parsons had done floor installing in Texas, so he had tools, and they were on their way. Three years later, the partners opened a storefront, Parsons and Kring, at 1035 Massachusetts St. (now Papa Keno's Pizzeria).

Lou's wife, Cindy, and Brit's mom, Wanda, ran the showroom and even helped transport flooring materials to Lawrence from Kansas City. As the business grew, Dale and Lou took turns working two weeks in the office and two weeks on the job sites.

"They both hated to work in the office," Brit says. "Eventually, it got to the point that they both always had to be in the office."

In 1975, the store moved to its current location, but only the south half of the building existed at that point, which had previously been a motorcycle dealership and car dealership.

Brit started helping with flooring installations in the summers when he was 14. When Lou retired in 1981, Brit began working in the showroom.

"In high school and college, I also sold shoes at Gordon's. That's what made me like selling. I enjoyed selling, and I knew something about flooring, so it seemed like a really natural fit," he explains.

The store doubled in size with an expansion in 1990 and became the current space.

Dale retired in 1994, and Brit took over the business upon his retirement.

"As Dad neared retirement, and we had discussion of whether I wanted to take over, I couldn't think of anything else that I'd rather go do," Brit says. "Before I was in any position of making decisions, I had done everything there was to be done."

For about five years after he retired, Brit says, Dale helped out at the store or on jobs as needed.

Other Family Members
Sarahjane Scott's two sisters have part ownership in the business and still live in the area, but they have respective careers in public relations and IT (information technology).

"My sisters probably don't even know how to set their thermostats," Sarahjane jokes. "I go over and change their filters for them."

Brit's sister, Kayla Kring, has a law degree and lives in Lawrence, and has only worked at Kring's short-term in the office. Wanda, his mom—after running the showroom for Parsons and Kring in the early days—worked at the Douglas County Courthouse as the clerk of the district court.

Evolving Businesses
Sarahjane says business has really increased in sales since the recent recession because of new residential construction, commercial new construction and commercial remodeling.

"The recession affected us because people repaired their equipment instead of replacing it. Now, they are replacing it," she says.

Scott has also aimed to keep up with trends in the HVAC industry, in particular the energy-saving and "green" options now available, such as variable refrigerant flow (VRF), which are ductless systems with multiple units in one building or residence.

"We are an elite dealer for Mitsubishi in northeast Kansas. We are a small company, and we sell more than the bigger companies," Sarahjane says.

With the growth and business expansion, however, one of the challenges facing HVAC companies nationwide has affected Scott.

"My labor force is the hardest commodity to find and manage. They don't stay as HVAC techs for 20 to 30 years; they look for changing roles and the opportunity to transition to the next level," she says.

Many baby boomers chose to retire during the recent recession, as well, leaving a gap in the trained HVAC workforce.

With the increase in business, Scott has hired several people to oversee and manage different aspects of the business.

"As we continue to grow, my focus is on putting people in key positions. We're putting a responsibility chart together so we can grow at a manageable speed. We're actively going after emerging markets, moving from a small shop to a medium shop," Sarahjane says.

She recently hired a residential salesperson, front office manager and operations coordinator, and she has established an installation manager position so she can focus on the growth and direction of the business.

Kring's is also benefitting from improvements in the housing and construction markets. Brit says the store is also navigating its role in the home-improvement market in Lawrence.

"We're part of a national cooperative that buys more floor covering than Home Depot and Lowe's combined. I choose not to sell inexpensive commodity products. Home centers fill a niche for a do-it-yourselfer, but if you need help, like design or installation, they don't do it well," Brit says.

Kring's has five staff members with degrees in design, and the store provides ongoing training to its staff about products and installation. But Brit's favorite part of the work is getting to meet and interact with his customers.

"I still think there are a lot of people who want to know the people they're buying from and have that point of contact. When you deal with a local business, you get to deal with the people who make the decisions and whose name is attached to the business," he says.

Brit says some people have the impression that Kring's must be expensive, because it's a specialty business located downtown, but because of the cooperative and other efficiencies in addition to the expertise, Kring's offers a good value. He has looked into moving from downtown Lawrence but says he would miss all the people and especially events like the annual Mass. St. Mosey.

Next Generation?

Neither Scott nor Kring's is close to moving on to the next generation just yet, so there's no way to tell just how multigenerational each business will become.

Sarahjane has two daughters, one in her early 20s and the other in elementary school, so she has some time to plan for the future. In the meantime, she says she and Roger still run the business well together, implementing her strategic plans.

Brit has four children—two sons in their 20s and two daughters in elementary school.

"Do I think the kids might take it over? My oldest son, maybe, but I want him to work a few years away from the business so he can learn about other management styles, both good and bad," he says. "The business will continue to run. Will it be Kring's or Parsons? That remains to be seen."