KLWN Expanding to FM
Local talk radio station expands into FM market.
| 2017 Q1 | story by Tim Robisch, GM of KLWN and Great Plains Media Stations, Lawrence, photos by Steven Hertzog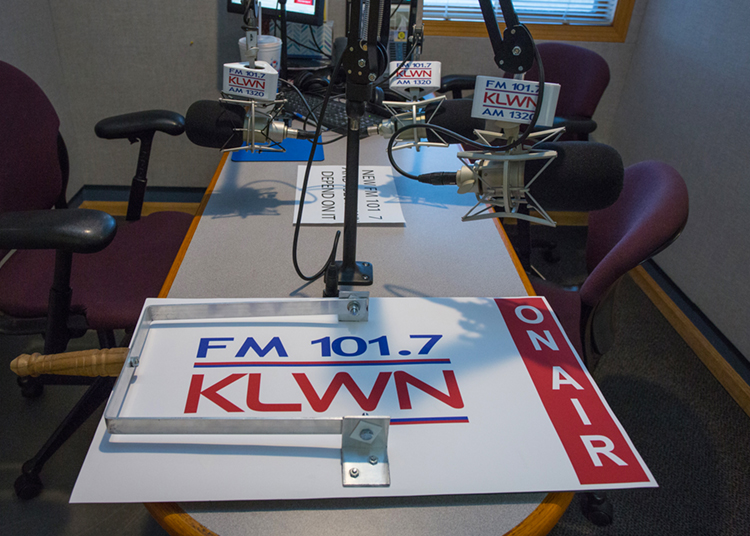 Great Plains Media operates four radio properties in Northeast Kansas. 1320 KLWN AM and its new sister station, 101.7 FM (simulcast), 105.9 KISS FM and 92.9 The Bull.

Our primary mission is to provide locally based content including news, information, sports coverage and entertainment to the Northeast Kansas region, focusing on Douglas County, the City of Lawrence and the surrounding areas, including Topeka, Ottawa, Baldwin and Osage City.

Radio reaches 94% of Americans on a weekly basis, and we spend more time engaged with radio than any other form of media. The KU School of Business recently conducted a media-usage study showing that our three brands (KLWN, The Bull and KISS) reaches two out of three northeast Kansas residents on a weekly basis. That's almost 70% of more than 140,000 people. Radio is the best advertising medium to generate frequency, which is critical to motivating customers to action.

Adding KLWN's programming to the FM dial provided a vital service to the community and us. Not only does it improve the audio quality of the signal, the move exposes the programming to a much broader audience, as many people, particularly those younger than 40, never or rarely utilized the AM dial. Broadcasting on the FM dial provides a "cleaner" signal subject to much less interference from other radio signals.
This improved reach is so valuable as we commit so much of our content on each of our stations to this area and region. We are the voice of the community. Local personalities, local news, local music and, of course, local sports. That includes extensive coverage of the Jayhawks, including Women's Basketball, Olympic sports like volleyball, soccer and baseball. And, of course, the two big sports, basketball and football, which get the most attention. Our commitment is also huge to high school sports, as we air both Lawrence and Free State High School games and, on Thursday evenings, a High School Sports Weekly program.
What is the reason a listener would choose AM over FM radio or vice versa?
Ultimately, it is the programming. AM is better suited to the spoken word and often sports play-by-play coverage. So, the programming is focused on news, sports, information and a variety of different positions or topics on which a station chooses to concentrate. For KLWN, it's the local community, and that means community issues and our sports teams. FM radio tends to be more music oriented and serves a diverse variety of musical tastes.
Other factors include where one lives, his or her commuting patterns and, in some cases, the type of device on which the person receives his or her radio signal. The beauty of radio is that it is free—no subscriptions necessary and it doesn't burn up data plans or batteries on mobile devices.
For our advertisers, there are two major benefits: much greater exposure
and enhanced coverage. From a marketing perspective, the advantages to being on AM or FM radio is about reaching prospective customers. So, buying AM or FM stations or both should be more about the kind of customer an advertiser wants to attract to his or her business. It's not about personal preferences but rather the preferences of the customers they want to persuade to patronize their business.
Why is it important for KLWN and its listeners that KLWN be on both FM and AM? Because of greater access to a larger population base and the evolution of technology. A much greater percentage of the population regularly uses the FM ban, in particular, younger listeners; and they now can discover and have access to the programming. From a technological perspective, urban sprawl and interference from other radio signals and the environment have a greater impact on the AM signal.