PROFESSIONAL SPOTLIGHT: Jason Edmonds
Edmonds Duncan Registered Investment Advisors
| 2017 Q1 | by Jason Edmonds, new photos by Steven Hertzog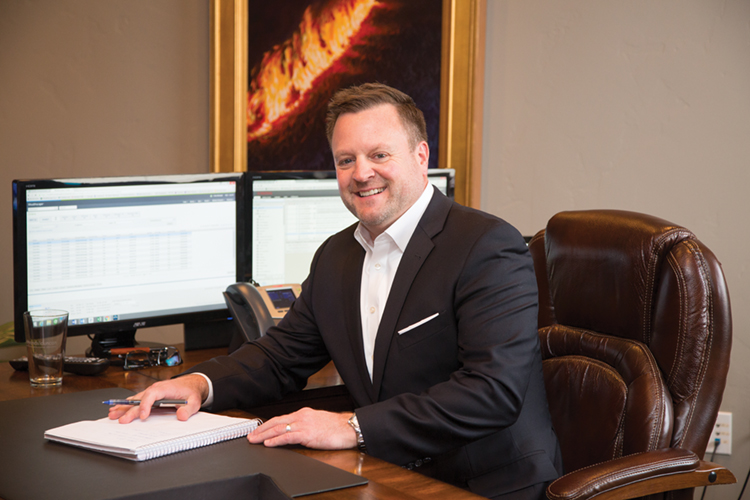 What is your business's most important commodity or service?
We provide a wide array of services for our clients, including financial planning, investment management, retirement income management, estate planning and settlement, and all related services. That said, our most valuable commodity may be sound advice based on experience spanning five decades. In a complex and constantly changing industry, though, we still encounter something new just about every week.
What is your business's most important priority?
Integrity. Our clients honor us with their trust, and we are dedicated to remaining worthy of it. This means complete honesty, confidentiality and prompt, personal service. Additionally, we are obligated to stay on top of any information that will be of benefit to our clients. While no one can consistently predict the future, paying close attention to the details does increase the odds of being prepared for it.
What have been some of the most important aspects of your success?
Personally, I have many people to thank for my success, but my father is certainly at the top of that list, as he built the solid foundation that our firm stands on top of today. In addition to being an expert at his profession, he is also a genuinely nice man who keeps his commitments through dedication, hard work and honesty. I can't imagine a better role model, and I strive to live up to his example every day.

My business partner, Don Duncan, also deserves a great deal of credit for the success of our business today. Don's attention to detail and entrepreneurial vision for the future of our firm and industry have helped advance us to a level that I would not have achieved alone. Through many years of practice, we have developed a method of approaching challenges from our unique perspectives, which seems to result in better overall decision-making. Given enough time, we are confident we can arrive at the right answers together.
How many people do you work with, serve, interact with on a daily basis and are responsible to?
That's an interesting question to think about. We serve approximately 500 client families, which translates to more than 1000 individuals. These are the people we are responsible to. I would estimate that between personal meetings, email and phone calls, we interact personally with 20 to 30 clients each day on average. We have a dedicated back-office team at our custodian in Texas and our broker dealer in New Jersey, with whom we speak throughout the business day. We contract with an institutional research firm in Chicago that we communicate with weekly. Finally, we hear from a seemingly limitless number of representatives from various investment, research and technology companies that are interested in developing relationships with us.
How do you and your industry make a positive impact on the Lawrence community?
Our objective is to improve our client's personal economies. So, to the extent they are better off, I would expect that to be good for Lawrence's economy, too. As a locally owned business, we are also proud of the impact we have by doing business and providing employment opportunities locally. Finally, we contribute volunteer time as well as sponsorship and direct contributions to local organizations.
What do you see as your personal responsibility and the industry's responsibility to the community?
As a fourth-generation native of Lawrence, I feel a strong sense of gratitude and an obligation to support the community that has been so great to my family. I attempt to honor this commitment by volunteering a significant amount of my time to community organizations and efforts. I am pleased that the financial-services industry as a whole is a consistent source of sponsorship and volunteer energy in Lawrence. Of course, we can always do more.
What would you change about doing business (or working with businesses) in Lawrence?
The Lawrence businesses we work with are fantastic. My only wish is that there were more of them. Lawrence is a wonderful community, and I believe we can grow and prosper if we continue to say yes to new opportunities. More local businesses would mean more and better employment opportunities, more professional and volunteer leadership, and a more vibrant economy in general.
Why did you become involved or what inspires you? Is there a specific thing, person or incident?
We are in a people business, so when Machaela and I came back to Lawrence after living in San Diego for a few years after college, my Dad encouraged me to look for ways to get involved in the community. I joined the Chamber and then the Envoy Committee, and I remember Gary Toebben telling new members that they would "get out of it what they put into it." That stuck with me, and I have certainly found it to be true. Along the way, I have met some wonderful people who clearly share that belief, and they have become great friends. I am inspired by people who contribute their time, talent and treasure to making our community a better place for everyone.

I am also inspired by optimism and the people who practice it. I believe that optimism is a habit—a choice we make over and over again, which actually shapes our future. It's a choice that requires active effort and reinvestment though—just like exercise. Pessimism requires far less effort …
What is the biggest challenge you feel your industry faces?
My greatest concern is that people, in general, are just not saving enough money to be able to retire or support themselves in the future. Involuntary plans such as pensions, which allowed current and past generations to retire, are not going to be there for future retirees. Even people with good employer-sponsored retirement plans tend to save only the amount needed to get the employer match. Experience tells us that most young people will need to save 10-plus percent of their income in order to successfully fund retirement. And for every year they wait to start, that percentage grows. We do our best to educate our clients and their children about this issue, and are looking for ways to do more. Our industry needs to take the lead on this issue and educate young people about the importance of saving and investing in their own future.