Welcome Home
Personal Side of Real Estate Makes for Perfect Family Businesses.
| 2017 Q1 | story by Bob Luder, new photos by Steven Hertzog
It could be argued that real estate is among the most personal of businesses. It's helping people find and secure the places where they'll live, maybe for just a year or two, perhaps for the rest of their lives.

The dwellings real estate agents show, buy and sell likely will someday serve as homes where kids grow up and are raised into young, productive adults. They might be where couples begin their married lives. Where older people live out theirs to the end. Where memories are made and stored. Stories created, and love shared.

It's home. And it's personal.

All of which makes real estate companies especially well-suited to the family-owned business. Realty agencies handed down through generations not only pass along decades and thousands of homes' and clients' worth of expertise, they pass down an attitude. A way of doing business. Of nurturing clients and leading them to the homes of their dreams.

Of getting personal.

Lawrence is fortunate to have three such family-owned real estate companies.

McGrew Real Estate was established in 1951 when Conrad McGrew started McGrew Investment Company at 806 Massachusetts St. That year, three agents produced a total of $100,000 in sales. Today, Conrad's grandson, Mike, is chairman and chief executive officer of McGrew Real Estate. The company has three offices serving the greater Douglas County area (two in Lawrence, one in Eudora) and is home to nearly 100 agents and support staff.

Charles "Chuck" Hedges founded Hedges Real Estate in 1972 at the corner of Ninth and Vermont streets. Six years later, he built his own building two blocks away at 11th and Vermont streets. Chuck's son, Bryan, spent much of his youth working odd jobs around the company's offices. After working there part-time through college, he started full-time in 1993 and took over operations six years later when his father grew ill. He's still going strong in that role today.

When Bob Stephens opened Stephens Real Estate in 1978, he had a simple vision in mind—stay true to the company's independence and to the community. From those humble beginnings in the old Douglas County Bank building on Kentucky Street with 28 agents and a small support staff nearly 40 years ago, that vision remains. Unlike McGrew and Hedges, a member of the Stephens family no longer owns nor operates the business. But current co-owners Pat McCandless and Chris Earl were mentored and groomed for their current roles by Bob and his son, Doug. And, they have their own vision—never lose sight of the values that have led to the company's success.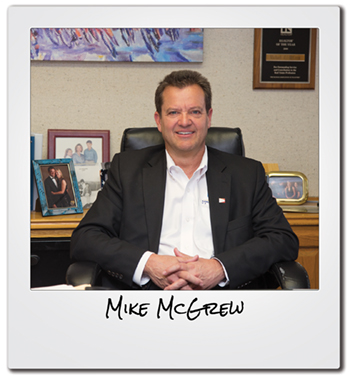 McGrew
Tragically, Conrad McGrew never got to see his creation come to its full fruition. He died suddenly in 1953 at age 48, just two years after opening the company. His widow, Viola, took over and kept the business afloat for the next seven years until their son, John, graduated from college and was ready to assume the duties of president and managing broker.

"It's always been very humbling to me," says John McGrew, who would remain in his role for the next 47 years. "Dad was highly respected in Lawrence. His death was tragic and felt like the end of the world to me.

"Taking over the company was an opportunity and obligation to keep this experiment going. It was more than making a living. It was a way of life," he says.

While in college at the University of Kansas (KU), John got to know the man who would greatly impact his life and business.

"I was lucky to get to know Bob Billings," he says. "He asked me to find land to build a public golf course."

That golf course development turned out to be Alvamar, which started as a 400-acre golf course and today encompasses 3,000 acres in West Lawrence.

McGrew Real Estate grew steadily through the latter part of the 20th century and into the 21st. The Bicentennial year of 1976 was especially exciting, as 20 agents produced $10 million in sales, and the company moved into a new building at 15th Street and Kasold Drive, on what then was the western fringe of the city. Ten years later, it constructed the building at 1501 Kasold, where it still resides to this day.

On July 1, 2007, John McGrew stepped down from management of the company, and a third-generation McGrew, son Mike, succeeded him.

"You can't imagine what a blessing it was that he wanted to get in the real estate business," says John, who is still an agent with the company. "When he was a young boy, he told me he'd never go into real estate. He thought working 70 hours a week and not being sure whether he was going to be paid … he wasn't sure he wanted to do that."

Since buying his dad out about nine years ago, Mike hasn't looked back.

"The company's changed a lot since even dad's owned it," he says. "When I got into it, I felt the fear of messing it up. But, we have a great team. I've felt a lot less pressure as the years have gone on."

The Internet/digital age has unlocked information in ways no one could've ever expected, and it's changed the real estate business drastically. But, Mike McGrew says, "it's still a relationship game." That's what helped McGrew Real Estate weather the economic downturn in 2008.

"In all the years my dad owned the business, he never saw a reversal in the market," Mike says. "Then, we bought it and had a few years there where we saw significant reversals.

"As a company, we try to be innovative and stay ahead of the curve," he says.

Mike also has served as treasurer for the National Association of Realtors, at 1.25 million members, the largest trade association in the world. He also has a son and daughter who have worked in administrative duties for the company.

Could there be a fourth generation of McGrew Real Estate leadership?

"That's not the plan, but it's certainly an option," says Mike, who, when in his office, sits at the desk his grandfather had back in the '50s. "I certainly wouldn't be against it, but I'm not pushing it."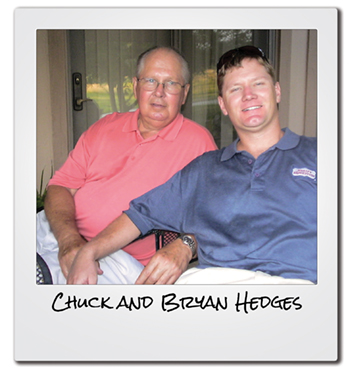 Hedges
After graduating from KU's School of Law, Chuck Hedges went to work for Moore Bros. Real Estate and bought into his first company in 1964, when he became a partner in Haverty/Hedges/Hatfield Real Estate and Insurance. He peeled off from that company after eight years there and started Hedges Real Estate in 1972.

Around that time, his son, Bryan, was just getting old enough to start helping dad around the office.

"Back then, realtors were heavy coffee drinkers and smoked," Bryan says, "so my first job with the company was wiping coffee stains off tables and emptying ash trays."

A self-motivated IT (information technology) whiz as a young man, Bryan worked with the company's technology during summers while he was in college at KU, where he majored in business administration while minoring in advertising.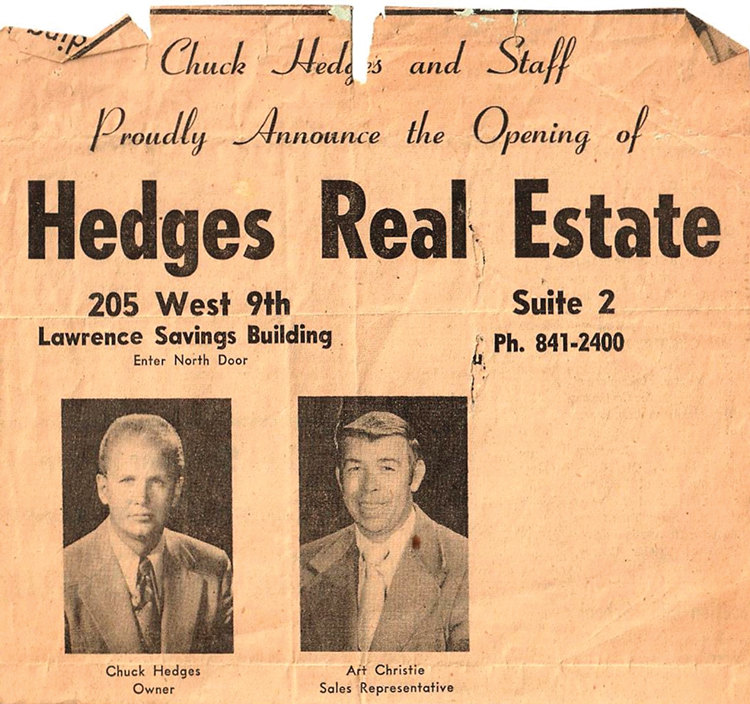 He achieved his insurance license and served an internship with Northwestern Mutual Life, where he learned a lot about that business. But, it wasn't long before he realized where his future was.

"I found that most people in their early 20s thought they were going to live forever and didn't need life insurance," he says. "They were more interested in real estate."

Bryan started working full-time with his dad in 1993. Six years later, Chuck was diagnosed with Parkinson's disease. It was a blessing that the future of the family business was one area he didn't have to worry about.

"I felt the responsibility, but I loved it," Bryan says. "It was a smooth transition. We had some long-time employees who stayed with us. We upgraded technology. The business has changed a bunch."

Bryan, 47, and wife, Laura, are parents of two children—a 14-year-old daughter and 12-year-old son. But when it comes to predicting the future of his family's business, he's as noncommittal as his friend and competitor, Mike McGrew.

"I'd say it's too early to tell," he says of the prospects of one of his offspring taking over the company someday. "I want to give them the opportunity to pursue what they want out of life. I'm not pushing the business right now, but we'll see.

"It's probably better to own real estate than run a real estate company. But, if you can do both … ."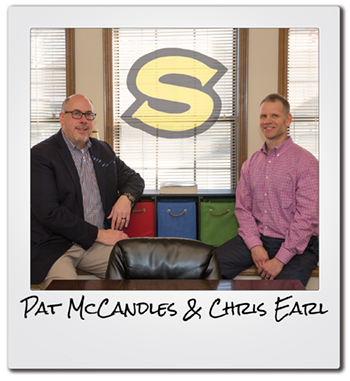 Stephens
Before there was Stephens, there was Mitchell-Stephens, a real estate company headquartered in downtown Lawrence. Bob Stephens peeled off from partner Warren Mitchell and founded Stephens Real Estate in 1978. For years, under Bob's leadership, the business was well thought of, fostering a culture of independence while staying closely connected to the community.

Bob Stephens' wife, Mary Kay, was active in the agency, and their son, Doug, ran the agency in the latter years of the 20th century and early this century.

Chris Earl moved to the agency in 2000. Pat McCandless followed in '07. The two purchased the company from the Stephens family on Jan. 1, 2013.

"Doug had the foresight to see something in Chris and me," McCandless says. "He started to mentor us. He was very instrumental in us buying the agency.

"Bob did not want to sell to just anybody. He had opportunities to sell to franchises. But, he stuck to his independent roots."

Earl got into real estate in his 20s and likes to tell people he's never worked a real job. He says he feels a great responsibility to fulfill the values Bob Stephens built.
There are no plans to change the company's name.
"It's never been about our name, it's about Stephens," he says. "It's a very powerful brand in Lawrence. We're totally invested in the history of the company and the culture of the company."
Culture is king in just about every family business, certainly no more than in real estate, where business between agents and clients can be about as personal as any transaction outside of clan. And, the leaders of these family-owned real estate companies firmly believe it's good for business in a family-oriented community like Lawrence.
That goes for any business in town, John McGrew says.
"It certainly seems to be a very positive thing from my point of view," he says. "You look at the Simons family and The World Company (which was owned by the family for 125 years before recently selling to Ogden Newspapers Inc.). They realized early on that what was good for Lawrence was good for his company. They gave back to their community, and we all have done the same in real estate.
"I think it's just a very special thing," he says.