All-Natural and Sustainable
All-Natural and Sustainable: Local Food Company Grows Rapidly as Demand Increases
| 2017 Q2 | story by Anne Brockhoff, photos by Steven Hertzog
Hilary's Eat Well appears unassuming, its low building painted in earthy grays and greens, and sheltered from the busy intersection of 23rd Street and Haskell Avenue by a swatch of grass and trees. The front door opens onto a bright and airy office. The air is fragrant with spices, the employees smiling and relaxed, the hum of machinery muted.
That calm, however, belies a frenzied pace of growth since Hilary's launched in 2010. Its products are now sold across the U.S. and in Canada and France, and in 2016, it ranked 897th on the Inc. 5000 List of America's Fastest-Growing Companies.
"We're emerging out of entrepreneurship to what I've been a part of at other companies, which is hyper growth," says Greg Easter, senior vice president of sales. "We're experiencing amazing growth in a short amount of time."
Hilary's sells frozen veggie burgers, veggie bites, sausage, millet medleys and seasonal holiday stuffing reflecting almost a dozen cuisines, plus shelf-stable salad dressings. All are certified gluten free, non-GMO (genetically modified organism) verified, certified organic and free from dairy, eggs, corn, soy and nuts—qualities consumers are increasingly seeking, according to Packaged Facts, a Rockville, Md.-based market research firm.
"Bold and unique flavors; varieties inspired by world cuisines; cleaner labels and healthier nutrition profiles; and products that accommodate special dietary concerns will drive purchases," David Sprinkle, Packaged Facts' research director said in a 2017 report on the $22-billion U.S. market for frozen dinners and entrées, pizza, side dishes and appetizers and snacks.
Of course, burger-type foods made from vegetables aren't exactly new. Tennessee-based Madison Foods unveiled its "Soy-Burger" in 1937, according to the SoyInfo Center (a soy industry advocate). And a 2013 article in Smithsonian Magazine reported that the "VegeBurger" launched by a London restaurant in 1982 was the world's first commercial veggie burger. Brands like Morningstar Farms and Boca Foods now dominate the frozen- and refrigerated-meat alternatives market in the U.S.
But these are meat analogs, notes Becky Harpstrite, vice president of marketing for Hilary's. Most are made with soy and/or wheat derivatives, flavorings and additives that yield a facsimile of meat's texture and flavor.
Hilary's takes a different approach. It incorporates things like quinoa, millet and rice; beans and pulses; root vegetables; leafy greens; coconut and olive oils; and herbs. Ingredients that don't pretend to be anything but what they are: real and minimally processed food.
"Back in the day, there was just this one type of burger," Harpstrite says. "When we came on the market, we were a disrupter."
Hilary Brown, the company's founder, developed what she dubbed the World's Best Veggie Burger in 2005 for Local Burger, her vision of a sustainable fast-food restaurant. Like most things on her menu, it was free of all common allergens and artificial ingredients, largely because Brown was allergic to so many of them herself. The veggie burger proved so popular that Brown began selling them from a freezer case and, five years later, created Hilary's Eat Well to manufacture and market them.
Brown eventually closed Local Burger to concentrate on Hilary's Eat Well, and, by 2012, Whole Foods Market was selling its veggie burger nationwide.
"From there, we've grown pretty quickly and pretty tremendously," says Harpstrite, who pegs current distribution at between 7,000 and 10,000 natural and conventional retailers across the country.
Brown is no longer involved in the business, which is now owned by several investor groups and governed by a board of directors, Harpstrite says. The privately held company does not disclose financial figures, however Inc. magazine reported sales grew 447 percent over a three-year period, and total revenue reached $4.6 million in 2015.
To keep that momentum going, Hilary's in 2015 crafted a three-year strategic plan with a trio of pillars: distribution growth, sales growth and new-product development. Moving beyond the natural foods retailers and cooperatives that have long embraced Hilary's was a crucial first step in that plan, CFO and president Lydia Butler says.
Three years ago, "you could find a Hilary's product in virtually every natural grocery store in the U.S., but you couldn't find us in conventional grocery stores, the Hy-Vees, Dillons and Krogers," she says.
To build that demand, Hilary's forged relationships with mainstream retailers at a time when many were seeking to expand their natural foods offerings. Easter routinely meets with store buyers to introduce the company's line and tell the Hilary's story, a story he says resonates especially with buyers courting millennial customers.
That builds demand. Distributors, in turn, help Hilary's satisfy it. The company works with United Natural Foods Inc. (UNFI), perhaps the biggest distributor of natural, organic and specialty products in the U.S. UNFI's Canadian division distributes Hilary's in that country.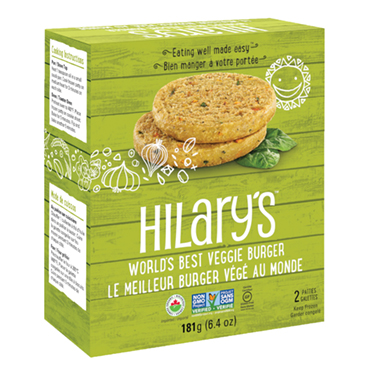 Going international was relatively straightforward, thanks to that partnership, Harpstrite says. Hilary's developed dual-language packaging with both French and English, but the distributor handles export logistics.
"There has to be market demand to be successful, and we're finding there is a lot of demand for our type of product in Canada," says Butler, who adds the country now generates about 10 percent of Hilary's sales. It's early days in France, but she's optimistic about the potential there, as well.
Distribution is just the start, though. The next step is boosting velocity, or the number of people who try and then continue purchasing Hilary's foods.
"Our core customers are as loyal as can be. We just need more of them," Easter says.
Most purchase decisions are made at the point of sale, so in 2015, Hilary's revamped its packaging to create a more cohesive look and emphasize its whole food, "free-from" positioning.
Packaging is "one of the most important elements when communicating about our brand," Harpstrite says.
Last year, Hilary's courted potential customers at six consumer trade shows, including the Gluten Free and Allergen Friendly Expos (it attended 15 industry trade shows, as well). The company uses coupons and giveaways, is active on social media, collaborates on recipes and works closely with bloggers and influencers—all means of encouraging shoppers to simply try Hilary's.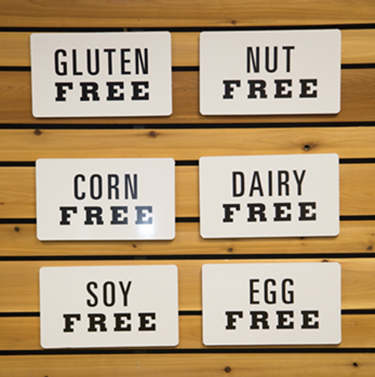 "So often, people are nervous about trying something if they haven't gotten a recommendation from a friend," Butler says.
Certainly, there's a lot to try these days. During the past two years, Hilary's has aggressively evaluated market opportunities and created new products to capitalize on them.
Take protein. More than a third of consumers are seeking protein from nonmeat sources, according to research by Mintel, a global market intelligence agency. To meet that demand, Hilary Kass, who oversees research and product development, reached for lentils and adzuki, garbanzo and other beans—all with a solid protein profile that still fit Hilary's plant-based, minimally processed, free-from mandate.
Veggie sausage patties moved Hilary's into the breakfast category, while adding more veggie bites and millet medleys hit the frozen snacks and side dishes mark. Convenience is still important, and quality and healthfulness even more so, the Packaged Facts report said. That's all good news for Hilary's.
"We're hitting all these attributes that consumers are looking for in one product," Harpstrite says.
As she developed new offerings, Kass experimented with ingredients, balancing flavor, cost and availability in what she calls a blend of art and science. It can be tricky. The company buys only from suppliers that are certified organic, non-GMO and gluten-free. While that market is expanding, it's still difficult or costly to find some of Kass's favorites, like sumac.
Sustainability is also a priority. Hilary's eschews monoculture crops in favor of grains such as millet, which is drought-resistant and easily grown in the U.S., and a variety of black rice from Lotus Foods that requires less water, seed and labor.
Hilary's works with certifying organizations to routinely audit ingredients and guarantee organic, gluten-free and other standards are being met. Once production begins, there's no risk of cross-contamination because things on the "free-from" list simply don't come in the plant.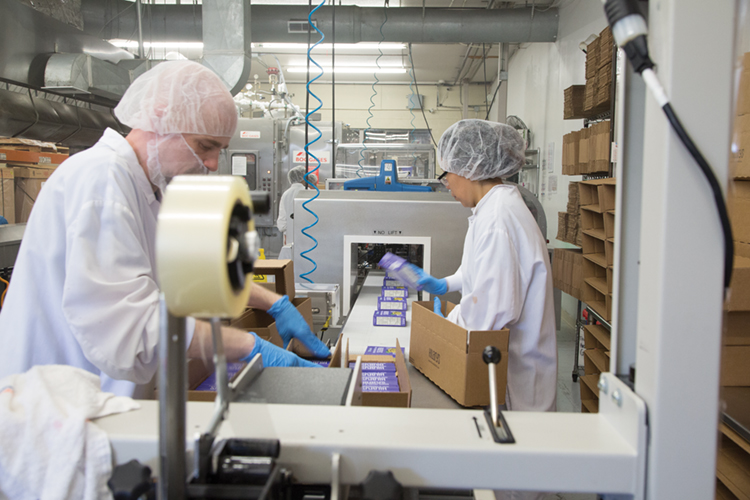 "That's the level of trust you have" when purchasing from Hilary's, Harpstrite says. "That's really our sweet spot, being 'free from.'"
Once a recipe's been developed, Kass makes small batches in a test kitchen. She follows with increasingly larger batches until certain flavor and quality can be maintained in a full-run quantity. Products are tasted in-house then shared with external "trusted contacts" who sample each and complete a survey.
"We have things measured by people putting them in their mouths," Kass says.
Hilary's launched 13 brand extensions and new products in 2016 in what Butler admits was a banner year. The company now sells seven veggie burgers in addition to its original World's Best: Adzuki bean, hemp and greens, root veggie, black rice, spicy Thai, curry and kimchi. There are original, Mediterranean, broccoli casserole, spicy mesquite veggie bites and both apple maple and spicy veggie sausage patties.
A new line of millet medleys come in herb, savory mushroom, fresh Greek and golden curry flavors. The seasonal holiday stuffing tastes of celery, apple and herbs. The company's shelf-stable salad dressings, which are made in Nebraska, include ranch chia, remoulade, apple fennel, balsamic thyme, beet vinaigrette, spicy island, chili lime and tomato Kalamata olive.
Hilary's isn't just about food, though. The company is committed to a broader definition of sustainability. It has installed solar panels and energy-efficient lighting, and recycles. Food waste goes to local livestock farms, while excess finished, edible products are routinely donated to agencies including Just Food, a Douglas County food pantry, and the Food Equality Initiative, a nonprofit that provides food for the low-income food-allergy and celiac communities.
And the company wants to do more. Hilary's recently started working with the Climate and Energy Project, a nonprofit dedicated to reducing greenhouse gas emissions and developing clean-energy options, to better manage issues such as wastewater disposal. Membership in the Sustainable Food Trade Organization, which supports the organic food industry, helps Hilary's network with companies facing similar challenges, like sourcing more environmentally friendly packaging.
"It's not always the easiest and most cost-effective thing to choose a sustainable option," Harpstrite says. "We know long-term for the planet and our company, it is a better choice."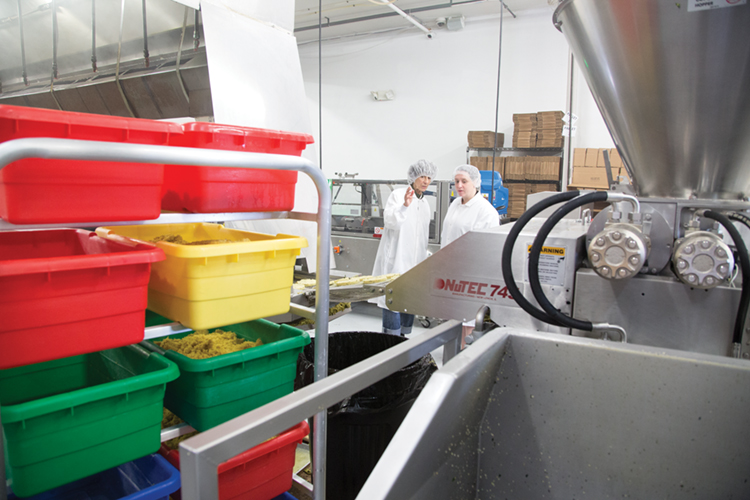 Hilary's is also a B Corporation, one of more than 2,000 worldwide that's been certified by the nonprofit B Lab to "meet rigorous standards of social and environmental performance, accountability and transparency."
That means how the company treats its employees is just as important as its environmental concerns. Hilary's provides everything from picnic tables and raised garden beds near the parking lot to fair wages, Butler says. The company offers professional development one Friday a month—a day when the production team is usually off—to address topics as varied as food safety, quitting smoking and personal financial management. Hilary's has also helped build a nearby Habitat for Humanity house and volunteers to plant flowers for the city.
Butler updates her more than 30 employees twice yearly on the company's performance, and monthly "dew-gooder" awards recognize employees that have been especially helpful in some way. Perhaps someone had a manufacturing-related idea or maybe helped a fellow employee change a tire.
"That social element is something we really focus on," Harpstrite says. "We want to create an environment where people thrive."
The company's success in that is apparent on the short walk between the office space at the front of the 8,000-square-foot building to the manufacturing area in back: The boxes of packaging and dried ingredients stacked in racks along the way all sport Magic Marker smiley faces, hearts and encouraging messages.
On a recent visit, the employees, too, appeared as cheerful as they were focused. They prepped spices and vegetables; cooked millet, adzuki beans and jasmine, and black rice in the tilt skillets lining one wall of the production kitchen; and combined the grains and legumes with various greens, sweet potatoes, cumin, garlic and other ingredients in a massive mixer for the black rice patties being made that day.
The mixture was then fed into the former, a piece of equipment that presses patties out onto a narrow conveyor belt. They were cooked, quickly frozen in a spiral freezer, sealed in pairs into plastic and inserted into cardboard cartons.
The plant's multiple critical control points ensure food safety. Hilary's also tests for cross-contamination that might have occurred in any of its suppliers' facilities to confirm the absence of allergens and gluten. The final control point is a metal detector that screens for any bits of metal that might have accidentally found their way into a batch (a common safeguard throughout the food manufacturing industry). Finally, cartons are boxed, boxes stacked on a cart, the stack shrink-wrapped and the whole thing wheeled into a freezer.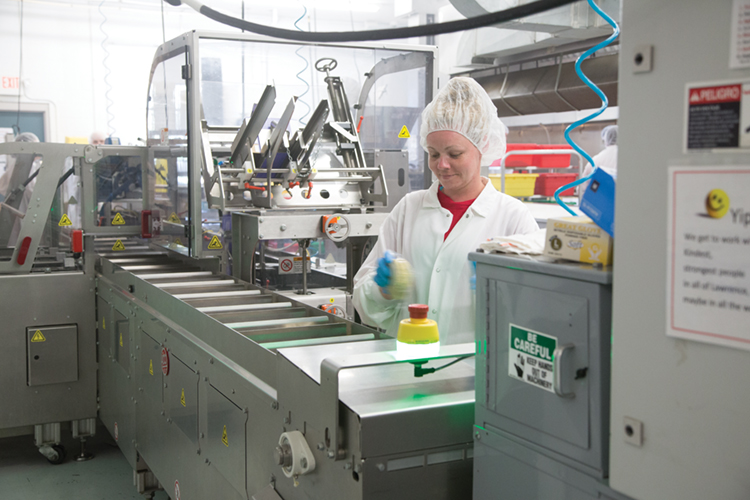 It's a well-honed process, but Butler says her team is always looking for ways to improve and will soon begin working on the next three-year strategic plan. Distribution, velocity and products will likely remain priorities, although the emphasis on each may shift, Butler says.
Production might increase beyond the current single shift that runs four days a week. The company might add more employees. No matter how the plan evolves, Butler says one thing is certain: She and her team will aim for continued, steady growth while adhering closely to the Hilary's core mission of providing real foods made with minimally processed ingredients that are organic, non-GMO and free from gluten and common allergens.
"We've got a very talented and dedicated team that knows how to focus," Butler says. "Focus is critical when you're growing this fast."