Game Day Cuisine
Keeping KU fans happy during sporting events relies not only on the athletes but also those behind the refreshment stands.
| 2017 Q3 | story by Liz Weslander, photos by Steven Hertzog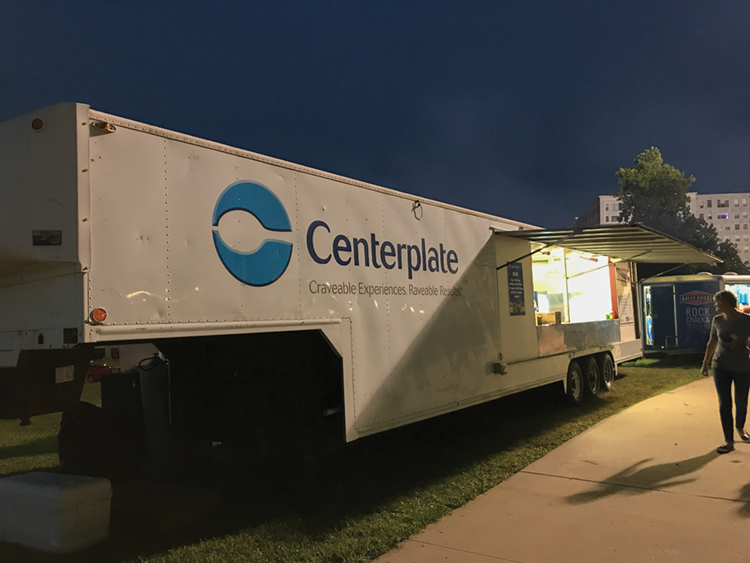 Chanting, cheering and waving the wheat are all hard work, which is why the experience of rooting for the Jayhawks from the stands is just not complete without some refreshments to keep up the stamina. To learn more about this serious business, we took some time to get to know the people and companies that keep KU fans fed, hydrated and hyped up on game day.
Centerplate, a national food and beverage concessionaire, based in Stamford, Connecticut, is the company responsible for The University of Kansas (KU) athletics' concessions operations. The company also goes beyond slinging popcorn and soda by building relationships with local businesses and nonprofits, bringing positive impacts to the community.
Centerplate has had its current contract with KU since 2009, when it signed a 10-year deal and replaced the locally based Mid-America Concessions Inc. KU extended Centerplate's contract through 2024 in 2016. Brad Nachtigal, associate athletic director of operations and capital projects, says the advantage of KU's partnering with a national vendor such as Centerplate comes down to selection and price. Centerplate has volume contracts with a number of national food companies, which means they can get a good variety of menu items at the best price points, he explains. Justin Thornton, general manager for Centerplate at KU, concurs.
"Whether it's a hot dog, a drink, a bag of chips, we literally have partnerships for every item that we sell," Thornton says. "When we get better costs, that helps us to have more fan-friendly pricing. For instance, a year ago, we lowered our bottled soda and water prices by 50 cents and a quarter."
Centerplate's contract gives the company rights to sell concessions at all seven of the university's athletic venues. In addition to Thornton, Centerplate's local employees include two salaried managers, three full-time employees and 45 part-time concessions workers. Thornton says concessions for events at smaller venues like Anschutz, Hoglund and Horejsi are operated exclusively by Centerplate. However, for men's and women's basketball games at Allen Field House, football games at Memorial Stadium, and the Kansas Relays at Rock Chalk Park, Centerplate subcontracts with local, third-party vendors such as the Salty Iguana, Bigg's Barbecue and Eileen's Colossal Cookies to supplement its offerings. About 15 percent of the concession stands at men's basketball and football games are local vendors, Thornton says.
"Out of 70 points of sale in the field house, there will be usually 10 or so who are local vendors," Thornton explains.
Thornton says local subcontractors pay Centerplate a set commission rate for access to a vending space. Centerplate also takes a percentage of the subcontractors' sales at each event. These rates and percentages vary according to the venue and the event, but commission rates of anywhere between 15 and 40 percent of sales are the industry standard, he explains.
"For men's basketball in the Field House, we get 13,000 to 14,000 people regardless of who we are playing and how we are doing; so we take 35 to 40 percent of sales," Thornton says. "For events that are outdoors, like the Kansas Relays or the Junior Olympics, we'll lower it a little bit because of weather, and it's a different kind of event. For football, attendance has struggled over the years, so I've really had to lower the rates to keep some of the vendors interested in coming back."
Thornton says Centerplate's five top-selling items at KU athletic events in order are bottled water, bottled soda, hot dogs, draft soda and popcorn, with bottled drinks accounting for 50 percent of sales. One of the advantages of having vendors from the community in the mix is the variety they bring to the concession offerings at basketball and football games.
One unique concession stand that is the result of a collaboration among Centerplate, KU Athletics and the Rohr Chabad Center for Jewish Life at KU is a kosher deli called Hawks Nosh, which offers kosher hot dogs, corned-beef sandwiches, knishes and pretzels during weekday men's basketball games at Allen Field House.
Hawks Nosh, which started operating at the Field House in 2011, was spearheaded by Rabbi Zalman Tiechtel, director of Chabad at KU, with strong support from Jewish students and alumni. The kosher deli was the first of its kind at a collegiate sporting venue, and other universities have since adapted the idea, Zalman says.
"One thing that everyone is very about passionate here in Jayhawk country is KU basketball. Some would even say that Jayhawk basketball is a religion," Zalman says. "We are always looking for ways of promoting Jewish culture, and this was a great way to merge those two worlds together. A lot of alumni come from all across the region, and to have kosher food at a basketball game is exhilarating for them."
Operating a Kosher deli is a complex undertaking that is not just about the procurement of kosher ingredients, Zalman explains. It also involves adhering to strict preparation and serving processes. For this reason, Hawks Nosh has specially dedicated kosher preparation equipment and always has a trained kosher supervisor present to help staff the stand.
Zalman says keeping Kosher is a broad concept, which means Hawks Nosh caters to a broad spectrum of people—some follow a strict kosher diet, some prefer to only eat kosher meats and some just like the taste of kosher food. As one of only three places in Kansas where one can buy a kosher sandwich, Zalman thinks people come to Hawks Nosh for both the experience and the food.
"Kosher hot dogs are way better than non-kosher because they do not have a lot of the junk that the non-kosher hot dogs do," Zalman says. "I'm not going to say they are healthy, but kosher food is known to have a really good taste."
Thornton says he gets a lot of positive feedback about Hawks Nosh from the KU community, including Williams Fund donors, and is happy that Zalman brought the concept of a kosher deli to the table.
"There is no question that Centerplate and KU Athletics get a lot of credit for making this happen," Zalman says. "It was less of business decision for them and more of a servicing-the-community decision, and we are very appreciative of them taking these bold steps."
In addition to partnering with local businesses to add variety to concession offerings, Centerplate has also established relationships with a number of local nonprofit organizations, which provide staff for some of the concession stands at Allen Field House and Memorial Stadium. The nonprofits, which include churches, civic groups, Greek organizations, clubs and traveling sports teams, receive 10 percent of sales in exchange for staffing a stand, or a minimum of $50 per worker. Thornton says the most experienced groups make between $400 and $500 on a good night in Allen Field House, and between $700 and $800 at Memorial Stadium.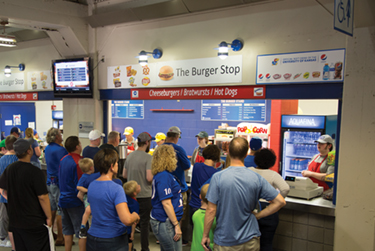 "We have some groups that are trained to manage a stand from open to close and top to bottom," Thornton explains. "From checking in and getting the money, to counting all the inventory, to slinging hot dogs and nachos, to balancing the inventories with cash at the end. Of course, we run into the groups who are not capable of that, so I'll put a couple of my staffers in to help guide and manage their stand. The group will do registers and prep the food, but Centerplate people will handle the money and the inventory."
While nonprofit groups benefit from working with Centerplate, Thornton says these groups can also be invaluable to the concessions operations.
"I have a couple of really good groups that are running my ships, and every time I need help, they have 20 people or more at the drop of a hat," he says. He cited Spring Hill Parents for Kids as an example of a group that has worked with the company throughout its entire time at KU. "They are really experienced and organized; they know exactly what we want of them."
Carmen Haynes is in her fourth season working with the KU football and basketball games for Spring Hill Parents for Kids, and says working sporting events with her kids has provided them a way to earn money for activities they want to be a part of, such as softball, Boy Scouts, school trips and even KU tuition.
"I have always been a KU fan, so I enjoy the atmosphere and being around all the fans who attend the games," Haynes says. "I have made lifelong friends with the Centerplate staff and with the people who I work with at the concession stands each month, which is what really keeps my family returning to work the games."