Professional Spotlight: Nicole Corcoran
Senior Associate Athletics Director/Senior Woman Administrator, KU Athletics
| 2017 Q3 | by Nicole Corcoran, Senior Associate Athletics Director/Senior Woman Administrator, KU Athletics, photo by Steven Hertzog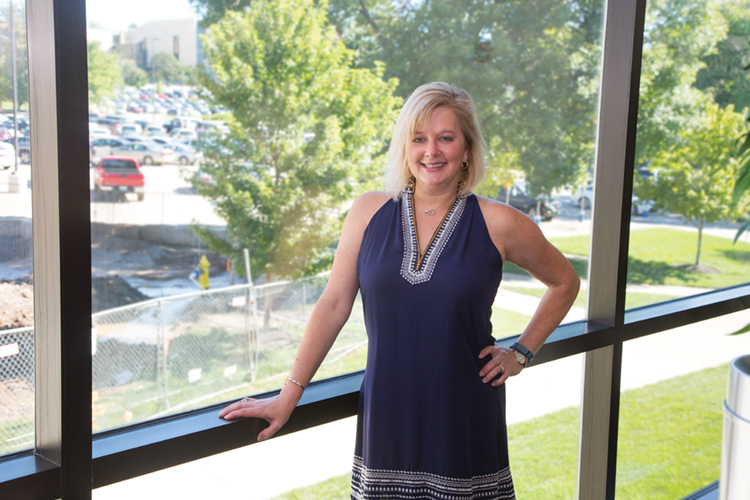 What prepared you for a career in college sports?
I am competitive by nature and have always had the desire to work hard and win. Putting my hand up and participating also prepared me, whether in class or in the workplace; never sit in the back row. And when a volunteer is needed, step up. That's how leaders start.
How did you come to first work in the KU Athletic department?
Interestingly enough, I did not pursue a position with Kansas Athletics; it pursued me. I was fortunate that when one door closed in my professional life, another opened. In my experience, life has a way of working out that way. I served as press secretary and communications director to then-Governor Kathleen Sebelius, who accepted the call to go to Washington, D.C. That was not the right move for me or my family; at the same time, I was approached by Kansas Athletics with an unexpected opportunity. I am now coming up on nine years with the department.
What do you consider your most important responsibility or service?
Helping others grow in confidence and strength is something I love. I learned early on from a strong woman how to speak my mind in an effective and intelligent way, and how that translates into respect and getting things done. Finding lessons in life experiences and growing from the challenges life hands us is something I have worked hard to do, and help others with, as well. I am a glass-half-full person and strive to share that positive view and approach with others.
What are your most important priorities?
FAMILY. FAITH. FRIENDS. are my most important priorities.
Taking care of my family has always been and will always be of the utmost importance to me. Though I have been in demanding positions most of my working life, I have been fortunate to make the time I have with my family count. My family and friends know I am always here. My faith, faith in God, faith in humanity and in people doing the right thing are essential to who I am. Kindness matters.
What has been some of the most important aspects of your success?
I work hard and also have fun at the same time. No matter the project big or small, if I say I am going to do something, people know they can count on me. I am a problem solver and love bringing common sense solutions into the equation. I am most proud of the fact that the person I am today is the same girl I was back when I started working in the real world. I've just got a few more amazing experiences under my belt. I have traveled the state of Kansas, visited multiple states and gone on international trips, and have been fortunate to actually meet four different presidents of the United States—Jimmy Carter, George W. Bush, Bill Clinton and Barack Obama. (Who would have thought a girl from Kansas would have that on my list?)
How many people do you work with, serve, interact with on a daily basis and are responsible to? Or for?
I cross paths with so many different people each day. I love interacting with our student-athletes. No day is the same, and each presents a different challenge or issue for me to tackle. Around 50 people report to me here at KAI. I am very lucky to work with talented people here in the Athletic department, across campus and in the community. With my increase in responsibilities in July, I am working with folks across the Big 12 Conference more often, as well.
Do you feel the Athletics department makes a positive impact on the Lawrence community? In what way are you involved as a business executive and as a community member? What do you see as your personal responsibility and Kansas Athletics responsibility to the community?
I am so blessed to work for an organization that values community support and involvement. I serve on our Charitable Organization committee, which determines support of community initiatives. We obviously can't say yes to everything, but we try to weigh the needs and impact, and move forward. I am very proud of our commitments, whether it's serving meals at L.I.N.K. (Lawrence Interdenominational Nutrition Kitchen) Kitchen, financially supporting public events or even more quiet efforts behind the scenes. We also partner with different organizations throughout the year to help draw attention and raise funds.
I serve as a member of the community advisory board of directors for Big Brothers Big Sisters (BBBS) of Douglas County. Through my service on the board, I have also been involved with the BBBS Gingerbread Auction and continue working to support that initiative. My most important way that I believe I am making a positive impact, though, is serving as a "Big Sister" in the BBBS program. My Little and I have been "matched" since May 2015. We started as a "Bigs in Schools" match, which allowed me to have lunch with her at school once a week. At the end of our school year together, she asked if I would be a "Community Match" so we could spend time together outside of school. That has been a remarkable change for both of us.
Kansas Athletics also supports the community with projects of development and growth. Rock Chalk Park has not only given our teams a beautiful, state-of-the-art place to compete but has infused the community with thousands of visitors who stay, shop, eat and explore. How awesome is that?
What would you change about doing business (or working with businesses) in Lawrence?
We have great partners with businesses in the Lawrence community, and we're fortunate to be in a community that loves and supports our university.
Why did you become involved? or What inspires you? Is there a specific thing, person or incident?
I am inspired by those who give their time and talents to help others. I love watching people I admire to learn things I want to emulate.
What is the biggest challenge you feel the athletics/sports industry faces?
In college athletics, we are bringing together young people from very different backgrounds who are exposed to challenges some of us would have trouble surviving. It's important to do all we can to give our student-athletes the tools and resources to thrive and succeed.
What do you foresee as being the biggest challenge for the future for your industry? And how are you addressing or preparing for it?
There are evolving issues surrounding college athletes. Most recently, time-management regulations, which were introduced in part as a response to student-athlete leaders. It is becoming clear that adjustments need to be made based on specific sport needs and from feedback we're getting from our student-athletes. The good news is our student-athlete leaders make their voices heard, so we should see some adjustments along the way that better serve teams. This is something many schools are dealing with, so together, I am sure we will find a common sense solution.