Sports, Investment, Big Business
Marketing, fund-raising, sponsorships and ticket sales work together to keep KU athletics teams competitive in the growing industry of sports.
| 2017 Q3 | story by Tara Trenary, photos by Steven Hertzog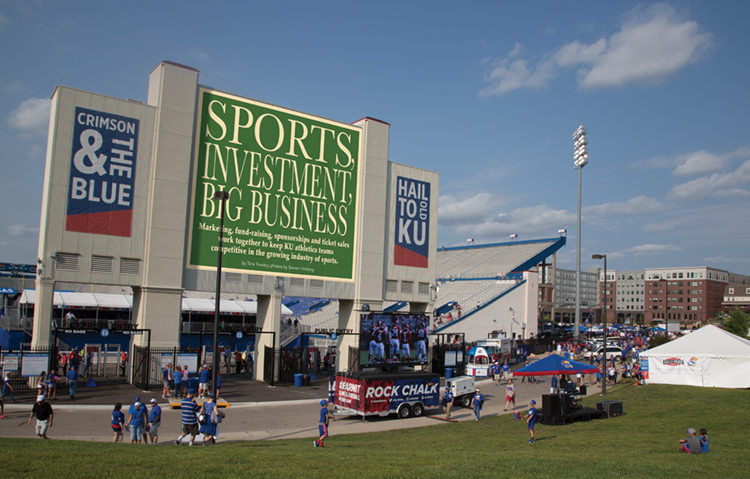 These days, college sports are no joke: They are big business. And, it's no secret that big-time college sports programs make big money. In fact, as recently as 2015, the University of Kansas (KU) was No. 23 out of the 25 universities that made the most money in college sports, according to Business Insider. (KU has since been knocked out of that group, in which 24 out of 25 of the current top schools made more than $100 million per year as of 2016; KU Athletics currently has a $93-million budget.)
"Money involved in college athletics reflects the vast interest in college athletics, for better or worse," explains Jim Marchiony, KU associate athletics director, public affairs. "People love college athletics; they love professional athletics. This is not new; the numbers are just bigger. We're trying to compete with the best of the best, and with that, you need revenue."
So how does the KU Athletics department pull in the revenue it needs to be competitive in a market that nearly 50 percent of Americans follow and whose governing body (National Collegiate Athletic Association, NCAA) pulls in $1 billion a year?
Marketing
Sports marketing is a growing division of the marketing field that focuses on the business of sports and the use of sports as a marketing tool. In 2007, KU teamed up with IMG College (IMGC), the nation's leading collegiate sports-marketing agency. IMGC offers national, regional and local multiplatform marketing opportunities, and represents more than 200 of the nation's top collegiate properties, explains Marc Tuttle, general manager for Jayhawk IMG Sports Marketing, part of IMG College, a division of WME IMG. Some of those properties include the NCAA and its 89 championships, major conferences and many of the most prestigious colleges and universities in the country.
IMGC and KU Athletics are partners in a 13-year, multimillion-dollar agreement that grants IMGC the rights to manage all of KU Athletics corporate sponsorships. "IMGC connects small, medium and large partners with the power of the Jayhawk brand," Tuttle says. It creates business development, employee appreciation, brand awareness and brand reinforcement, and helps bring partnership agreements to life by creating compelling Jayhawk content for Jayhawk fans locally, regionally and nationally. "Our singular focus is representing Kansas Athletics," he continues.
IMG produces nearly 35,000 hours of radio programming on the largest sports radio network in the country, manages nearly 5,000 hours of local television programming and is the leading publisher of college-sports publications and the largest manager of university athletics websites.
Jayhawk IMG Sports Marketing manages all corporate partnerships for KU Athletics. Tuttle defines the relationship as "a working partnership to achieve shared objectives and goals. Our focus on a daily basis is to expand the Kansas Athletics brand locally, regionally and nationally."
IMG and KU Athletics work together to not only bring in money to the Athletics department but also to promote the University and draw the best and brightest student-athletes possible. "It's long been said that athletics is the front porch of your university. We take that full stride," says Matt Baty, associate athletics director, Williams Education Fund, marketing and sales. "With that, we highlight the University. Our student-athletes market our university."
Baty says that through marketing, he and his team (including IMG) are always aware they are bringing people on the campus and attracting future students and student-athletes. "It brings attention to the University as a whole, which can potentially increase and improve recruiting of athletics and the applicant pool of the student body," he says. "Attention is important to us because it spreads the word."
Other Big 12 partners of IMG College include Baylor University, Texas Christian University, the University of Texas and West Virginia University.
Fund-Raising
The average cost to support a student-athlete at KU is $87,000 per year. If you think that sounds like a lot, you may be right. That money covers everything from scholarships to tutors to books to stipends to travel. "It includes everything related to student-athletes, both athletically and academically," Baty says.
That's why The Williams Education Fund is such an important piece of the revenue puzzle, Marchiony explains. "It's critically important to athletics because we don't get a subsidy from the University," he says. "Generally, at a private institution, the athletics budget is within the university budget. At public universities, much of the time, they are separate."
Which is the case at KU. Out of the Athletics department's $90-million budget, less than 2 percent comes from the University. And, with one of the smallest student fees charged in the country, raising money from alumni, parents, friends and fans to support student-athletes and the Athletics department is crucial.
"Part of the reason student fees are so low and the percentage from the University is so low is because we raise revenue ourselves," Marchiony explains. "It allows us to have an athletics program that competes among the very best athletics programs in the country without being subsidized by the University."
Eventually named for the Williams family (Dick, Skipper and Odd), efforts to create an athletics scholarship fund began in 1949. Originally named the Outland Fund (named after Dr. John Outland, the "Father of the Kansas Relays"), $11,500 was raised from 115 members at $100 apiece in its first year. By 1968, the fund had reached $1 million and had contributors from 73 cities in Kansas and 10 other states. By 1970, the fund had reached $2 million; and in 1974, then-athletic director Clyde Walker announced that the fund would be renamed The Williams Educational Fund in honor of the Williams family's efforts to raise money for KU Athletics.
Today, about $30 million is raised each year by The Williams Fund to support its athletes. Most of its approximately 6,000 donors live in Kansas, but other Williams Fund supporters live all across the country. The Williams Fund's staff of 12 spends its time overseeing relationships with donors and coordinating marketing and sales for the group.
It's hard to overstate the importance of The Williams Fund to Kansas Athletics. In 2015, 12 KU teams appeared in NCAA postseason play; seven student-athletes earned All-American honors; three KU coaches were named National Coach of the Year; KU student-athletes accounted for 21 Big 12 First-Team All-Conference selections; and many student-athletes received national, regional and conference academic awards.
In 2016, KU Volleyball won the Big 12 Conference title for the first time in its history; KU Soccer reached the NCAA tournament for the second time in three years; and sophomore Sharon Lokedi finished fifth at the NCAA Cross Country Championships after winning the Big 12 title. At the same time, The DeBruce Center, home to the original rules of basketball, opened along with a new indoor/outdoor tennis facility at Rock Chalk Park. None of this would have been possible without the support of Williams Fund contributors.
Sponsorships
Another source of revenue for KU Athletics is sponsorships. Aside from IMG, KU Athletics holds one of the largest college-athletics partnerships in the country with Adidas, extended in 2013 until 2019 and worth an estimated $26 million in sponsorship and product. Adidas provides footwear, uniforms, apparel and accessories to each of the Jayhawks' 18 intercollegiate athletics teams.
"You want to be associated with big names, good brands," Baty explains. "We are very cognizant of that."
Along with sponsorships, KU Athletics gets money from the Big 12 Conference for television rights and from the NCAA, which gives each school money based on how many sports the school supports to be used for academics. KU Athletics also administers a trademark-licensing program, the revenue of which is split with the University. In each of the past couple of years, the University and KU Athletics have split about $2 million from this program. "The Jayhawk is known as the second-most recognizable icon right behind Notre Dame," Baty says.
Ticket Sales
Another important revenue base for KU Athletics is ticket sales, which brings in approximately $20 million per year. Among the largest sellers of tickets, men's basketball and football combined bring in about $11 million.
"It's a lifeline along with The Williams Fund," Baty says. "Without it, we wouldn't be successful." He says with KU competing at the Power 5 level, that puts the university in the top 25 of budgets, allowing it to provide first-class facilities and operations for its student-athletes.
But because the Athletics department owes $10 to $12 million in scholarship costs annually to the University before a ball is bounced or a pass is thrown, "Ticket sales are critical to enable us to compete at this level in college athletics," Marchiony adds.
Community
When it comes to KU athletics and its effect on the Lawrence community, all you have to do is drive around town just before or after a football or basketball game to see how many people come to town to experience its exciting vibe. Obviously, having so many more people in town affects the Lawrence economy.
Restaurants, hotels, bars, local events—nearly every business feels some sort of impact on these busy days and weekends. "The success or failure of KU major athletic teams has a psychological impact on guests, generating either a buoyant or dour mood," says Chuck Magerl, owner of Free State Brewing Co., 636 Massachusetts St. Though he says fall Saturdays don't have a huge impact on sales, since organizations have scheduled events around the KU football schedule so as not to compete with lodging in town, "Saturdays with home KU basketball games are typically 25 percent busier than non-game days in the same period."
He says other activities, such as KU women's basketball, volleyball and softball, also have a modest impact on sales on days of home games. And, this increase in business can be felt throughout the Lawrence business community.
"It [KU sports] has a very large impact on our business," explains Nancy Longhurst, general manager, The Olivia Collection, the Eldridge (701 Massachusetts St.) and The Oread (1200 Oread Ave.) hotels. With football games being all-day events, guests usually stay a couple of nights, eat at the hotel restaurants and have drinks at the hotel bars.
She explains that big athletic events boost sales about 20%, and fans tend to return year after year. With the influx of people in the hotels, restaurants and bars during football and basketball seasons comes "an explosion of business," she says, "and we have a lot of fun with all the KU fans."
Not only does KU Athletics contribute to the Lawrence community's bottom line, KU student-athletes also contribute to the Lawrence community through community programs. Some of those include: READ (read to classes at various elementary schools in Lawrence); Fun and Fitness (play games with elementary students during physical education classes); Habitat for Humanity (Team Builds); Humane Society (walk/play with shelter animals); Special Olympics Golf Tournament Fund-Raiser; Riley's Playground (play day for individuals with special needs); Salvation Army Bell Ringing (across Lawrence, student-athletes volunteer to be bell ringers for a day); Crimson and Boo (trick-or-treat night for kids in Booth Family Hall of Athletics); Hawks Cops and Kids (partnership with Big Brothers/Big Sisters and KUPD, Lawrence Police Department and Kansas Highway Patrol centered around teamwork, healthy choices and personal safety); Festival of Trees (fund-raising event for the Shelter Inc.); #lunchbag (student-athletes make lunch bags to give to homeless population at lunch); Girls and Boys Club visits/team events; Kansas Kids Fitness Day (volunteer to run active stations at the event, partnered with Lawrence Memorial Hospital); and Adopt-a-Family (donations and wrapping during the holidays for families in need).
The University of Kansas is rich in tradition, and its athletics program has long been a major reason for that. And, this tradition helps when it comes to bringing fans to KU athletic events, the best and the brightest to study at the University and the funding needed to help it all succeed. "All of those names and all of those sports make alums feel they are part of a rich history," Marchiony says. "It's a big part of what brings fans to the arena."
"I've never been around one [tradition] as strong as this one. The pride you feel being a Jayhawk," Baty says. "We are a blue-blood school."