Lawrence Business Magazine & Cadre Lawrence Foundation Award

CELEBRATING THE BUSINESSES OF THE YEAR
Wednesday, March 1, 2017
Purchase Tickets Now

$30 at the door
PURCHASE YOUR TICKETS AT THE EVENT

Or to Send in by Mail, the mailing address:
Lawrence Business Magazine
3514 Clinton Parkway, Suite A-113
Lawrence KS 66047
NOTE: Make Checks Payable to Lawrence Business Magazine and please put Foundation Awards on the memo line. Also please list the names and business of the attendees. Thank you.


ABOUT THE AWARD
Local business growth is the foundation of the local economy. The Lawrence Business Magazine and Cadre Lawrence think it is important to celebrate those businesses – our Businesses of the Year. The Foundation Award was established to recognize growth in for-profit businesses, that are locally owned or locally franchised in Douglas County, and have been in business a minimum of three years prior.
EVALUATION
Companies will be honored with the the Foundation Award that have shown growth in employment by 20% or 20 people from January 1, 2016 to December 31, 2016.
QUALIFICATIONS
Companies for consideration are a Douglas County Company, open a minimum of 3 years, that is locally owned or franchised and has shown growth by increasing its employment by 20% or 20 people in the last calendar year (Jan 1, 2016 through Dec 31, 2016).
Nominations must be completed and submitted by January 31, 2017.
QUESTIONS
For any questions or further clarification, please contact: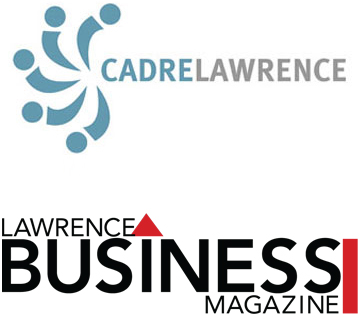 info@cadrelawrence.com or editor@lawrencebusinessmagazine.com
FOUNDATION AWARD EVENT
Wednesday March 1, 2017 – 5:00 to 7:00 pm
Six Mile Chop House
Event Space
4931 W. 6th Street
Lawrence KS 66049
Master of Ceremonies: Former Voice of the Jayhawks, Bob Davis
Keynote Speaker: KU Provost, Neeli Bendapudi
$20 advance purchase admission, $30 at the door
Appetizers Served/Drinks available
IN RECOGNITION, HONOREES RECEIVE
• Foundation Award Brick at March 2 Ceremony
• 4 complimentary tickets to the ceremony
• Recognition in Lawrence Business Magazine
• Radio Time on Lawrence Business Magazine Radio Show on KLWN
• Presentation at Cadre Lawrence meeting
• Press notification of all recipients
Thank You Foundation Award Sponsors